Jason Brown says players are sick of unions not doing enough to fight racism
Footballers are fed up with unions and campaigns not doing enough to fight racism, says Wales keeper Jason Brown.
Last Updated: 22/10/12 9:19pm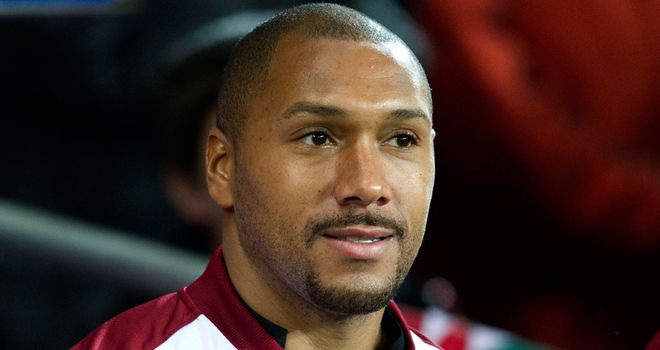 Players including Manchester United's Rio Ferdinand, Reading's Jason Roberts and QPR's Anton Ferdinand refused to wear the Kick It Out T-shirt at the weekend in protest.
There is growing concern over an apparent lack of leadership by the UK and international governing bodies in dealing with incidents such as England U21's Danny Rose suffering racism in Serbia and Chelsea's John Terry racial abuse case.
Although insisting a breakaway body was not on the agenda, Brown backed the player boycott and told Sky Sports: "Everyone is sick and tired of nothing being done. Unions are supposed to be in place for our voice and they are clearly not doing it.
"We are not here to be rebels and start trouble. We love the game but enough is enough. We as players feel we have to take it upon ourselves to speak up. There is a lack of belief in the Kick It Out schemes.
"They've done brilliantly and the T-shirts and badges are good but it's time to move on. You can't be reactive - you have to be proactive. Players have met them and provided ideas. They've done nothing.
"Football is worldwide played by many races and religions. We don't want it to come down to feeling we can't play because we're a different colour and scared of getting abuse.
"Instead of printing T-shirts, how about putting petrol in cars, getting out and about, introducing yourself and reassuring players if there is racism in a club then they can speak up?
"We have to fight racism together. We don't want a breakaway but if you're not doing enough then you're forcing us to do this. Start reacting and be proactive."
Brown, who moved to the Dons last July from Cardiff, has been increasingly critical in recent weeks of bodies like the Professional Footballers' Association, Football Association, UEFA and FIFA, as well as the anti-racism campaign group Kick It Out.
Chairman of Kick It Out, Lord Herman Ouseley, appeared on a radio show alongside Brown recently and one opinion particularly irked the goalkeeper.
Brown added: "What was most disturbing was his comment 'I'm not here to speak out for black professional football players who are wealthy'.
"Does money come into racism? If you've got money do you have to take abuse? That's disappointing - how can we trust these people when the chairman says that?
"If you look at the players not wearing the T-shirt, there is a lack of belief in the Kick It Out schemes - everyone can see it now.
"I understand the organisation are not funded with loads of money, but they need to ask black, white and other players what we can do. I haven't had that question.
"We need to stay knitted together. We should fight but they need to listen to what we say. I am passionate about this as I've suffered racism as a player. It hurts.
"I have two children and I want to be able to look them in the eye and say I've tried to fight the cause. I'm not going to change the world and we're not going to change it overnight but we need to start making strides and counter-attack it."