England and Preston legend Sir Tom Finney dies at age of 91
Preston North End and England legend Sir Tom Finney has died at the age of 91.
Last Updated: 14/02/14 11:38pm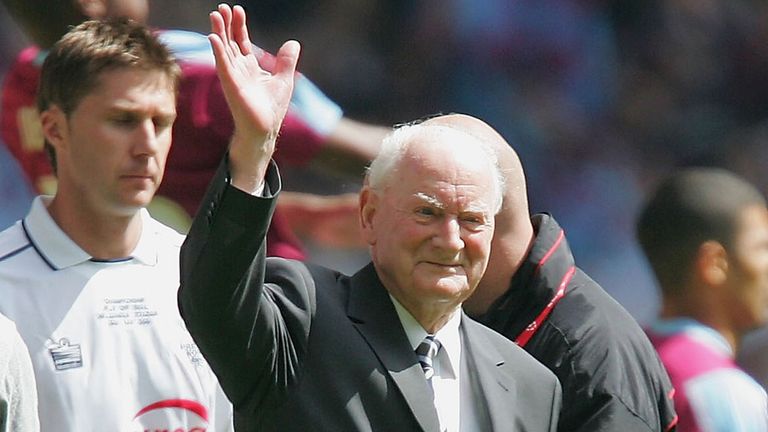 Finney - known as 'the Preston Plumber' - is regarded as one of the greatest players to represent England. He won 76 caps and scored 30 goals, putting him joint sixth on the all-time England goalscoring list with Nat Lofthouse and Alan Shearer.
He made 473 appearances for Preston between 1946 and 1960, scoring 210 goals playing on the wing or as a striker. He won the Second Division title in 1950-1, League Championship runners-up medals in 1953 and 1958 and an FA Cup runners-up medal in 1954. He was the first man to be voted 'Footballer of the Year' twice.
After his playing career finished in 1960, he returned to his former trade as a plumber, before becoming a newspaper columnist.
He was awarded the OBE in 1961, and was knighted at Buckingham Palace in 1998.
In a club statement Preston North End said: "We have been informed of the extremely sad news of the passing of Sir Tom Finney.
"Sir Tom was the greatest player to ever play for Preston North End and one of the all-time greats for England. The thoughts of everyone at the club, and those connected with it, are with his family at this time."
Sky Sports' Martin Tyler said: "He scored plenty of goals, he made plenty of goals and he was a one-club man at Preston. And he had a job as well, as a plumber.
"His reputation as a footballer and as a man was top class. I met him a few times, obviously after his playing days and you couldn't ask for a more modest man about his own talent. I think he goes down as one of the great British players of the twentieth century. His greatest quality was his humility."
Finney was born in Preston in 1922 - a street away from Deepdale - and his football career began late because of the Second World War, in which he served as a tank driver. His footballing skills did however become widely known during his army service.
He made his North End debut at the age of 24 in 1946, and less than a month later he made his England debut - he scored in both games.
He played for England for 12 years, becoming the country's record goalscorer with his 30th and final international goal. Sir Bobby Charlton beat his record in 1963.
He maintained his long association with Preston, becoming the club's president. His image is printed on seats in the Sir Tom Finney Stand at Deepdale and his statue is outside the ground.
Gary Lineker, second on the all-time England goalscoring list, tweeted: "One of the greatest players this country has ever seen, and a true gentleman."
Past tributes from other greats are listed on Finney's website.
Liverpool legend Bill Shankly said: "Tom Finney would have been great in any team, in any match and in any age... even if he had been wearing an overcoat."
Sir Stanley Matthews said: "To dictate the pace and course of a game, a player has to be blessed with awesome qualities. Those who have accomplished it on a regular basis can be counted on the fingers of one hand -Pele, Maradona, Best, Di Stefano, and Tom Finney."
And Sir Bobby Charlton said: "Sir Tom Finney was one of the greatest footballers there has ever been; he was the type of player that people would travel a long way to see...one of the world's top players without question."
Former Manchester United manager Sir Alex Ferguson, on Finney's 90th birthday in 2012, said: "My first experience of Sir Tom Finney is not one of joy - as I stood on the terraces of Hampden Park and watched him giving one of my heroes in the Scotland team, Sammy Cox, a roasting.
"Winding forward all these years and actually meeting the man restores any lost faith you might have in humanity as he is such a wonderful person and so humble. Why can't we all be like that? A credit to the town of Preston, his football club and his family."