Leeds United owner Massimo Cellino unable to confirm Brian McDermott stay
Leeds United owner Massimo Cellino says no decision has been made on who will be in charge at Elland Road next season.
Last Updated: 03/05/14 10:05pm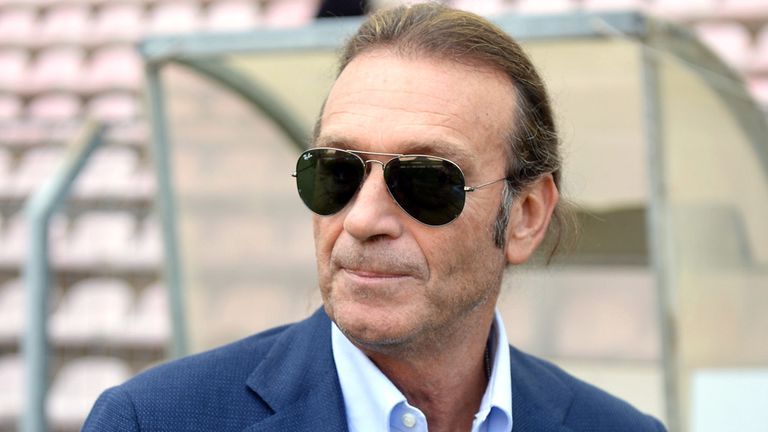 During Cellino's attempt to purchase Leeds in January, McDermott was informed through a solicitor acting on behalf of the Italian's company Eleonora Sport that he had been sacked as the club's manager.
The 52-year-old was reinstated the next day after it emerged the takeover from Dubai-based investment group GFH Capital had not been completed.
Eleonora eventually completed their takeover from financially-stricken GFH last month and while McDermott has stayed in charge of the club, his future remains uncertain.
"I must be 100% confident in my coach at the start of the season," Cellino told BBC Radio Leeds. "I must have a coach that is very good on the field and helps me manage by choosing players.
"I am looking for that and then when the season starts, I must be sure - if it's McDermott or anyone else - that we must not be insecure. We must be sure about what we are looking for.
"We have to let things cool down. Maybe in a week or 10 days' time both of us will be ready to talk about the future.
"We are engaged in another two years of contract and that is also very important for us because we cannot waste money changing (managers). If we have to face that we have to be sure.
"Me and Brian have to sort it out very fairly and in a sporting way."
Cellino revealed he sympathised with the situation McDermott found himself in at Leeds when financial problems started taking hold of the club.
"I think when Brian came here he thought he was coming to a club that could buy a lot of players and he found something different," he said.
"They (the previous owners) were expecting miracles from him, expecting him to be some kind of magician and bring the club into the Premier League straightaway.
"I don't think he got a company/club with enough experience to support him not just with money but with experience so he became a very lonely manager.
"He wasn't ready to manage the club. He was maybe a good coach but did not have enough managerial experience to manage a confusing situation like the one he found at Leeds.
"So I cannot blame him. Maybe he was the right manager at the wrong moment at the wrong club."
Cellino has already brought in former Sheffield Wednesday striker Benito Carbone to assist with redeveloping the club's academy but the 57-year-old insists Carbone is not a potential contender for McDermott's job.
"I brought Benito Carbone here because his dream is to manage in England because he played here in England and he loves English football," he said.
"He knows about soccer but he is not a manager for me that is ready to manage a club in the Championship. He's still too close to a soccer player to be a coach. He's not ready yet."
Cellino added that Leeds must implement a number of changes if they are to eventually return to the Premier League.
"Our overheads are still a little bit too high for a Championship club," he said. "Some of them are more like Champions League than Championship.
"We have to spend our resources on buying good young players with talent and keep the wages down."
He added: "The biggest problem we have is that we do not have enough humility to approach a Championship season.
"We need humility - humility from the coach, humility from the chairman and humility from the fans.
"Why have we not been back to the Premier League in the last 10 years? Because we are spoiled."