Football Expert & Columnist
Chelsea players blasted by Jamie Carragher over Ibrahimovic red card
Last Updated: 12/03/15 4:11pm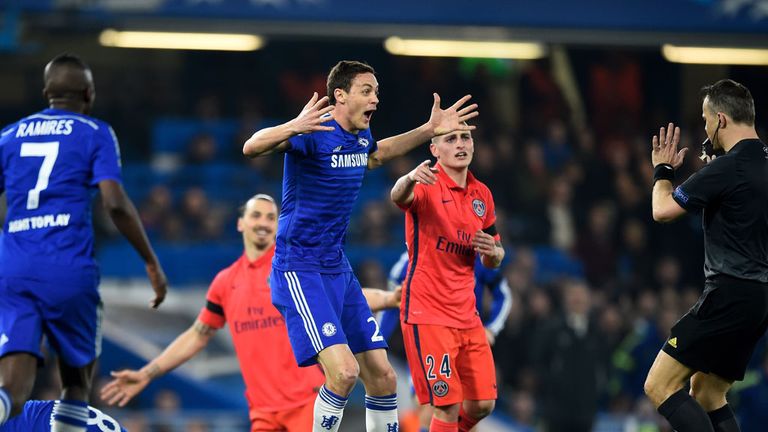 Jamie Carragher has slammed the reaction of Chelsea's players after PSG striker Zlatan Ibrahimovic was sent off at Stamford Bridge.
The visitors were reduced to 10 men when their star player Ibrahimovic was sent off in the 31st minute of the second leg of their last-16 Champions League clash after clashing with Chelsea forward Oscar as they both lunged for the ball.
Despite the man advantage Chelsea failed to test PSG and eventually lost the tie on away goals as the French champions twice came from behind to grab a 2-2 draw after extra-time.
Sky Sports pundit Carragher, speaking at half-time, was heavily critical of the Chelsea players for their reaction to Ibrahimovic's challenge as they appealed to the referee for the Swede to be punished.
And he also felt Blues manager Jose Mourinho's pre-match comments about PSG's aggressive approach in the first leg had played a part in Dutch official Bjorn Kuipers' decision.
Carragher said: "The sending off is very unfortunate. It's not a red card.
"Zlatan is actually trying to pull his foot away. You look at it and Oscar's (foot) is as high as his, if not higher, and if the referee is the other side maybe he would look at Oscar and give the decision the other way.
"The reaction from the Chelsea players is disgraceful and it's sad. It's something that's coming into the game and it comes from Jose Mourinho's teams. They have this reaction, it's not a one-off.
"Maybe what he's said beforehand in the press conference has gone into the referee's head.
"I always think with Jose Mourinho's teams, they will always be respected but they will never be loved because of situations like this. They take winning to a level that no other team or manager does.
"You see the reaction of some of the players and it has definitely played a part – and Mourinho's words have worked."
Fellow pundit Graeme Souness added at half-time: "We had a great game of football going on there and it saddens me, and makes me angry at the same time, that gamesmanship is deciding these big games.
"It's not a sending off, it is Oscar's studs that are high. This has spoiled the game. It's not about the best team winning it any more.
"If that's what our game is coming to we need to sort it out and sort it out quickly."