After Wayne Rooney's knockout of a celebration against Tottenham, we look at other players that have made a statement after scoring...
Jimmy Bullard: Manchester City v Hull, 2009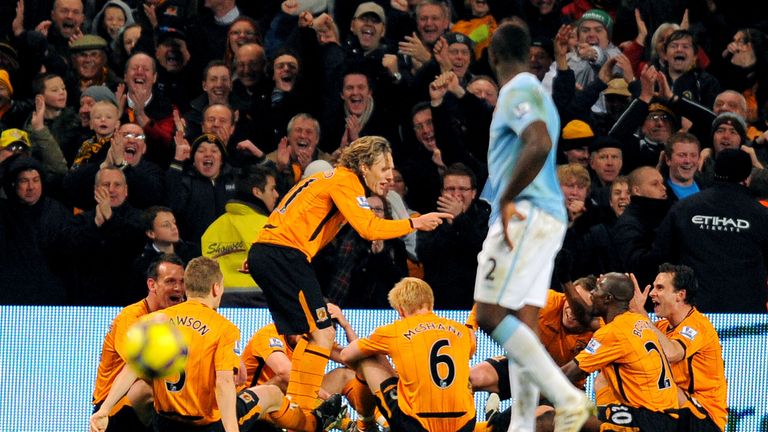 A year after Hull manager Phil Brown forced his players to stay on the pitch during half-time in a defeat at Manchester City, midfielder Jimmy Bullard decided to give his own take on the incident when he scored on the same ground.
Craig Bellamy: Barcelona v Liverpool, 2007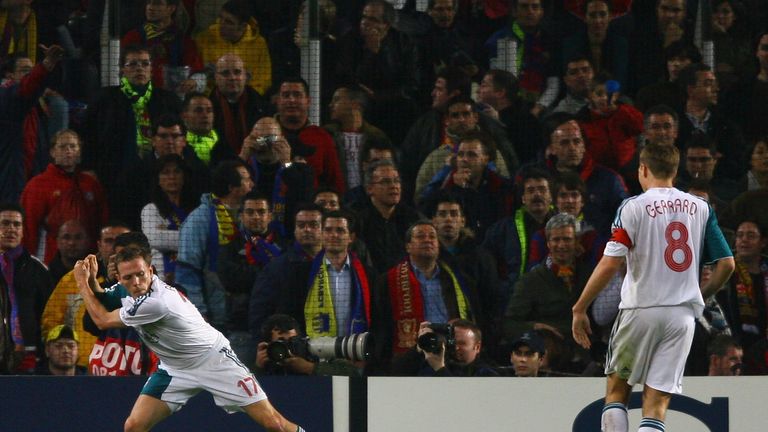 After reports of an incident involving Craig Bellamy swinging a golf club at Liverpool team mate John Arne Riise, Bellamy went for this celebration at Barcelona. The fiery Welshman ran over to the corner flag and swung a pretend golf club as his teammates came to celebrate with him.  
David Ginola: Aston Villa v Manchester City, 2000
David Ginola was out to make a point after his manager John Gregory accused the Frenchman of being overweight and he did so after scoring against Man City, whipping his top off to unveil a chiselled physique.  
Thierry Henry: Arsenal v Manchester United, 2000
Remember the catchphrase "Wasssup" from a famous beer advert? Sky Sports pundit Thierry Henry embraced it by running to the Arsenal bench and pulling a face to celebrate after scoring a quite stunning volley at Highbury.
Samuel Eto'o: Chelsea v Tottenham, 2014
Remember this from Samuel Eto'o? He responded to questions about his age from manager Jose Mourinho by running to the corner flag and pretended to nurse his back in the style of a pensioner after he scored against Tottenham last season.
Mario Balotelli: Manchester City v Manchester United, 2011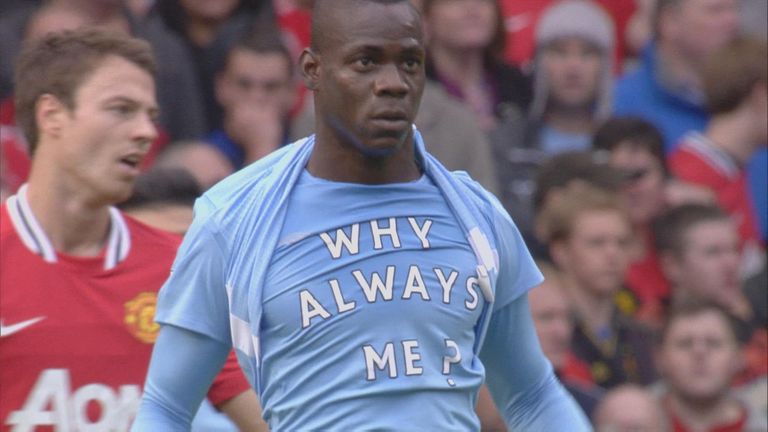 And who could forget when Mario Balotelli's celebration after he scored the opening goal against Manchester United back in 2011. Balotelli displayed a shirt with the words "Why always me" on it after it had emerged he'd burnt down his bathroom after setting off fireworks in the week leading up to the derby.
What is your favourite football celebration? Have we missed one from our list? Tweet us @SkyFootball or if you're reading on a computer comment below! Mobile viewers can click the video at the top to see some more classic celebrations.