Cristiano Ronaldo scored a stunning free-kick against Eibar on Saturday – but the Real Madrid man is only the 25th most effective set-piece taker in Europe.
A powerful, bending free-kick may have become one of the Portugal captain's trademarks but in fact his effort in La Liga at the weekend was his first goal of that kind since March 2013.
It's taken the Ballon d'Or winner 56 attempts to find the net since his last free-kick goal and just seven of his 24 efforts in La Liga this season have hit the target.
Thirty-five players across Europe's top five leagues have tried their luck from more than 10 free-kicks. However, Ronaldo's conversion rate (4.2 per cent) is only better than the nine players who are yet to score at all. And they've all had at least eight fewer attempts than the Real Madrid star.
It seems hitting the target is Ronaldo's greatest problem. Only 29.2 per cent of his free-kicks have worked the 'keeper and that puts him 22nd on the list of most accurate regular set-piece takers.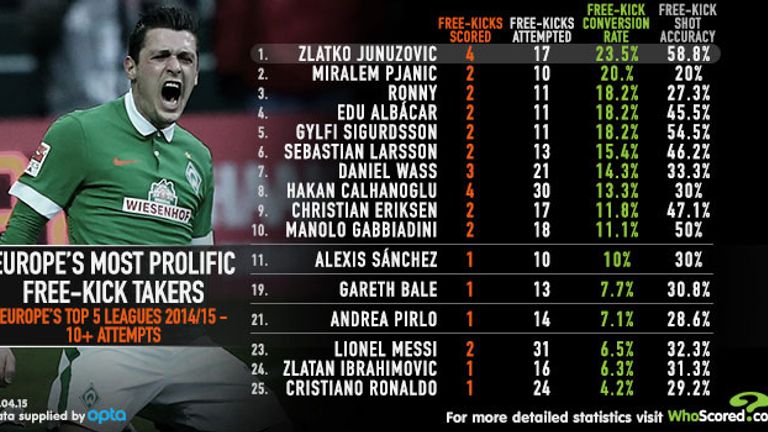 Persistence has paid off for Ronaldo, though - he remains the joint-highest scorer from dead balls over the past two seasons in La Liga, with four goals.
Lionel Messi is the only player who can match Ronaldo for goals scored from free-kicks in La Liga over that time frame. The Barcelona talisman has scored two direct set-pieces this season, but has taken some 31 attempts to do so, giving him a rather underwhelming conversion rate of 6.5 per cent.
Having hit the target with 32.3 per cent of his attempts, he does better than Ronaldo, but only just.
Top free-kick takers are...
Elsewhere in Europe, there are players faring better than the world's top two players when it comes to free-kicks.
Werder Bremen's Zlatko Junuzovic and Bayer Leverkusen's Hakan Calhanoglu are both lauded for their ability at set-pieces, and lead the way with four goals apiece this season alone.
They do, however, have significantly differing numbers behind their success. While Junuzovic has taken only 17 shots to reach that tally (23.5 per cent conversion), Calhanoglu, who netted a superb free-kick at Mainz this weekend, has required 30 shots to score four times (13.3 per cent).
The Austrian is both the most effective and most accurate (58.8 per cent) free-kick taker in Europe.
Roma's Miralem Pjanic, perennially linked with a move to England, has the second best free-kick conversion rate across Europe's top five leagues (20%).
As for the Premier League, Gylfi Sigurdsson (54.5 per cent), Christian Eriksen (47.1 per cent) and Seb Larsson (46.2 per cent) are all among the top five in Europe for shot accuracy from dead balls. Each have scored twice from free-kicks, placing them in the top 10 for conversion rate, too.
It is somewhat surprising that none of the household names when it comes to free-kick taking appear in the top 10 for conversion rate from dead balls. Alexis Sanchez (10 per cent), Gareth Bale (7.7), Andrea Pirlo (7.1) and Zlatan Ibrahimovic (6.3) all fall short.
All statistics courtesy of WhoScored.com, where you can find more stats, including live in-game data and unique player and team ratings. You can follow all the scores, statistics, live player and team ratings with the new free-to-download WhoScored app