Liverpool lead Manchester United, Arsenal, Tottenham and Everton in Ultimate League
By Adam Smith
Last Updated: 26/05/15 2:38pm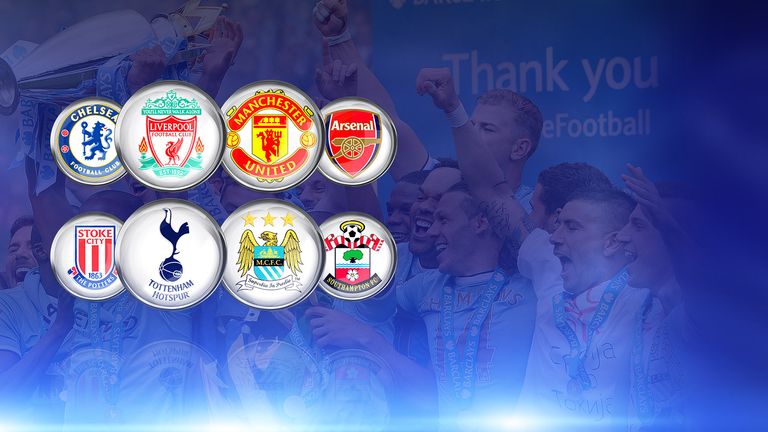 Liverpool remain the top team in England, according to a revised study compiled by Sky Sports.
The Ultimate League calculates the average position of every team over the last 50 years and incorporates the final 2014/15 standings.
Only teams that have played in the Football League for at least 15 seasons during the period are included - any non-league ventures are also factored.
Liverpool topped the 90-team summit with an average position of 3.3, buoyed by their phenomenal success during the 1970s and 80s. Manchester United and Arsenal finished second and third, respectively.
Newly-crowned Premier League champions Chelsea finished sixth, with an average position of 10.9 over the last 50 years.
OVERACHIEVING OR UNDERACHIEVING?  
The Ultimate League provides a barometer for under- or overachievement, based on historical league success.
Swansea, who finished 8th in the Premier League this season, are the biggest overachievers - finishing this season 45 places above their Ultimate League position of 53rd.
Championship play-off competitors Brentford are the second-biggest overachievers after finishing 40 places above their average of 65th.
Premier League-bound Bournemouth (+38) and League One Rochdale (+33), who narrowly missed out on the play-offs, are also excelling beyond their historical average.
In contrast, Portsmouth are the biggest underachievers. The League Two side finished the 2014/15 season 50 positions below their average standing of 34th. Now-Conference North Stockport County in 79th (-48) and League One Coventry City in 18th (-43) completed the top three underachievers.
Bristol Rovers in 54th (-40) are also among the top underachievers. However, Rovers earned promotion back into the Football League this season after beating Grimsby - another top underachiever (-33) - in the Conference play-off final.
THE TOP 20
Liverpool secured their status as champions of the 50-year Ultimate League by winning 12 league titles and finishing runner-up on 11 occasions since 1965/66.
Top-spot regulars Manchester United and Arsenal finished second and third respectively in the average table, while Tottenham secured fourth.
Meanwhile, Everton come in fifth, with current Premier League champions Chelsea sixth.
Coventry City may be in League One but ranked 18th in the Ultimate League. They enjoyed sustained top-flight status between 1967/68 to 2000/01 but are now the biggest underachievers among the top 20, sitting 17th in League One, 43 places below their Ultimate League ranking.
Other top 20 underachievers included Leeds United in 11th (-24) and Nottingham Forest in 13th (-21).
TEAMS RANKED 21-44
 
Middlesbrough are 21st, while QPR, Burnley and Hull, all relegated from the Premier League this season, finished 22nd, 36th and 40th in the Ultimate League - indicating all three were most likely to face the drop this season, instead of Aston Villa, Sunderland or Newcastle.
Along with Bournemouth, fellow Premier League newbies and Championship runners-up Watford are also punching above their weight with an impressive +11.
TEAMS RANKED 45-68
Besides Bristol Rovers (-40) and Grimsby (-33), Plymouth in 51st (-24), Oxford United in 52nd (-29) and Carlisle United in 60th (-28) are all currently in League Two but should be in the hypothetical League One.
Tranmere Rovers in 57th (-35) finished at the foot of League One this season and will also be playing in England's fourth tier for their next campaign.
Meanwhile, Notts County and Leyton Orient, both relegated from League One this season, paid the price for falling just below their historical averages – they are 50th (-15) and 61st (-6) in the Ultimate League.
TEAMS RANKED 69-90
Wycombe in 87th (+15), who were defeated in the League Two play-off final, are one of the greatest overachievers among teams ranked 69-90, the hypothetical League Two.
Bury in 68th (-3) and Shrewsbury in 67th (-3), are currently holding their 50-year average position after earning promotion from League Two this season.
Cheltenham Town – the lowest ranked side in the Ultimate League at 90 - dropped one position below their 50-year average this season and were relegated to the Conference.
Lincoln City in 84th (-23), Torquay United in 86th (-19) and Macclesfield in 89th (-9) played in the Conference during the 2014/15 campaign - all failed to gain promotion back into the Football League.
Barnet in 88th (-5) won the Conference title this season to return to their traditional place in the Football League.
THE CLUBS THAT GOT AWAY
Clubs that have appeared in England's top four tiers for 15 seasons or more since '1965/66' but were not included in the average league due to diminished status or dissolution include Chester City, Darlington, Hereford United, Newport County, Aldershot, Scarborough and Halifax Town.
THE ULTIMATE LEAGUE
1 Liverpool (avg position: 3.32)
2 Manchester United (4.96)
3 Arsenal (5.24)
4 Tottenham (8.94)
5 Everton (8.98)
6 Chelsea (10.92)
7 Manchester City (14)
8 Aston Villa (14.56)
9 Newcastle United (14.92)
10 West Ham United (15.26)
11 Leeds United (17.04)                    
12 Southampton (17.54)
13 Nottingham Forest (20.56)
14 Ipswich Town (21.14)
15 West Brom (22.34)
16 Leicester (22.42)
17 Sunderland (22.5)
18 Coventry (22.68)
19 Norwich City (22.84)
20 Derby County (23.28)
21 Middlesbrough (23.32)
22 Queens Park Rangers (24.28)
23 Stoke (25.36)
24 Blackburn Rovers (25.48)
25 Birmingham (26.24)
26 Wolverhampton Wanderers (26.6)
27 Crystal Palace (27.78)
28 Sheffield Wednesday (29.48)
29 Sheffield United (30.64)
30 Charlton Athletic (32.06)
31 Bolton (32.4)
32 Fulham (36.04)
33 Watford (36.2)
34 Portsmouth (38.14)
35 Millwall (39.16)
36 Burnley (40.06)
37 Bristol City (41.72)
38 Luton Town (45.52)
39 Oldham Athletic (46.4)
40 Hull City (47.1)
41 Huddersfield Town (47.26)
42 Cardiff City (47.42)
43 Brighton (47.46)
44 Reading (47.56)
45 Barnsley (47.68)
46 Blackpool (48.28)
47 Preston North End (48.38)
48 Swindon Town (50)
49 MK Dons (Wimbledon) (52.1)
50 Notts County (52.98)
51 Plymouth (54.18)
52 Oxford United (54.94)
53 Swansea (56.7)
54 Bristol Rovers (57.28)
55 Rotherham (57.58)
56 Walsall (57.72)
57 Tranmere Rovers (58.76)
58 Bradford (58.78)
59 Bournemouth (59.1)
60 Carlisle (59.58)
61 Leyton Orient (59.82)
62 Grimsby (60.44)
63 Gillingham (60.46)
64 Wigan (60.66)
65 Brentford (60.84)
66 Port Vale (61.28)
67 Shrewsbury Town (61.96)
68 Bury (64.82)
69 Peterborough United (65.2)
70 Southend United (65.28)
71 Chesterfield (66.64)
72 Colchester United (67.4)
73 Crewe Alexandra (69.08)
74 Wrexham (70.34)
75 Doncaster Rovers (71.86)
76 Scunthorpe United (72.5)
77 Northampton (73.42)
78 Mansfield Town (73.86)
79 Stockport County (74.3)
80 Cambridge United (75.26)
81 Hartlepool (77.24)
82 Exeter (77.4)
83 York City (77.44)
84 Lincoln City (78.84)
85 Rochdale (79.02)
86 Torquay (79.4)
87 Wycombe Wanderers (87)
88 Barnet (95.06)
89 Macclesfield (98.6)
90 Cheltenham Town (101.18)