After the passing of Dutch icon Johan Cruyff following a long battle with cancer, we recall the extraordinary Dream Team he built during his time as Barcelona manager between 1988 and 1996.
When Johan Cruyff took over in the Nou Camp dugout in 1988, the much-loved former forward inherited a side that had only won a single league title in the previous 14 years. "I know the club and I don't want history to repeat itself," he said. "If we want things to change, we must change history."
The comments set the tone for a glorious era at the Catalan club. In order to restore Barcelona to their former glories and end Real Madrid's dominance of Spanish football, Cruyff set about building a Dream Team that would have a profound influence on the modern game.
Cruyff's side combined international stars like Brazil legend Romario, Denmark's Michael Laudrup, Bulgarian forward Hristo Stoichkov and fellow Dutchman Ronald Koeman with Spaniards such as Pep Guardiola, Andoni Zubizarreta and José Mari Bakero.
Barcelona's Dream Team
Andoni Zubizarreta
José Mari Bakero
Txiki Begiristain
Michael Laudrup
Ronald Koeman
Hristo Stoichkov
Romario
Eusebio Sacristan
Miguel Angel Nadal
Pep Guardiola
Guillermo Amor
Juan Carlos
Albert Ferrer
Nando Muñoz
Julio Salinas
Ricardo Serna
José Ramón Alexanko
Andoni Goikoetxea
Incorporating the Dutch principles of Total Football, it wasn't long before the Dream Team began to dominate, with silverware arriving in the shape of a UEFA Cup Winners' Cup triumph over Sampdoria in 1989 before four consecutive La Liga titles between 1991 and 1994.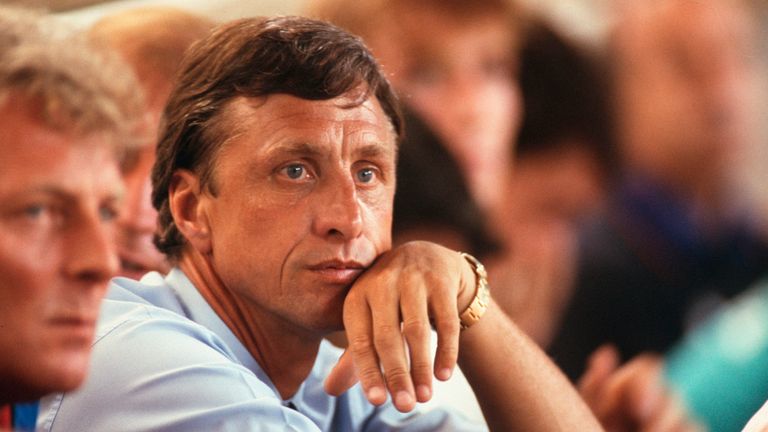 It was an astonishing period of success defined by revolutionary, possession-based football, and the Dream Team also landed the club's first European Cup with another victory over Sampdoria in 1992. In total, Cruyff won 11 trophies between 1988 and 1996, making him the most successful manager in Barcelona's history until the record was broken by his protégé Guardiola two decades later.
The Dream Team's trophy haul
4 La Ligas
3 Spanish Supercups
1 European Cup
1 UEFA Cup Winners' Cup
1 Copa del Rey
1 UEFA Supercup
Guardiola, though, insisted his remarkable success in the Barcelona dugout was not comparable to the achievements of Cruyff's Dream Team. "They were pioneers and we cannot compete with that no matter how many trophies we win," he said in 2011.
''We will never equal the period of the Dream Team as they were the first to break up the long period without success. Louis van Gaal, Frank Rijkaard and I have added things but none of this would have happened without the Dream Team."
Guardiola is not the only one of Cruyff's former players who remembers the team with great fondness. "We won four league titles, one European Cup and other titles while also playing great football," said Michael Laudrup.
"If I had to choose something [about the team] I would pick the spirit that was in the group. We were friends and had a very good atmosphere in the dressing room. I think it was the most important thing."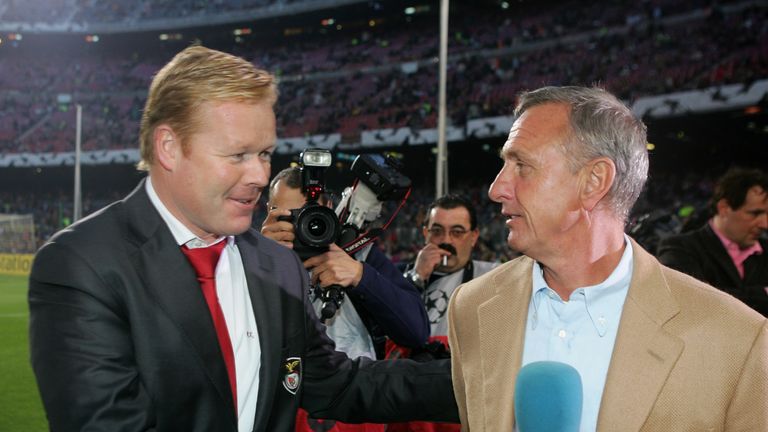 Southampton manager Koeman was one of the leaders of the Dream Team and scored the winning goal in the 1992 European Cup final. He echoed Guardiola's comments on Cruyff's influence at Barcelona in an interview with the Daily Mail in 2011.
"He laid the foundations for what you see now," said Koeman. "He was responsible for the major turnaround of the club, for stopping the domination of Real Madrid. It was an important time for Barcelona because it proved that you can play great football and still win."
Cruyff's philosophy has come to embody Barcelona, and as Luis Enrique's side chase yet more silverware in the final months of the season, it's time to remember the man who made it all possible.