Johan Cruyff picks all-time world XI: Pep Guardiola makes the team
By Adam Bate and Leon Yearwood
Last Updated: 06/10/16 11:15pm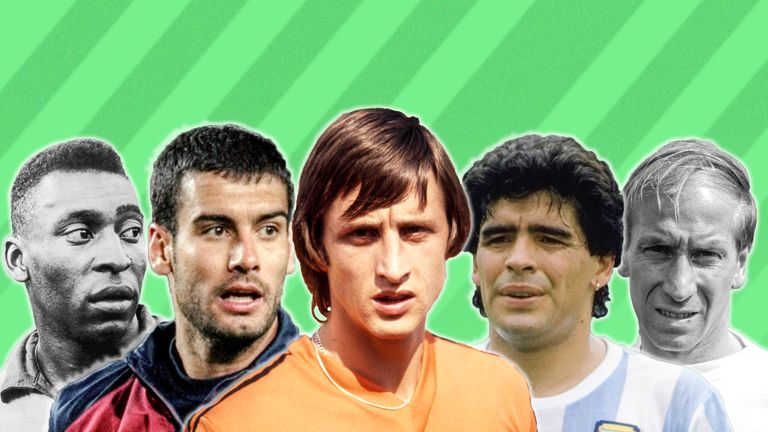 Johan Cruyff's posthumously released autobiography My Turn has revealed the legendary player and coach's all-time world XI.
It's a typically attacking line-up but Cruyff explains the selection in detail. "For the ideal squad, I also try and find a formula in which talent is used to the maximum in every case," notes Cruyff. "The qualities of one player have to complement the qualities of another."
Here's how they line up…
Lev Yashin
The former Soviet Union goalkeeper is widely regarded as the greatest in the history of the game but he makes Cruyff's XI as much for his personality as his skills. "It can hardly do any harm to have a reassuring father figure to bring all those stars down to earth," writes Cruyff.
Carlos Alberto, Pep Guardiola, Franz Beckenbauer and Ruud Krol
Brazil's 1970 World Cup-winning captain Carlos Alberto and Cruyff's old Netherlands team-mate Ruud Krol are included as the full-backs for "their insight, technique and speed" in order to stop the midfield getting over-run.
Cruyff's commitment to ball-playing defenders is confirmed by the fact that he namechecks German libero Franz Beckenbauer and Barcelona protégé Pep Guardiola in his "fantasy squad" with an onus on them to step out from the back and join in with a superstar midifield…
Garrincha, Alfredo Di Stefano, Bobby Charlton and Piet Keizer
Wing wizards Garrincha and Piet Keizer make Cruyff's team. Garrincha's dribbling skills made him the darling of Brazil, helping them to win the World Cup in 1958 and 1962, while Keizer was already a star at Ajax when Cruyff broke into the team.
Alfredo Di Stefano and Bobby Charlton are seen as an ideal pair - "tactically and technically brilliant" but players who "fit together well physically", according to Cruyff. He adds: "That puts them in an excellent position to do extra work for stylists like Keizer and Garrincha."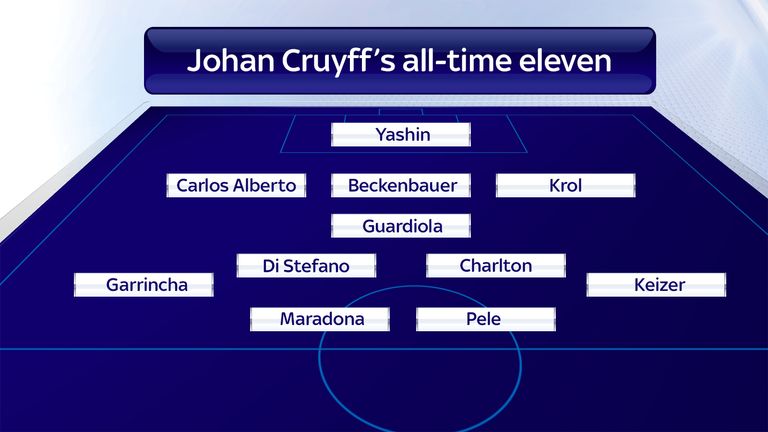 Diego Maradona and Pele
Football fans have long debated the relative merits of Argentina's genius No 10 Diego Maradona and the three-time World Cup-winning icon Pele, but typically given his emphasis on team play, Cruyff regards the two men as a "perfect match" in attack.
"Pele's enormous sense of responsibility connects nicely with Maradona's individualism," he writes. "I know for sure that during the match Pele would watch over Diego as a kind of guide, because footballers have a perfect sense for that kind of thing. And Maradona would give something back to Pele, which would allow him to be fully appreciated."
My Turn: the autobiography by Johan Cruyff is published by Macmillan, out now, £20.