Football manager job security at all-time low, Sky Sports study finds
By Adam Smith
Last Updated: 24/03/17 4:18pm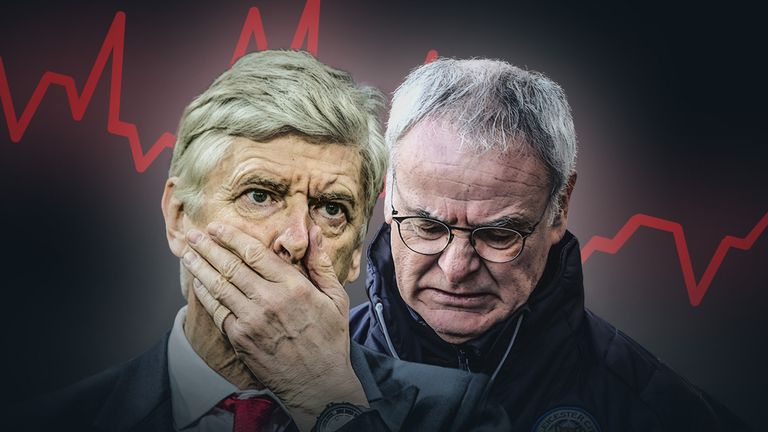 How long do managers last at the top 92 clubs in England? We've crunched the numbers to reveal the exact average in days...
Job security for managers in England's top four tiers is at an all-time low, a Sky Sports study has found.
A remarkable 75 managers were sacked, quit or failed to last after temporary stints in charge last season - the highest total in English football history.
In addition, the average tenure for a departing manager last term was an all-time low of just 423 days.
This season, 51 managers have been axed or walked already and the average tenure is just 477 days and, with over three months until July 1st, that number could still drop below that threshold to break a new record.
In the first years after the Second World War, managers had an average tenure of more than seven years, with just 20 departing their roles during the 1946/47 season.
But even as recently as 1992/93, managers could expect to be in charge for nearly three years, with just 25 coaches losing their jobs in the first Premier League season.
For the study, Sky Sports recorded every manager who has lasted 35 days or more at a current top-four tier club since 1946/47 to work out how long the average boss keeps his job, with the help of Soccerbase.com data.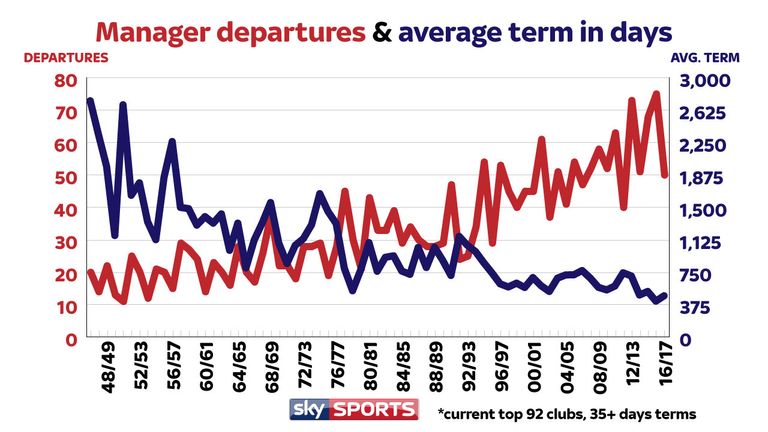 THIS SEASON'S CASUALTIES
There have been a number of managerial departures this season which have highlighted the insecurity football managers face.
Leicester boss Claudio Ranieri was sacked in February 2017, despite leading Leicester to a 5000-1 shock Premier League win last season, while Aitor Karanka - who led Middlesbrough to the top flight last term - left his post last week.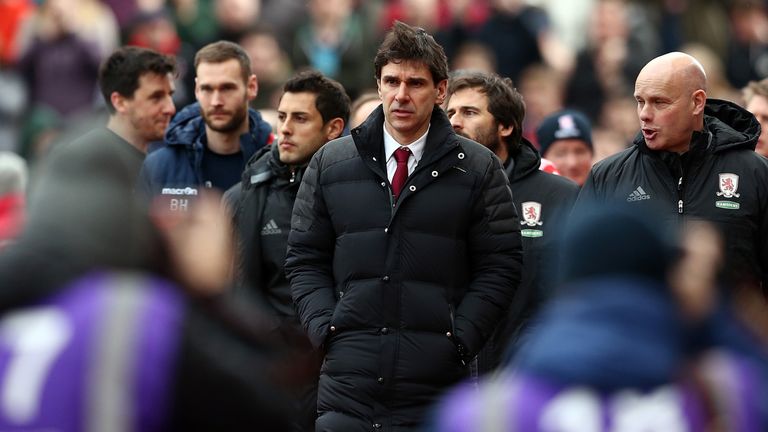 Bob Bradley only lasted 85 days at Swansea before receiving his marching orders, while Walter Zenga (Wolves), Kenny Jackett (Rotherham), Alberto Cavasin, Andy Edwards (both Leyton Orient), Russell Slade (Coventry), Chris Brass (Bury), all lasted fewer than 100 days at the helm this term in the lower leagues.
Arsenal boss Arsene Wenger is under pressure to step down after a string of poor results, but the Frenchman is unlikely to consider resignation lightly after more than 20 years in charge of the Gunners.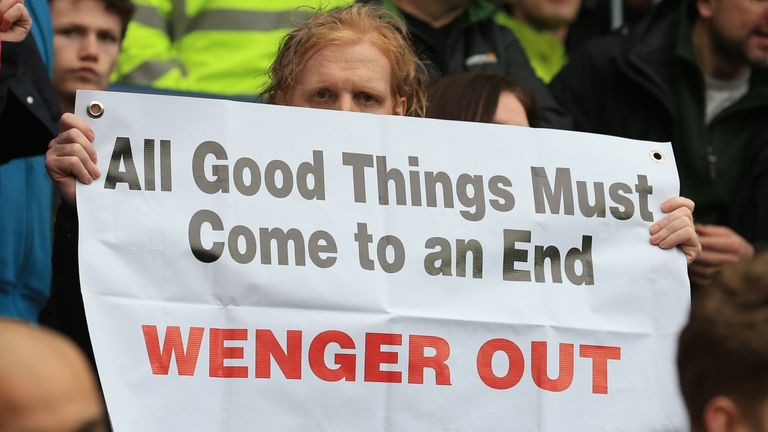 LONGEST-SERVING MANAGERS
Wenger is England's longest-serving, active manager and currently holds the 10th-longest reign in our study, which is nearly twice as long as the next longest active tenure, held by Paul Tisdale at Exeter (10 years, nine months).
But neither Wenger or Tisdale come close to the all-time record set by Fred Everiss, who was in charge of West Brom between 1902 and 1948 - the longest tenure of any football manager in English history.
Meanwhile, Sir Alex Ferguson's 26-and-a-half-year reign at Old Trafford was the third-longest in our list, ahead of another ex United boss Sir Matt Busby.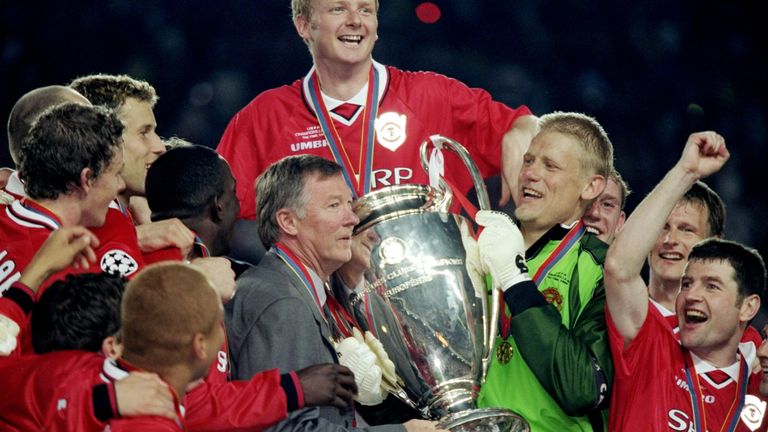 YOUR CLUB'S AVERAGE MANAGER TENURE
In terms of average tenures at clubs since 1946/47, Manchester United, boosted by Ferguson's tenure, lead the pack with the average boss lasting 2,346 days.
Arsenal have the second longest with 2,172 days, followed by Ipswich (2,007), West Ham (1,916), Liverpool (1,741) and Everton (1,473).
Relative Football League newcomers Morecambe (1,988) and AFC Wimbledon (1,790) also have high averages, due to their recent promotions from non league.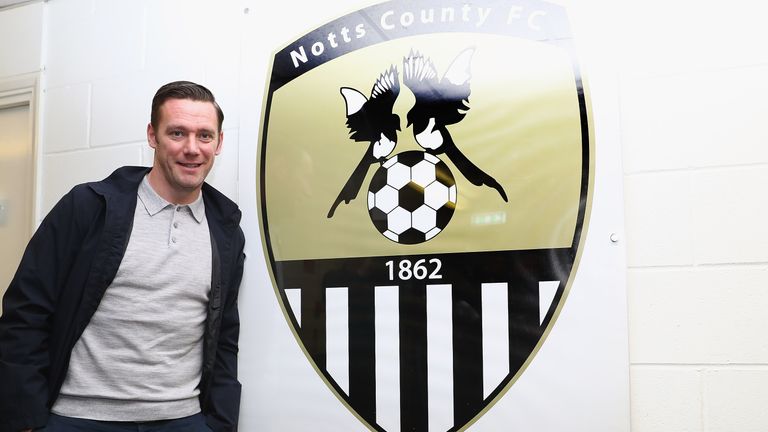 Meanwhile, Notts County have had more managers than any other current top-four tier club over the last 70 years - appointed 48 managers for more than 35 days and averaging around 500 days at the helm each.
Check out the table below to see how many managers your club has appointed...