Sam Allardyce has transformed Crystal Palace and nobody has felt the benefits quite like Andros Townsend. Ahead of Wednesday's meeting with his old club Tottenham, live on Sky Sports, we examine how the winger rediscovered his best form.
It is only two months since Crystal Palace were slipping towards relegation. Sam Allardyce's first eight games in charge had yielded a solitary victory. Back-to-back defeats to Sunderland and Stoke had left them 19th in the table. And with a daunting run of fixtures to come, alarm bells were ringing loudly around Selhurst Park.
The outlook was bleak but the recovery has been remarkable. Palace have turned their form on its head, winning as many Premier League games in the last eight weeks as they managed in the whole of 2016. They host Spurs on Wednesday night hoping to make it four out of four against top-six opposition. A top-half finish is suddenly a realistic possibility.
Christian Benteke has played a significant role, as have January signings Mamadou Sakho and Luka Milivojevic, but if there is one player who typifies the turnaround, it is Andros Townsend. The winger lost his way - and his place in the team - after his £13m arrival from Newcastle in the summer, but he has finally come to life.

Townsend has contributed more goals (two) and assists (two) in the last seven games than he managed in the previous seven months. His goal-of-the-season contender at West Brom and his well-taken opener against Arsenal have been the standout moments, but Townsend's transformation has been most apparent in other areas of his game.
Since that 4-0 thrashing by Sunderland, in which Townsend did not even make the starting XI, his work-rate has increased exponentially. From covering an average of 8.8km per 90 minutes earlier in the season, the 25-year-old has now topped 11km in seven of his last nine appearances. His numbers for high-intensity sprints have followed a similar pattern.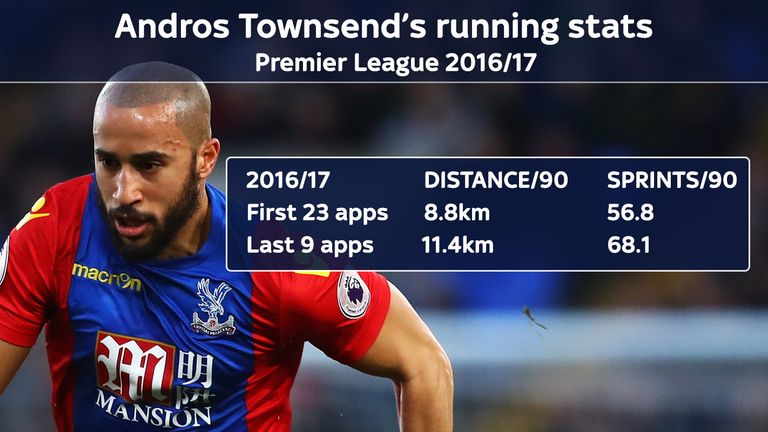 It's down to a rigorous new training regime introduced by Allardyce. "We didn't get a short-term fix because first and foremost we weren't training hard enough," Townsend told Sky Sports this week. "We changed the structure of how we train. It took a while to get used to that more intense training, but look at the stats and you can see we are working 10 times harder."
Townsend's new fitness levels have allowed him to complete the 90 minutes in four consecutive games for the first time all season. In the 3-0 win over Arsenal, he ran further and sprinted more times than any other player on the pitch. Against West Brom, he made the most tackles by any Palace player in a single game all season.
It's a stark contrast from earlier in the campaign, when Townsend's lacklustre displays were booed by Palace fans. His upturn in form has required renewed focus and dedication, but Townsend credits head of performance Ryland Morgans, who joined Palace in January having previously worked with Liverpool and Wales, for the improved fitness levels that have underpinned it all.
"Fundamentally I wasn't fit enough in the first half of the season, I wasn't able to get up and down the pitch as much as I would like," he said. "Ryland Morgans has come in and changed that. He's got me getting the most out of my body. Now I'm putting in great shifts for the team defensively, and down the other end I'm managing to pick up a few goals and assists as well which is nice."
According to Allardyce, Townsend's off-the-ball work highlights a change in attitude. "Against Arsenal, Andros shut down three players on his own, one after the other," he said recently. "He ran from the right side to the left, almost got a block, and the crowd cheered him for the effort. That's how he's changed his attitude, to believing in himself and performing to his very best."
Townsend is flying now, but Wednesday's meeting with Tottenham will be a reminder of more difficult times. The England international still holds his boyhood club close to his heart, but he departed in January of last year having rowed with fitness coach Nathan Gardiner and failed to convince boss Mauricio Pochettino that he merited a regular starting spot.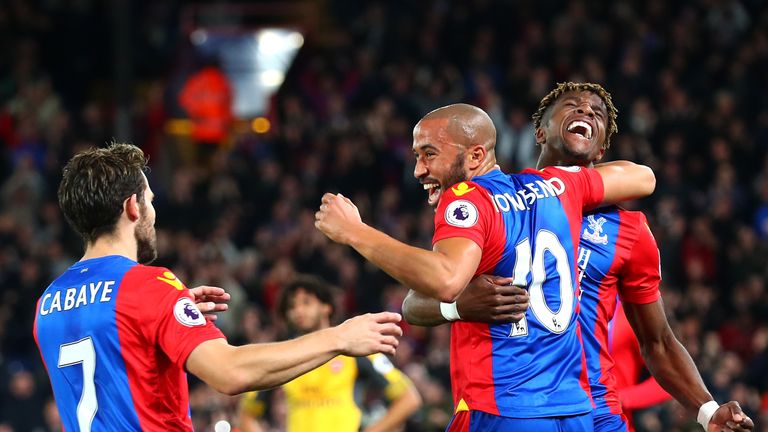 When he talks about his current form at Palace, it's easy to see why Townsend didn't previously fit with Tottenham's high-intensity style. "For the first time in my career I'm putting in a good shift defensively and helping the team out," he added this week. "I don't think there has ever been a time when I've played as well as I am now."
Allardyce will be hoping it continues on Wednesday night. Two months ago Townsend seemed destined to suffer his second consecutive relegation, but now he's driving Palace up the table. Helping them to victory against his former club would be a fitting way to continue his transformation.