WONDERKID director Rhys Chapman on Moscow screening, 2018 FIFA World Cup and LGBT rights in Russia
British sport's anti-discrimination work 'so important in setting example', says film-maker
Last Updated: 19/10/17 4:40pm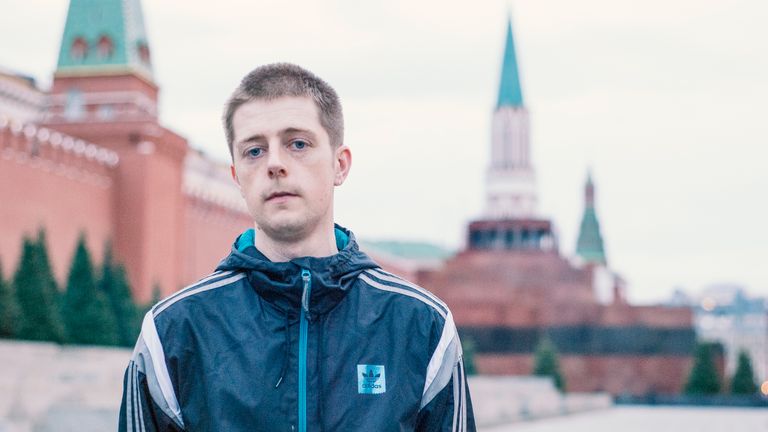 On the recent International Day Against Homophobia, Sky Sports again televised the short film WONDERKID, which depicts a young gay footballer who has recently completed a dream transfer to a big Premier League club.
The film is available to watch on demand on Sky Sports via Catch Up TV until May 31, or at the official website.
Last weekend, the director of WONDERKID, Rhys Chapman, travelled to Moscow for a special screening organised by the Russian LGBT Sport Federation.
The event was funded and supported by the FARE network - the umbrella group for European football anti-discrimination organisations - and the UK's own Football v Homophobia initiative, run by Pride Sports.
Since 2013, discrimination against lesbian, gay, bisexual and transgender people has increased dramatically in Russia after a change in the country's federal legislation.
A law passed by the State Duma and signed into action by President Vladimir Putin prohibits "propaganda for non-traditional sexual relations to minors"; the stated aim is to protect children from content that contradicts traditional family values.
The effect of such a law has been a surge in homophobia and violence against LGBT people; many have lost their jobs, been shunned by their communities and continue to live in fear for their safety.
Any individual adjudged to have contravened the law is fined, and the amount increases significantly if mass media or the internet were used. Foreigners can be detained for up to 15 days, and deported.
Against such a backdrop, it was with considerable trepidation that Chapman agreed to appear in person at the Moscow event. Here, he recounts his experiences in Russia and looks ahead to the 2018 World Cup...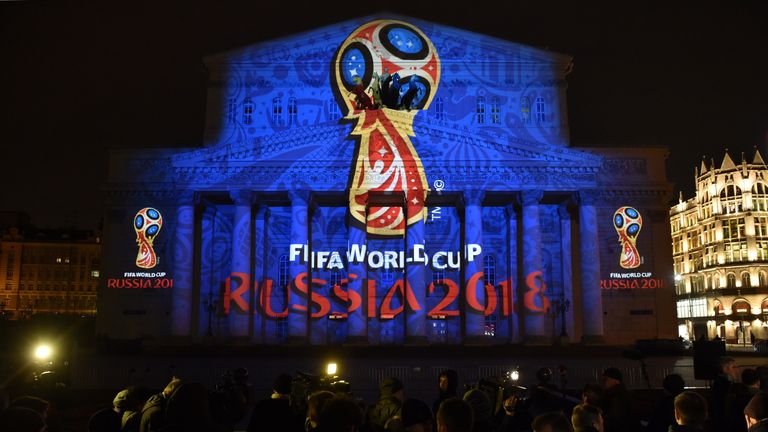 It's a privilege to hold the World Cup, and human rights should be an important factor in selecting a host nation.
WONDERKID director Rhys Chapman
From the start, just getting there was a nightmare.
The Russian Visa application process is complicated - you have to fill in a form online, then print it off and take it to the application centre in London in person.
There were long queues of people waiting to use the computers to start all over again, having had their applications refused for even the most minute of details. It cost £5 to use a computer, and 50p per sheet of printed paper.
Initially, I was supposed to be a private guest of an American Embassy employee who had sent me an official letter of invitation. The staff at the centre phoned the embassy to check this, only to then tell me that the letter was incorrect and I would not be able to get a visa unless my host resent the invitation to them electronically.
My host told me he had never heard of this process before, nor did he know how to do it. As I was applying very close to my visit, it was not possible for him to do this in the short time remaining.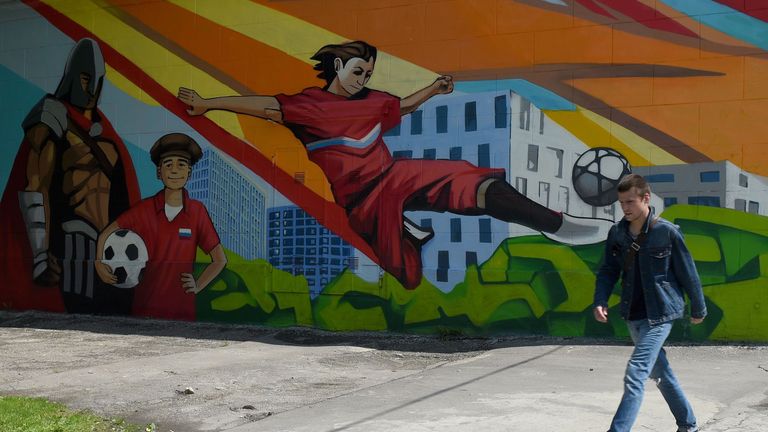 After over six hours in the centre, and following attempts to befriend those behind the counter, I ended up getting a tourist visa approved. But even for that, I had to get the hotel I was staying in to send an official letter of invitation through this government-approved service, which was also needlessly complicated.
The visa ended up costing £186 for the two days I would be there (this included a next-day approval service surcharge) and I spent nearly £20 using the computer and printer.
Once I arrived in Moscow, I was kept in passport control for over an hour - a nerve-racking experience. Being who I am and doing what I do, coupled with my true reasons for being there, naturally had me worried.
Finally, they came to check my credentials, taking my passport for about 10 minutes without saying a word to me. It was a huge relief when they returned it and allowed me into Russia.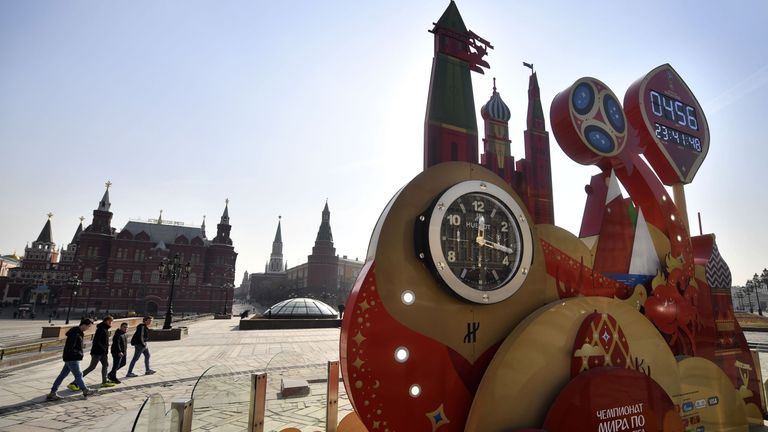 My contact, the Russian LGBT Sport Federation president Alexander Agapov, told me there had been nothing wrong with the embassy employee's letter of invitation. However, the employee had later been told by the embassy that they were not willing to guarantee my safety.
Alexander suggested that he stayed in my hotel with me to ensure I was safe. Hearing all this just as I got there made me feel very uneasy. I had been warned by many people not to go and at this point, I felt like I'd made a huge mistake.
I've only ever been to countries in Europe where there's a sense of globalism, with recognisable corporations similar to the UK. In Moscow, it felt like I was in a parallel universe. The Russian alphabet made everything unreadable to me, and much of the surroundings still resemble a stereotypical vision of the Soviet Union under Stalin.
It was a mixture of extravagant old buildings and derelict areas with unfinished infrastructure. The express train from the airport to the city centre took us through the suburbs with many derelict blocks of flats, and 'sleeper towns' which people who work in the city return to only at night.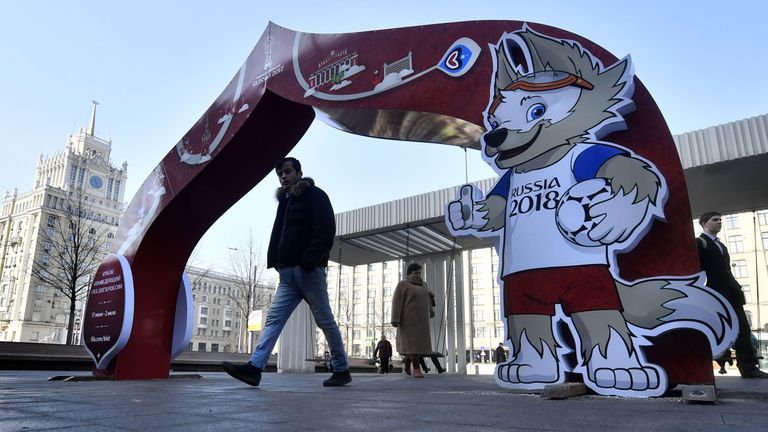 Moscow's city centre is beautiful, however. I loved seeing the Kremlin, the KGB headquarters and the Cathedral of Christ the Savior where the band Pussy Riot held their famous protest against Putin five years ago.
My hotel was a standard Ibis - it felt like any other and despite Alexander's offer, I had no concerns about staying there on my own. I felt less safe when I went to his flat the next day to collect a hard drive before the screening. He lives outside of the city centre on the 21st floor of a block of social housing flats, not dissimilar to those I had seen on the train from the airport.
Walking the streets, there is no suggestion of an LGBT community even existing in Moscow. Their organisations have to remain hidden underground - it's very difficult to arrange and do anything in public. I'm told any peaceful events or demonstrations tend to get shut down by the police before they can even get started. Add to that the risk of having the event sabotaged by thugs and it's no surprise that events like ours almost always take place in absolute secrecy.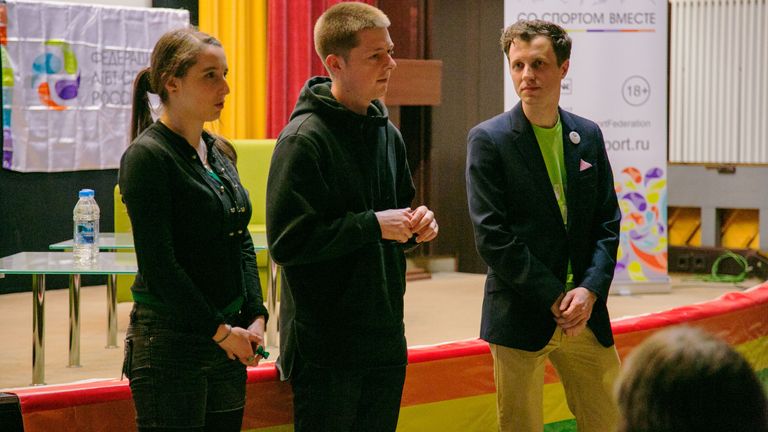 The screening was very different to our previous WONDERKID events. It took place in the German Goethe-Institut, which was completely empty on a Sunday afternoon.
The institute is run by the German government so technically the screening was taking place in German territory. I waited while the organisers set up, and the audience members and guests began to appear, mostly all at the same time.
There was a quiet and tense atmosphere; it all felt very secretive. Whilst the screening was promoted on Facebook, I was told that, for LGBT events, the address is not advertised. Those interested have to register their details in order to attend and the address is always sent out privately closer to the date.
Once the film started, everyone seemed to relax. The audience reacted to certain scenes in the way I expected, but with additional excitement. I needed an interpreter for the Q&A session that followed - a lot of the questions were similar to what I'm used to but with more intrigue.
We discussed the issues facing LGBT football fans in the UK, the LGBT supporters groups we have and how we had used the film to help change opinions. Usually, at screenings with a large number of LGBT people in the audience, I feel a lot of gratitude but the response of the Russian audience was like nothing I've ever experienced.
I stayed for several hours after the event answering more questions, hearing about LGBT issues in Russia, joining in with selfies and signing autographs.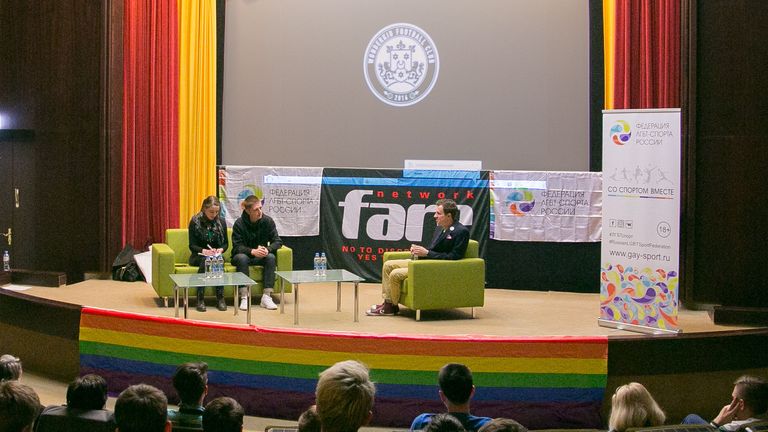 There was major concern about the current situation for LGBT people in Chechnya among the audience. Putin has been called out about it several times and was even forced to release a statement. Supposedly, he said he would look into the situation but a few days later, the case was closed. Despite that, it's been seen as a big moment in Russia - the first time this government has even acknowledged LGBT issues.
Next month, the Confederations Cup takes place in Russia - their warm-up event ahead of hosting the 2018 World Cup.
Despite the ongoing discrimination in the country, I'd encourage any LGBT or BAME football fans to go and support their nation. I'm told that if you have match tickets, you won't need a visa, so fans wouldn't have to go through all the nonsense I had to.
I'd recommend staying in English-speaking hotel chains and avoid venturing away from the city centres and fan zones. Russian hooligans could be a problem following last year's troubles in Marseille, but the Russian government will want to avoid any negative publicity so hopefully they will take steps to ensure there is no trouble.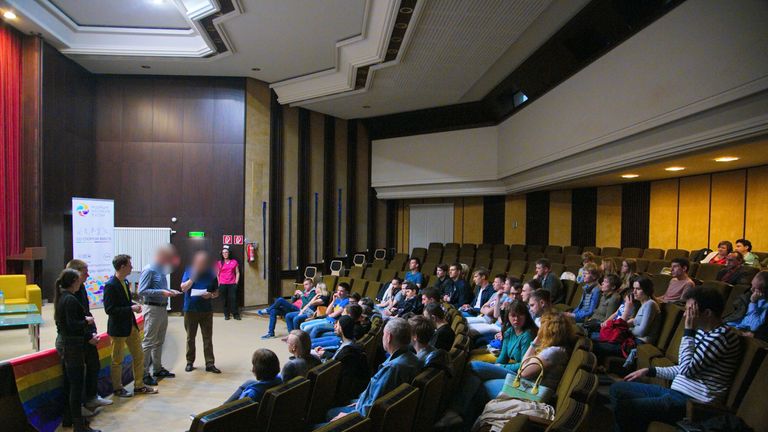 I believe FIFA were wrong to hand Russia and Qatar the next two World Cups but in doing so, they have also handed us an opportunity. If you want to carry the torch for the beautiful game, you have to include and welcome everyone.
I would hope that once everyone's attention turns to the 2018 World Cup, steps will be taken to protect LGBT people and fans on the whole. We all have a huge responsibility to put FIFA, Russia and Qatar under pressure in the run-up to the next two tournaments.
It's a privilege to hold the World Cup, and human rights should be an important factor in selecting a host nation. I'm pleased to see that UEFA have added a clause on human rights and specifically LGBT rights in the EURO 2024 application process. This is a good start but more work needs to be done.
The work we're doing here in British sport is so important in setting an example.
We have the world's most exciting league in its most popular sport. I hope that if we make more progress in competitions like the Premier League, and thereby help create more LGBT equality in our society, it will have a ripple effect where countries like Russia will begin to change their hardline approach.
By having an LGBT fan group at every club, and professionals working in the game who are openly gay, a strong unified message will be sent that discrimination is not tolerated, and will not go unnoticed.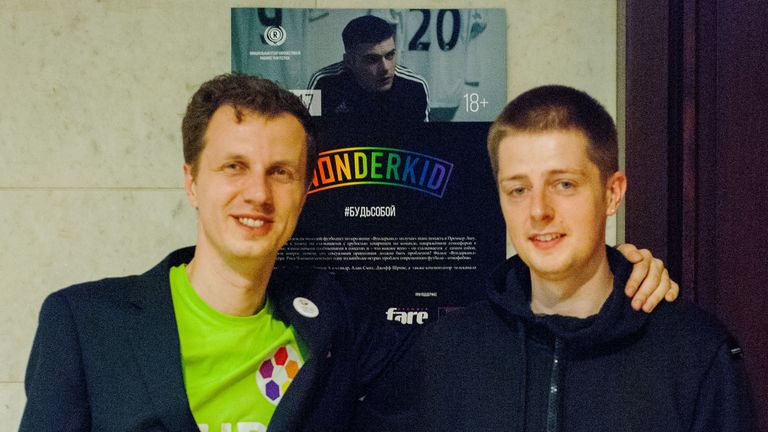 Going to Russia is definitely the proudest thing I've ever done, and I wish I could have stayed for longer. Listening to the audience members' experiences was a horrid reminder of the work that needs to be done globally to help LGBT people. Worryingly, Russia is nowhere near the worst place to be gay - there are still 72 countries where same-sex relationships are illegal. No one should have to hide or live in fear of persecution or death because of who they are.
Watch WONDERKID on Catch Up TV - head to the Sky Sports section to find it, or just search 'WONDERKID'.