Football's biggest transfer has been in the pipeline since early July. Paris Saint-Germain wanted him and were prepared to pay the highest premium. Neymar wanted to become the club's star player.
'A picture is worth a thousand words', so goes the idiom. There were early clues of how this would play out last month.
As speculation intensified, Neymar posted an image of himself, hand on chin, above a thinking emoji on his Instagram page. The photo received more than two million 'likes'.
In public, he had plenty to ponder. In private, he had decided to move.
"Only a miracle will keep him, he really has made up his mind to leave," a source in Spain close to Neymar had told Sky Sports News. "There's a 90 per cent chance it will happen this summer."
Why not 100 per cent? Mega deals don't just happen overnight and there was still a slim chance Neymar's team-mates could persuade him to change his mind. We were told not to get distracted by conflicting reports and smokescreens.
"I'm 200 per cent sure he is going to stay," declared Jordi Mestre, Barcelona vice president. "Neymar is not on the market," added Josep Bartomeu, the club's president.
The release clause of 222m euros - £200m - told a different story and, weeks later, Bartomeu would concede: "If he wants to go, they can pay it and he goes."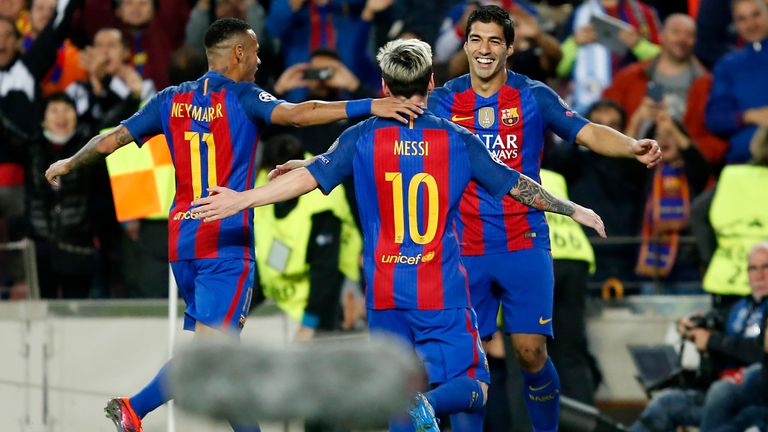 Stories emerged in Spain that the Brazilian international had told Lionel Messi and Luis Suarez he would stay. Gerard Pique even posted a photograph of the pair with two words, "Se queda", translated as "He stays". It was written as fact.
"There's big pressure on him, but nothing has changed," stressed our source. "Doesn't Pique mean he hopes he stays?" they asked.
Pique later clarified that he didn't know what would happen and told journalists: "It's my intuition, a gut thing. It was nothing official, I hope he stays."
Gut feelings are one thing but, on and off the pitch, the stakes could hardly have been higher. Neymar's family and friends were anxious he was not portrayed as disrespectful towards Barcelona and their players.
Sky Sports News was told Neymar "respects and loves" Messi but needed to become the "leading player" at a club. He wanted to "emerge from Messi's shadow" and significantly improve his chances of winning the Ballon d'Or in his late 20s.
Crucially, throughout Barcelona's pre-season tour, Neymar declined repeated requests to pledge his commitment to the club.
His 79 million followers on Instagram and 31 million followers on Twitter saw plenty of photos with new boots and football friends but nothing that said he would stay. By now, Barcelona knew he was off.
"He's not happy", we were informed. To highlight the issue, Neymar was filmed by a celebrity news agency in Miami involved in a furious row with Nelson Semedo before storming off the training pitch. The exclusive footage was broadcast on Sky Sports News and debated around the world within minutes on social media.
A convenient set-up? Unlikely, given his professionalism, but it visibly demonstrated that all was not well. The majority of Barcelona supporters, in media polls, agreed it was time for him to go.
The financial rewards were astronomical. UEFA officials had been in regular contact with PSG and had a "good idea" of the proposed payment structure but had yet to review the finer details in relation to its fair play rules. European football's governing body could not, and would not, attempt to block the transfer.
But Sky sources stressed: "It's important to know it's not all about money. He needs to be number one at a club. People need to understand that."
Pini Zahavi, who has brokered some of the game's most lucrative deals, was central to negotiations. Zahavi has known Neymar since the age of 17 and has become one of his closest advisors. He joined Neymar and his father on holiday in early July for the crucial meeting near Rio de Janeiro where Neymar decided to leave Barcelona.
Did Manchester United and Chelsea ever stand a chance of signing him? Both clubs will know Zahavi well. It is understood they expressed serious interest but declined to meet the release clause. Neymar had been "close" to joining United last summer.
After a brief promotional event in China, it was now a matter of when, not if.
La Liga's refusal to accept the buyout clause was laughed off by those close to the deal: "They're embarrassing themselves," said multiple sources. Even FIFA said it was a matter between player and club. Neymar ended up paying the clause in full to Barcelona.
In an extraordinary transfer window, Neymar has his wish and PSG has the game's most expensive player.