"We want you to watch a film. It's 30 minutes long, and it's about a footballer. Then we'll have a conversation about it."
Chelsea's Development Squad are being introduced to Bradley McGuire, a player they can identify with - he's young, talented, and desperate to succeed. There's a slight tension in the room at the club's Cobham training ground as Bradley's story unfolds on screen, the sounds of team-mates whispering and shuffling in seats. Yet the drama holds their attention throughout, as the action skips from a highly-charged Premier League match to the next day's training session, from a Soho hotel suite at night to the Wembley tunnel. As the credits roll and the lights come up, the young Blues are back in the here and now - and ready to chat about what they've seen.
Troy Townsend, leading the session, steps forward once again to address the audience, some of whom have been taken out of their personal comfort zones by the film's subject matter. They've all empathised with Bradley from early on, but have then learned that he's dealing with an additional type of pressure - he happens to be gay and wants to come out, but he's not sure if he'll be accepted by his team-mates, and by football in general. "A lot of the players say they've never had to deal with anything like this in their environment," says Townsend. "There's a nervousness around that immediately, and how to approach it." As Kick It Out's Education Manager, he's here to broach the topic and encourage a discussion. The short film, WONDERKID, is his icebreaker - and it's proving to be a highly effective one at academies across the country.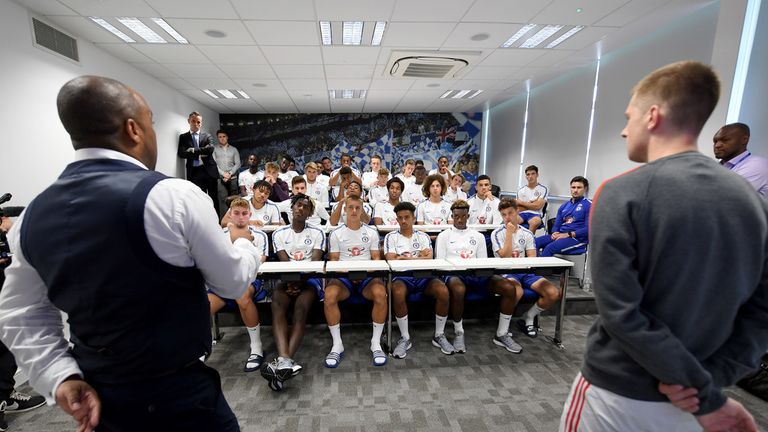 Crucially, there's a relaxed atmosphere in the room at Cobham right from the start. Townsend is known to the Chelsea players already as a mentor and father figure, while his right-hand man Marcus Gayle - with over 200 Premier League appearances to his name - commands similar respect. For the last three years, in elite professional men's academy football, they've been delivering a programme called 'Equality Inspires', developed by Townsend and funded by the Premier League, that tackles discrimination in all its various forms. It's interactive, practical and provides a 'safe space' where anyone can speak honestly and openly about complicated issues. This workshop on homophobia is particularly nuanced. "For young people, it's a difficult topic on which to share their thoughts and opinions," says Townsend. "But that's only because they've never had to sit down and openly discuss it before."
This time last year, parliament's Culture, Media and Sport Select Committee issued its 'Homophobia in Sport' report. Among the recommendations made was a call for football to up its game on LGBT inclusion. "We found that football was the sport mentioned most frequently by our witnesses as having a problem with homophobia," wrote MPs, who recommended further training and education "for all staff at all levels". The report's release followed on from research undertaken by the charity Stonewall, which found nearly two-thirds of the public felt more should be done to make lesbian, gay, bisexual and transgender people accepted in sport.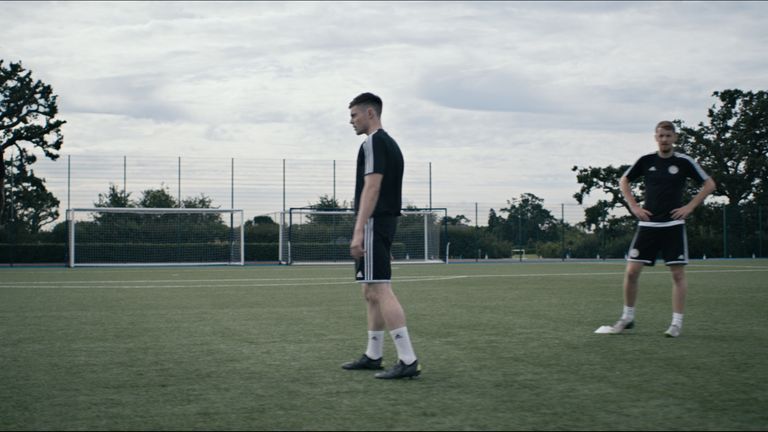 From previous visits to Chelsea's training ground, Townsend and Gayle know there's already a solid level of understanding on homophobia among this group of players - but there are some knowledge gaps to fill in too. Whereas education in UK schools routinely covers the importance of respect on issues of race, faith, disability and attitudes to women, it has never been compulsory for local authorities to provide guidance on matters of sexuality and gender. The government is currently consulting with stakeholders to address that in future regulations but for now, in football, it's largely up to the clubs themselves to ensure their stars of tomorrow have the awareness they need to act responsibly in situations relating to inclusion. The possibility of having a team-mate who's gay or bisexual is one such scenario and in the absence of case studies from which to draw upon, it's WONDERKID that's making the hypothetical feel real.
Also attending the Cobham session is the film's director, Rhys Chapman. Initially, he's somewhat incognito, and happily so - he's nervous too. "The best way to view the film is by not knowing what it's about," he says. "The suspense that builds is not as powerful if you already know the subject matter. When players watch it, they're excited because it's a football drama, then they slowly start to work out what it is - but by that time they're so gripped by the story, that there's an element of 'you're on his team'."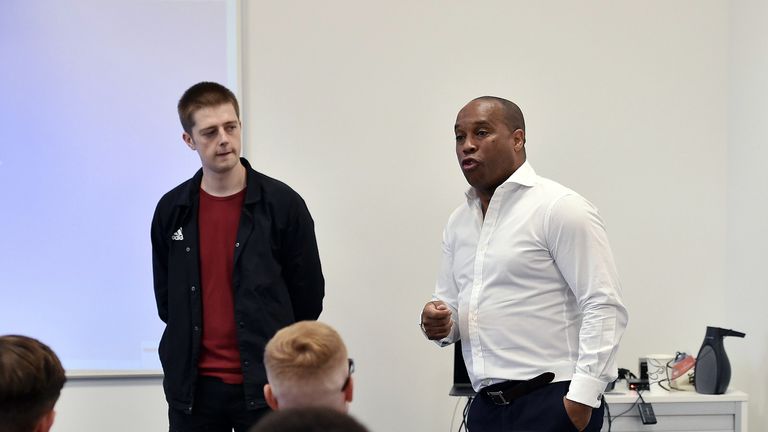 Troy has told me that it's something that's been difficult for him to deal with in his seminars before, because it's such a taboo subject.
Chapman's sat in on countless screenings and Q&As, but this feels like an acid test in terms of audience reaction. The players have to feel immersed in Bradley's world to get the most from it, and he's relieved to see they do. "They relate to the character because of the pressure he's under," he explains. "Most of these players are at a make-or-break point in their careers - it's likely only a few will play high-level Premier League football, many might play in the Football League, but a lot won't make it. So they certainly understand the pressure that the footballer is under, and a lot of the stuff around banter, OCD, fitting in - that's very close to home for them."
Bradley doesn't see his sexuality as a burden. "All that matters is that one day, I'll be the best this country's ever seen," he tells his agent. He doesn't want to be misunderstood, or for his motivations to be questioned. It's why the film lends itself to more of a stealth approach in this setting. "If you sit down and say, 'we're talking about a worthy cause here', people understand that they need to behave in a certain way," says Chapman. "With this, it's 'wow, we're watching a football film' - and that leads to the players getting a greater understanding. Troy has told me that it's something that's been difficult for him to deal with in his seminars before, because it's such a taboo subject."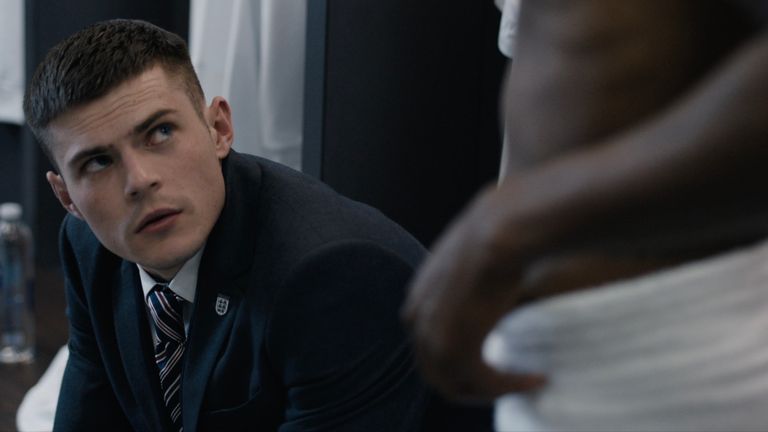 Chris Gibbons, Chelsea's equality consultant, is in the room too. He first heard about WONDERKID while in a previous role at the Football Association, when Chapman asked to film at Wembley. "The script was really interesting. We were approached by a lot of people looking to make plays or productions about gay footballers, or footballers who were thinking about coming out, and this one more than any other really hit the nail on the head," he recalls. "It was sensitively handled. And when I later saw the finished film, I thought 'this is definitely something that could be used within clubs'."
Following on from the work Townsend had already done with their Development Squad, Chelsea were "really receptive" to the idea of showing WONDERKID to the players, says Gibbons. "It reflects a lot of what they're going through - it was pitched at the right level, it's not patronising, and it's not clearly an educational tool - this helps engage them in the conversation. Before anything, it's about a footballer and it happens to be about his identity, which is what really reels them in."
If having a gay team-mate was only a concept for them before - a 'what if?' question that no one had any experience of - the compassion the players feel for Bradley makes the conversational part of the session so much easier for Townsend. "If you present things in that way - and I have a very relaxed delivery style - then players will respond. You have to know the environment that you're going into, to enable those kinds of discussions. And to hear the feedback, the opinion, and the honesty... the honesty is probably the most amazing thing."
Questions are asked and answered. What does it mean 'to be gay'? Are there misconceptions of the characteristics of gay people? How might gay or straight team-mates react in everyday settings - celebrating a goal, sharing a room, changing after a match? "Some of their responses are knee-jerk responses," says Gibbons, "and then when we start to unpick that a little bit, within the course of about 45 minutes, they start to think very differently."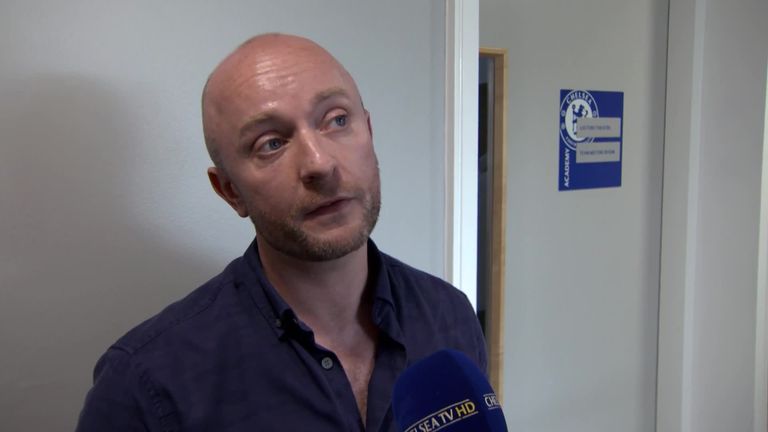 The perception still is that 'gay men don't necessarily take part in football', so it was really good to challenge their misconceptions.
Townsend guides the discussion so that each player feels confident in their own individual identity within the team dynamic, and also respects the identities of their team-mates. "We have to understand the footballing culture, that anything out of the norm as far as the footballing world acknowledges, is perceived to be 'different'. We want to make it so that everyone is seen for the person that they are, their ability on the football pitch, the friendships they create, the mannerisms that they hold, and that they represent the badge."
When introduced to the players, Chapman soon finds he has captured their attention by way of his achievements in film at such a young age, and his conviction in what he has learned by making WONDERKID. "One thing that I've managed to get across to all the groups I've spoken to is that in order to be an elite-level athlete in an elite team, you need to respect each other and be comfortable in your own self. If the people around you don't want to succeed, that can have a damaging effect - and they've all really understood that." He recalls an experience when they showed WONDERKID to young players at Tottenham. "I'd explained about how I was motivated to make the film. I usually get asked if I'm gay myself quite quickly, but I wasn't asked directly - someone stumbled around the question maybe 20 minutes into the discussion. So knowing what he was trying to ask, I said I was straight. Two other players jumped in and said to the other player, 'why have you asked him that? What's that got to do with anything?'" It was like the film and the character had had such a profound effect on them that they were voicing their support for all the themes we'd been discussing."
For Gibbons, inviting the Chelsea players to be honest about their perceptions in such a setting presented him with an opportunity to be candid as well. "We reminded them that they are surrounded by lots of different people at the club, including LGB and T people, even if they don't realise it. I'm sure that some of the young men in that room think that they've never met a gay person before. But in one of the sessions, Troy - with my permission - outed me to them. They see me around the club, they see me around Cobham so they know who I am, and I think for some of them... I don't think it was difficult, but I think that they were slightly surprised, because they probably have a preconceived idea about what a gay man looks like.
"The perception still is that 'gay men don't necessarily take part in football', so it was really good to challenge their misconceptions of particularly being 'a gay man' rather than a gay woman, for example, because within football there is a stereotype.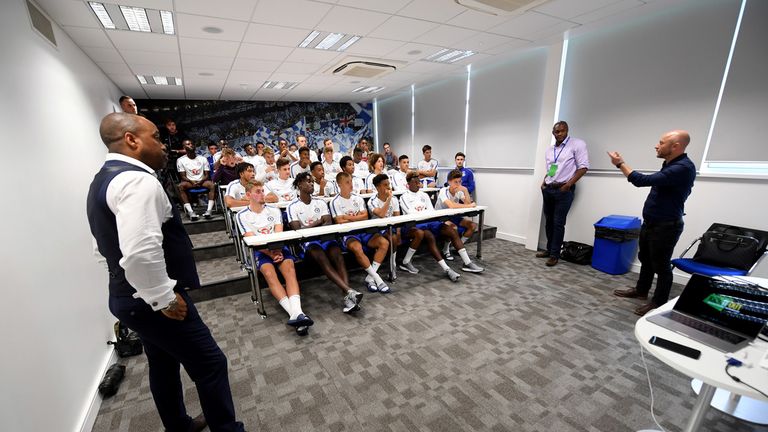 "It was really good to have that conversation with them. Working in football, you're quite careful sometimes about wearing your sexual orientation on your sleeve because you don't always know how people respond to it, but I said that I felt very confident to tell those guys that I was gay, because from the way they'd responded to the film and the conversation, I felt that I would get a good response from them - and I absolutely did."
Chelsea are at the forefront of a growing movement of clubs that are championing the importance of inclusion. Its own 'Building Bridges' campaign comprises various initiatives such as successful disability teams, the Asian Star programme, and the recently launched 'Say No To Antisemitism' awareness drive. The club's LGBT fans group Chelsea Pride celebrates its second birthday this month, while the Football v Homophobia campaign - currently in its month of action - is a partner of the Blues' annual 'Game for Equality'. All these activities have contributed to a sense of purpose felt by everyone at Cobham and Stamford Bridge, players and staff.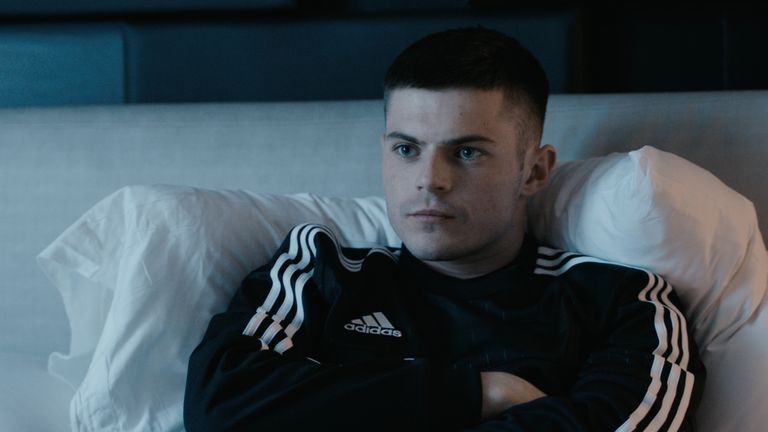 For Chapman, as an 'outsider' coming into Cobham to share a film he created, it's been an immensely rewarding experience. WONDERKID has received over 100,000 views on its website, where it is available to watch for free, while he is now looking to complete a documentary about the whole project, and orchestrate an accompanying campaign - no easy task for an independent film-maker with very limited resources. Despite those frustrations, his passion for WONDERKID remains fervent, and being part of these club sessions has energised him even further. "Having Chris, Marcus and Troy there to back up everything creates a circle of trust," he says. "Marcus often says 'we're afraid of things we don't understand, when really there's nothing to be afraid of'. Hearing an ex-Premier League player say that, I can't have that effect. It's really powerful."
For Gibbons, the film's LGBT theme - while of personal significance to him - is helping to communicate a wider message to footballers on the cusp of stardom. "What really clicks with them is the pressures of the game - that you are a team but ultimately you're all competing against each other as well, and that you are under massive scrutiny all the time from thousands of people in the stadium, and millions of people watching around the world. It's more about how we all work together."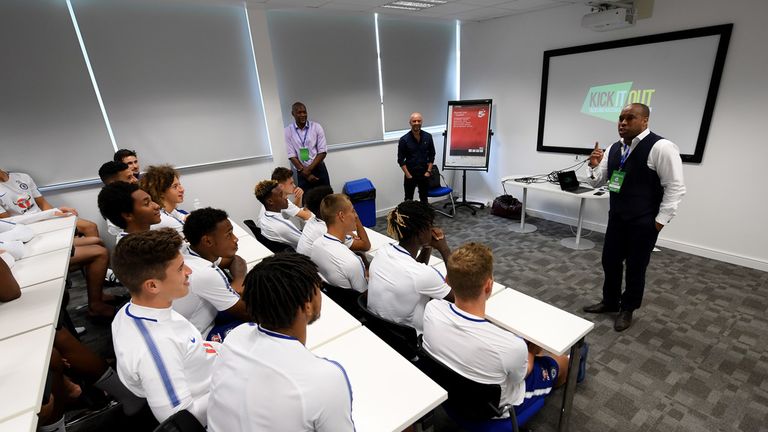 As clubs talk to each other and share ideas on the education they are providing to their academies, Townsend expects word of mouth to take WONDERKID to more training ground screenings around the country. Meanwhile, he's also been pleased to learn that after each session has ended, with handshakes and thank yous, the taboo has not returned. "I've had clubs say to me, 'Troy, they've actually continued those discussions afterwards' - the elements of the delivery, the impact of it and what it meant to the players. All that is so healthy for me, and it can only make for a better environment - the closed environment, where the doors are shut and no one knows what they're saying and doing - it just makes that more inclusive."
You can watch WONDERKID online for free at wonderkidfilm.co.uk. For more information on Kick It Out's 'Equality Inspires' programme, which is funded by the Premier League, click here.
The Football v Homophobia campaign continues throughout the month of February.