Jadon Sancho, Ademola Lookman: Why Premier League youngsters are choosing the Bundesliga
Last Updated: 27/02/18 1:06pm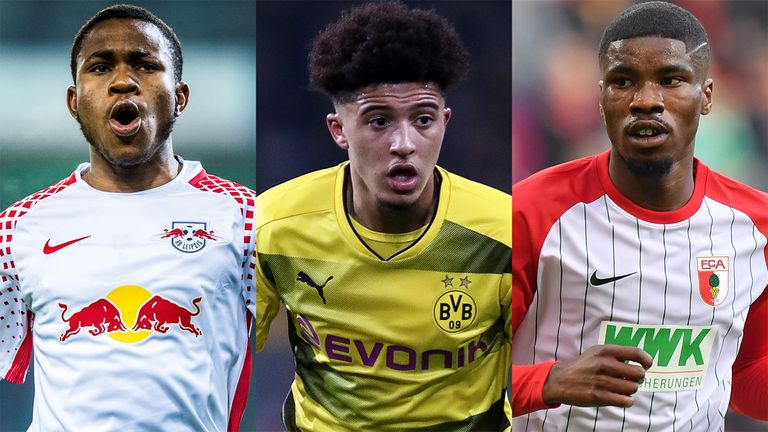 Jadon Sancho and Ademola Lookman are part of a growing contingent of young English players in Germany, but what makes the Bundesliga such an attractive proving ground? Nick Wright speaks to those in the know - including an MK Dons academy product now shining for Augsburg.
Sam Allardyce described it as "one of the most unusual situations" he had ever encountered. The January transfer window was closing and Everton had presented Ademola Lookman with a loan offer from Derby County. They saw it as an attractive opportunity, a chance for the 20-year-old to hone his game at the top end of the Championship. But there was a snag.
Lookman, it transpired, had no intention of going. The winger, an ambitious character who fought his way through non-league before his £7.5m move from Charlton to Everton a year earlier, wanted to join RB Leipzig instead. "We tried to persuade him not to because I think it is a big challenge for his development," said Allardyce. "I hope he proves us all wrong."
It took just two days for Lookman to set about doing exactly that. Having only been afforded one start in two months under Allardyce at Everton, he went straight into the squad for Leipzig's trip to Borussia Monchengladbach. In front of 49,000 supporters at a rocking Borussia-Park, Lookman came off the bench to score the winner.
With his driving run and low finish, he became the first Englishman to score in the Bundesliga since Owen Hargreaves netted for Bayern Munich against the same side more than a decade ago. It is a statistic which reflects the curious reluctance of English players to explore opportunities overseas. But while Hargreaves was an outlier, Lookman is not.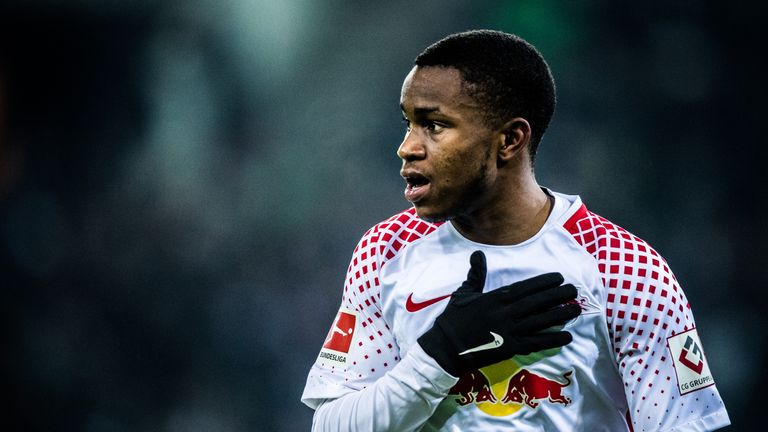 Jadon Sancho, the former Manchester City prodigy who sealed his £8m move to Borussia Dortmund in August, is his most high-profile counterpart in Germany. But there is also West Ham's Reece Oxford, who counts ex-Crystal Palace youngster Mandela Egbo among his team-mates at Gladbach, and Kaylen Hinds, who swapped Arsenal for Wolfsburg.
Lookman, Sancho, Oxford, Egbo and Hinds are not the only ones to have left England for Germany in the hope of launching their careers. In fact, it is another player, a 19-year-old centre-back named Kevin Danso, who best illustrates why they made the move in the first place - and why many more are expected to follow.
Danso is different to the others in the sense that his international allegiance lies with Austria, where he was born to Ghanaian parents in 1998. But having moved to Milton Keynes at the age of six, his upbringing was an English affair. His fledgling football career began with a short spell in Reading's academy and it continued at MK Dons.
Danso spent seven years rising through the ranks at his hometown club, rubbing shoulders with Dele Alli and working under highly-regarded former academy manager Dan Micciche. But in 2014 he left it all behind to join a Bundesliga club he had never heard of. Danso, still six months shy of his 20th birthday, is now an Augsburg starter and senior Austria international. On Monday, he scored Augsburg's equaliser in a 1-1 draw with Dortmund.
"It was hard giving up everything I had in England," he tells Sky Sports. "I loved my time at MK Dons. I was playing with my friends, lads who I had played with for maybe 10 years altogether, but as you can see in England, it's really hard to come through as a youth player. So we started to think: Where's the best opportunity to make it as a professional football player?"
It was logical for Danso to settle on the Bundesliga given his Austrian background - he already had a grasp of the language, and it was while playing for their U15s that he came to the attention of German scouts and the agent, Sebastian Kronester, who would facilitate his move to Augsburg - but he might easily have come to the same conclusion regardless.
Germany's reputation for promoting youth is long-standing. It can be seen in the consistent success of their men's national team and it is backed up by the statistics. This season in the Bundesliga, 65 players who were aged 21 or under when the campaign began have gone on to make at least 10 appearances. It is nearly twice as many as in the Premier League.
"It really comes down to that opportunity to play," James Lippett, an agent for World in Motion who splits his time between England and Germany, tells Sky Sports.
"In Germany, they will always try to give young players a chance at first-team level," he says. "They give priority to local players - they try to fill their academies with players from the region - then players from Germany as a whole or from German-speaking countries. But after that, if there is not sufficient quality, they will look outside. That is the general philosophy of German football."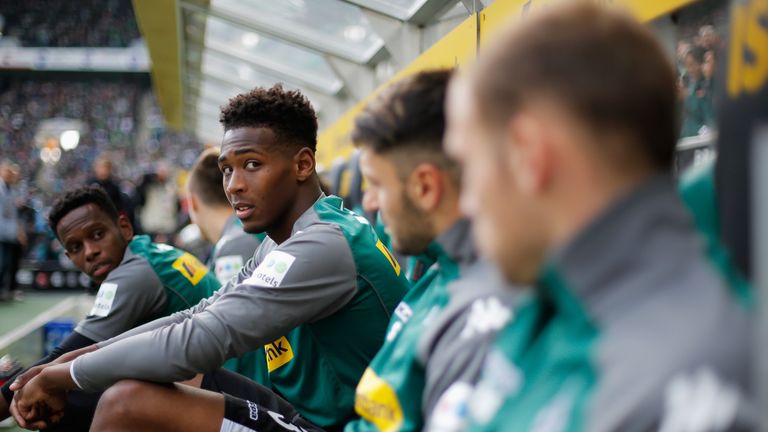 In recent years, part of Lippett's role has been to help Bundesliga clubs identify promising young players in England who may benefit from a move to Germany. "What they see now is that the finances in the Premier League far outweigh those of the Bundesliga," he says. "We give less opportunity to young players because there is far more pressure on the managers.
"It's short-termism. If a manager is under pressure, he will go to the market to buy a ready-made solution rather than promote an academy player. The German clubs see that there are a lot of talented young players being developed over here who just aren't getting the opportunities they might in the Bundesliga.
"Not every move will work, of course. You wouldn't argue that Oliver Burke's move to RB Leipzig worked out. Sometimes a player will not settle or be home sick or maybe his style of play just isn't suited to the football in Germany. But I think the number of players going over there will only increase going forward."
Crucially, when it comes to promoting from within, the same applies to Germany's coaches. Thirteen of the 18 head coaches currently employed in the Bundesliga are German, and many of them got their jobs having previously held positions at youth level.
The Bundesliga has a great reputation in England. Top stadiums with good, physically strong and disciplined players and games played at a high level.
Ademola Lookman
Danso has experienced it first-hand at Augsburg. He started training with the senior squad under Dirk Schuster last season, but it is under former academy chief Manuel Baum, who knows him well from their youth teams, that he has made his breakthrough. Augsburg, incidentally, are now on course for only the third top-10 finish in their history.
"The head of the academy became the first-team coach," says Danso. "You wouldn't get that at a Premier League club. He had played a very important role with the youth, and to this day I still work with him alone after training. It just shows how much Germany is about development, development, development. They understand the value of it."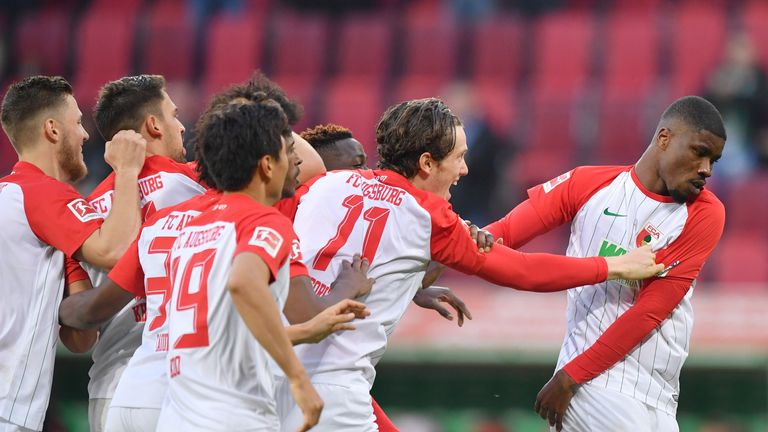 They also understand the importance of structure. "All clubs in Germany have sporting or technical directors who work closely with the coaches and have good relationships," says Lippett. "They have strategies and the head coaches have their jobs for longer. They are all trying to do the same thing, and playing young players is a big part of it."
Augsburg are a fine example of that joined-up thinking but it is perhaps best typified by Borussia Dortmund. "In the last years we have had Jurgen Klopp, Thomas Tuchel, Peter Bosz and now Peter Stoger, and I have had a good connection with all of them," Benjamin Hoffmann, Dortmund's U19 coach, tells Sky Sports.
"It's really like, 'Who are your best players? Are they able to train with us?' Even yesterday, four of my players went with the first-team training squad. So there really is a connection between the youth academy and the professional team, no matter who the coach is. Michel Zorc, our sporting director, always tries to keep us in touch. It's one of our philosophies."
According to Hoffmann, Dortmund's emergence as one of Europe's top developers of young talent can be traced back to 2008/09 - Klopp's first season in charge. Veteran defender Christian Worns had retired and his defensive partner Robert Kovac had turned 34, so Klopp put his faith in a teenaged centre-back pairing of Mats Hummels and Neven Subotic.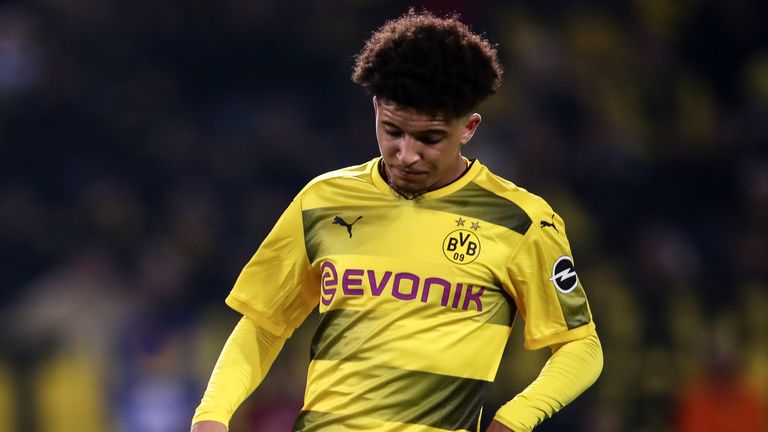 "It was partly down to financial reasons at the beginning - we don't have the money to buy superstars - but of course he was right with it," says Hoffmann. "They were 19 but Hummels is now a national team player at Bayern Munich and Subotic is a Champions League finalist. It was the first step to changing the culture of Borussia Dortmund around young players."
Dortmund's academy has turned out Mario Gotze, Nuri Sahin, Marco Reus and Marcel Schmelzer since then. Last summer they banked £97m for Ousmane Dembele just a year after signing him from Rennes for a fraction of the price. From Julian Weigl to Christian Pulisic, the current squad is stocked with brilliant young players from Germany and beyond.
Sancho is foremost among them. The 17-year-old is a rare talent who Manchester City did not want to lose, but Dortmund had scouted him for three years before making their move, and his decision to join them already appears to have been vindicated. Sancho has impressed, starting three consecutive Bundesliga games before suffering an ankle injury recently.
Sancho has described the move as a "dream come true" but like any of the young English players to have gone to Germany, he knows that ability alone is no guarantee of success.
"A young player can reach the first team quickly but they have to show that they have ambition for the club," says Hoffmann. "That's what's happened with Jadon. When he arrived he was immediately training with the first team but it was my job to introduce him to my U19s to give him match time.
"It was easy because he was very enthusiastic about playing for us and my players realised very quickly that he was not coming to be the next superstar. It was more like, 'OK, I want to win the next match and I want to develop like the guy sitting next to me'.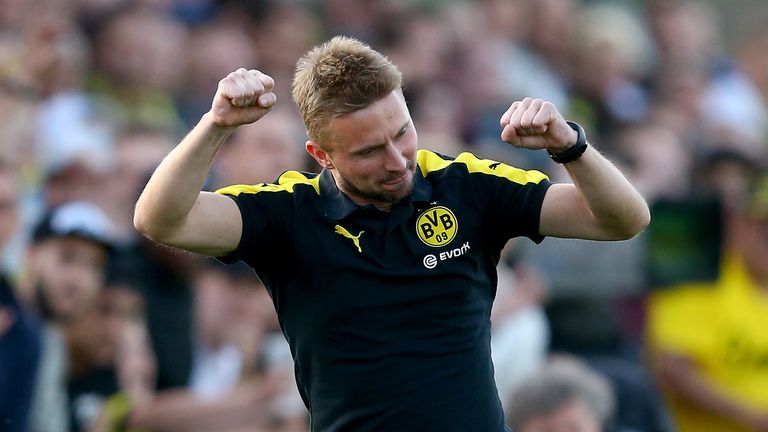 "He came without being able to speak German but our players learn English in school and they all play football from the age of about six. It's easy if you feel a connection with the ball. They saw how he was creating chances, how he was playing in one-v-ones and they liked him because he just wanted to help the team win the match."
Danso did not arrive at Augsburg with anything like the same reputation as Sancho but it was still vital for him to show the right attitude. Moving to Germany can open doors that might not be available to a young player in England, but opportunities still have to be earned.
"If I didn't believe that I was going to give everything to make it, then there was no point me moving here," says Danso. "I realised pretty young that I was not just here to faff about, so I just worked as hard as possible to make it to the first team.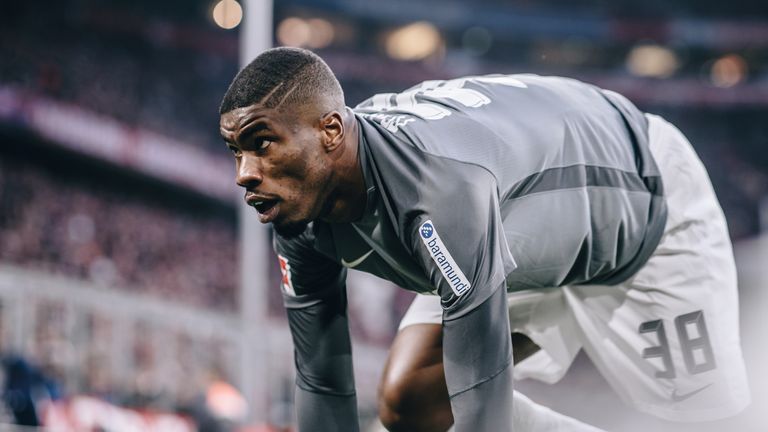 I knew moving here to Germany would put me out of my comfort zone, but I really wanted to make it and I understood that at a young age.
Kevin Danso
"I think that's the problem with players my age today, especially in England. We get too comfortable, too quickly. I don't think many of us realise how big an opportunity this is. Giving up a big part of your life just shows another level of commitment. I knew moving here to Germany would put me out of my comfort zone, but I really wanted to make it and I understood that at a young age.
"I thank my brothers, my family and everyone for making me understand how important this career as a footballer is, and how much I have to put in if I'm going to make it. Because people all over the world are trying to be professional footballers and I am very fortunate to be in this position."
Danso has discussed the subject at length with Oxford, who he describes as a "brilliant player" having faced him several times at youth level earlier in his career, and he has taken phone calls from a number of other old opponents and team-mates in England who are considering moving to Germany themselves.
His assessment of the culture around young players in England certainly rings true with Lippett. "I think too many are cocooned in Premier League or Championship academies for too long," he says. "Into their 20s sometimes, which is far too long. You should be out there working out if you can be a professional footballer at that age.
"Going abroad takes away the safety net and teaches you to grow up. You're there for a reason. You're there to work and you need to make sure you are successful at your work, which is to be a footballer. It takes you out of your comfort zone and it's character building. Look at Andreas Christensen. He was brilliant for two years at Gladbach; now he has forced his way in at Chelsea."
The process of reaching the first team can be tough and it was not always plain sailing for Danso. He initially moved over with his mother and now has his eldest brother and agent living close by, but uprooting his life was a daunting challenge which required bravery and perseverance. Indeed, there were times when he wondered whether he would make it.
"The first three years were mentally very difficult," he says. "As a young player there are times when you doubt yourself. You see other players at your club or players you have played against making it, and you think, 'What am I doing wrong? What am I not doing enough of? Or what's he doing better than me?'
"You think about it but I always saw it as motivation. I played against that guy and I did decent, so if he's doing that, I can do that too… When you think you're not going to make it, just remember that it is completely normal to doubt yourself. It's about having patience, focusing on what you're doing, and believing that it will eventually pay off."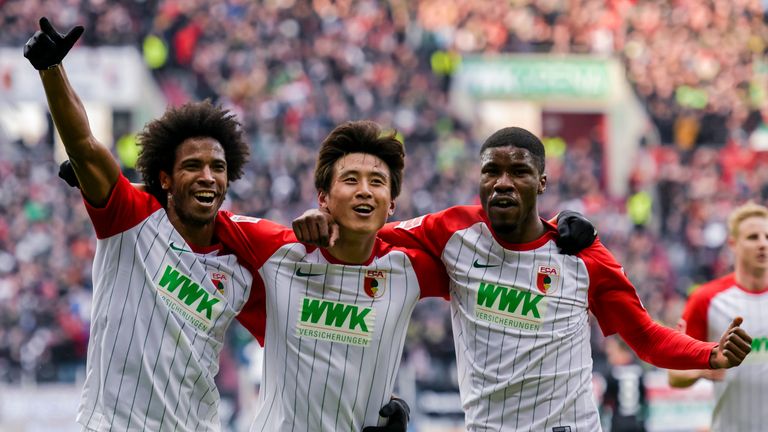 What's crucial in Germany is that the patience works both ways. The pressure of the Premier League is such that even a young player who makes it to first-team level can find himself marginalised if he does not immediately impress. In Germany, expectations are different.
"It's very important to give the players time at that age," says Hoffmann, who has worked in Dortmund's youth set-up for more than a decade. "They are young. Of course they are professional players but they are still human beings. They really need time to settle and also their progress and development needs time.
"I can't speak about the English culture because I'm a German coach, I can only say that if you want to develop players then give them time. It's not about giving them one chance, because they are young players and they may also have some weaker games. But a weaker game can be an important step in their progress and their personality too.
"There is also a connection between the young players and the supporters. Here at Dortmund, every young player from the academy is seen as one of the Südtribüne [the 'Yellow Wall' at the Westfalenstadion]. So we think, 'OK, he is really one of us'. He is a Dortmund jungend, we say."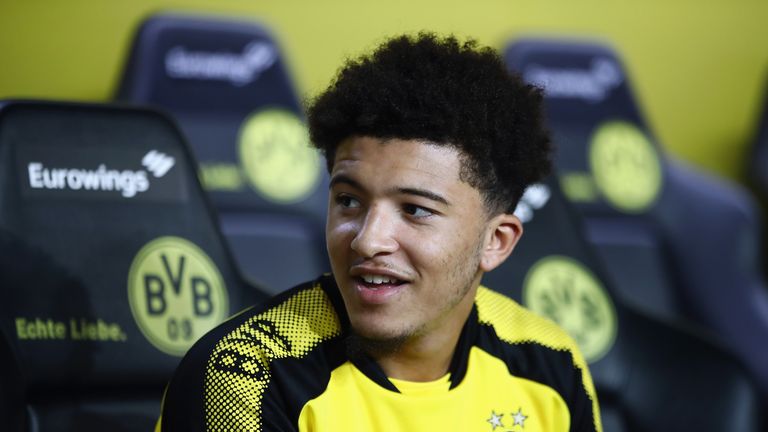 A young player can reach the first-team quickly but they have to show that they have ambition for the club. That's what's happened with Jadon.
Benjamin Hoffmann on Jadon Sancho
Danso is viewed with the same fondness at Augsburg - "You can make a mistake and the fans will stick behind you because they understand it's all part of your development," he says - and having come through their U17s and U19s, he has also experienced the virtues of patience.
"Once you've proven you can do it in the youth Bundesliga, the club will understand and they will give you the time you need at first-team level," he says. "Even if you don't perform your best when you get the opportunity, they understand you are young and you are still developing and you will get another chance.
"You can see it with players like Jonathan Tah at Leverkusen. His first few games he didn't do so well and he made mistakes, but now he's one of the best young centre-backs in Germany. David Alaba as well. When he came to Germany, his debut wasn't so good, but look what he's turned into today: he's one of the best left-backs in the world. It definitely wouldn't have happened in the same way in England. You see it a lot."
Young players are looked after off the pitch as well as on it. For Danso, the opportunity to continue his education was key. Augsburg set him up in an international school in the city, allowing him to sit A-levels alongside his football commitments. Bundesliga rivals Stuttgart have since done the same for his former MK Dons team-mate Danny Collinge.
"In England, young players go into college and do a lot of BTEC courses but that wasn't really an option for me," says Danso. "Football is an unfortunate game and anything can happen at any time, so I think it's important to have something to fall back on. That was one of the main reasons I moved here, because they were willing to offer it.
"I did an International Baccalaureate, which is a bit harder than A-levels, but even if you don't go to school in Germany, you have to do an apprenticeship, so learn a trade. I think clubs in England underestimate how much it helps in your career because then you're not just focusing on football, football, football and getting distracted by the other aspects of it.
"This way, you have school and football, and I always knew school came before football. That was always the first thing. It was just something that I wanted to do."
For those who swap England for Germany, there is a different footballing education on offer, too. "I thought I was OK tactically when I moved here but I realised the other kids around me were tactically more developed," says Danso. "In England it is more focused on the physical side of the game, especially in the lower leagues.
"They give more appreciation to tactical and technical work here. Even though we did a lot of technical work at MK Dons, in Germany it's just an absolute must. You have to be technically good and tactically aware or there is no way you're going to come through.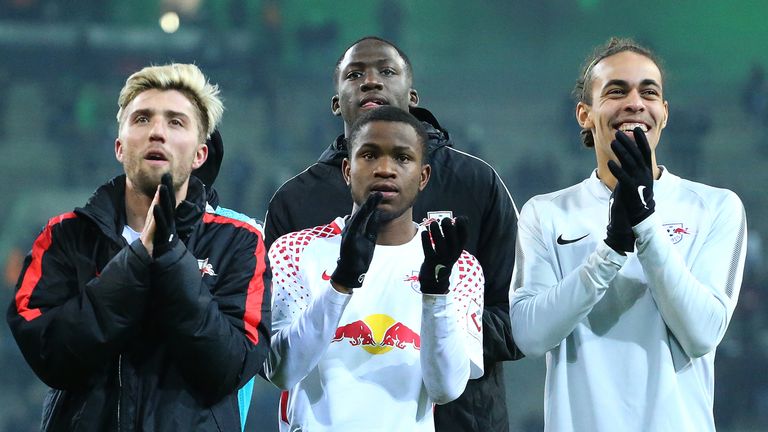 "In my first game against Bayern Munich I was absolutely speechless at how much confidence and how much quality on the ball the players had. That's my goal. To be a player at that level. You realise what quality really is and how much it is possible to achieve."
It would be unfair, of course, to suggest English sides still lag behind their German counterparts in terms of youth coaching. On the contrary, the U17s, U19s and U20s have enjoyed a year of unprecedented tournament success. Borussia Monchengladbach sporting director Max Eberl recently said that England are producing the best young players in the world.
It is, rather, a question of opportunity. The kind of opportunity that inspired Kevin Danso to step into the unknown aged 15. And the kind of opportunity that persuaded Ademola Lookman and Jadon Sancho to follow him. Sam Allardyce may be unconvinced, but for the young players seeking a clearer route to the top, the pull of the Bundesliga is growing stronger.