Zlatan Ibrahimovic has criticised MLS and his own LA Galaxy team-mates in recent weeks - but those demands for improvement have been welcomed by many football fans in the US…
From the moment Zlatan Ibrahimovic arrived in America and took out a full-page ad in the LA Times reading, "Los Angeles. You're welcome," he was in his element in the city. And he's been welcomed with open arms.
But he has also been adamant that he is not in MLS to have an easy ride. "It is all about winning," he said, when asked about basketball player LeBron James' switch to the LA Lakers.
Ibrahimovic has spoken freely and often critically about the new league in which he plays and believes the number of rules and regulations can hold it back.


"I need to see [changes to] the rules. Make the sport big, like basketball, like baseball, the NFL," he said. "Because [football] is the biggest sport in the world and I feel here it is strangled because there are too many rules. They are not making it big like it can be. It can be competition for the other sports."
He's also been critical of his own team, recently stating that they wouldn't deserve to be in the post-season play-offs, should they reach them.
"It's very irritating because we make basic things look very difficult. This should not happen," he said after a 2-2 draw with Colorado Rapids, before going on to compare their performance with schoolboy football.
"These mistakes happen where my son is training, but there you learn basic things. We just have to work hard and keep going because I feel a big confusion on the field. Basic things we make look difficult and it cannot happen. Everybody talks about the play-offs…the way we play now we don't even deserve play-offs."
Ibrahimovic's numbers at LA back up his comments: he has 15 goals and five assists in 16 starts. But he's not always available for selection.
As was the case with Thierry Henry when the French maestro graced this league, Ibrahimovic's age and recent injury record mean he rarely plays on artificial pitches.
"I think it's a shame to play on [artificial] turf, because football was not created on turf," he has said.
A serious knee injury suffered while at Manchester United will play a part in this, and it may be wise for LA Galaxy to keep their star player in good condition.
"If people knew the real injury, they would be in shock that I was even playing. It was more than the knee but I will keep it personal," he said following his recovery towards the end of last year.
As a result, Ibrahimovic missed the recent trip to Seattle's CenturyLink Field, where his team suffered a sorry 5-0 defeat while he was out swapping shirts with Ed Sheeran at the singer's concert at the Rose Bowl.
However, rather than be insulted by Ibrahimovic's forthright words and actions, fans of the team tend to agree with what he says. They believe his words inspire the rest of the team and that the arrogance is something they have been missing.
Josh Guesman is the producer and co-host of LA Galaxy podcast, Corner of the Galaxy, and says that the striker's confidence and frankness is good for the club.
"Zlatan's ego has, and currently is, being used to motivate. He certainly uses it to motivate himself and it seems that he's using it to motivate the team as well," Guesman told Sky Sports.
"There's no denying the fact that he's used to playing with more talented players. There was some adjustment period for him and for the team to get used to his criticism during the game - his waving arms or disgusted looks.
"But there now seems to be an understanding that he's demanding more from them, and the Galaxy need that. They need to be pushed and moulded in any attempt to force them to raise their level.
No one is tired of the ego. But they are tired of under-performing and Zlatan is doing his best to make sure that's not going to happen.
"No one is tired of the ego. This team needs more ego, more swagger. But they are tired of under-performing and Zlatan is doing his best to make sure that's not going to happen."
LA Galaxy are currently sitting in a play-off place, but Ibrahimovic is right when he says they are under-performing. They were even before he joined, and the five-time MLS Cup winners finished bottom of both their Western Conference and the overall standings in 2017 - their worst season in history.
This season their play-off position is under threat from Seattle Sounders and Vancouver Whitecaps, who have games in hand of their west-coast rivals from further south, and also the Portland Timbers who occupy the last play-off position.
This is why the 5-0 thrashing at the hands of the Sounders felt even more deflating, as it put LA Galaxy's opposition in a good position to snatch their play-off place.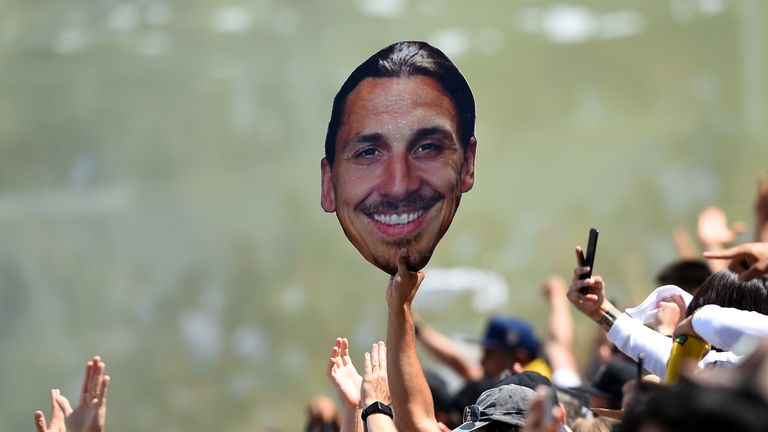 Only one of LA Galaxy's eight remaining matches will be played on artificial turf - their penultimate game of the season against Minnesota United. If this turns out to be a crunch game in terms of making the play-offs, then Ibrahimovic may have to play on the plastic grass. He'll also do so should his side make the play-offs.
"For a man who is coming off an almost complete reconstruction of the ligaments of his knee at the age of 36, you can certainly understand the hesitancy to play on the hard surfaces in some of these MLS stadiums. Turf is not kind to knees," adds Guesman on the issue.
"But the bottom line is the Galaxy need him on the field. Head coach Sigi Schmid has said that he'll play on turf in the play-offs, but they are on the verge of missing out on the play-offs altogether. Ibrahimovic's absence from any game puts the Galaxy at a severe disadvantage."
The prospect of no post-season games for the second year running is unthinkable, especially with expansion upstarts and new city rivals Los Angeles FC looking likely to reach the playoffs in their inaugural season.
The injection of ego Ibrahimovic provides could be the tonic they need to hold on to their current position, and stop them wilting away as the season comes to an end. Defeating LAFC in their upcoming 'rivals week' clash would be a good start.
It seems fitting to leave the last word to the man himself: "I want to help the club. I want to help the people around. I want to help my team-mates win and I'm here for the moment, so all of you should enjoy [it] while I'm here."
If you're reading on skysports.com comment below to get involved in the debate, but please adhere to our House Rules. If you wish to report any comment, simply click on the down arrow next to the offending comment and click 'Report'.