It was a night of vindication for Maurizio Sarri as Chelsea took their place in the Carabao Cup final with a penalty shoot-out win over Tottenham.
Chelsea overturned a 1-0 deficit from the first leg thanks to first-half goals from N'Golo Kante and Eden Hazard at Stamford Bridge, but Fernando Llorente's header took the game to penalties, with the hosts winning 4-2.
Having laid into his squad's mentality after the 2-0 loss to Arsenal on Saturday, it was exactly the response Sarri was hoping for.
On the front foot
One of Sarri's key criticisms in that extraordinary press conference at the Emirates Stadium was that his players lacked "ferocity". On Thursday night, however, an increase in intensity and determination was obvious from as early as the first minute, when Ross Barkley and David Luiz could be seen charging down the visitors inside their own box.
It set the tone for the first half. Having been so passive against Arsenal, Chelsea were all over Tottenham, disrupting their passing game and forcing them into mistakes at both ends of the pitch. Even Olivier Giroud could be seen dropping into midfield to win the ball back in Chelsea's half.
The home supporters showed their appreciation and they also enjoyed the sight of Chelsea playing with real attacking intent. Sarri's side had 64 per cent of the possession against Arsenal but did precious little with it. Against Spurs, they had a roughly even share of the ball but played with incision, aiming far more of their passes forwards rather than sideways.
Jorginho, a target for criticism lately, was particularly effective in that regard. His pass over the top to release Pedro in the fourth minute was exquisite and there were plenty others like it. Chelsea opened Spurs up repeatedly. Their total of 21 shots was higher than in any of their last 12 Premier League games and underlined their dominance.
Sarri's men showed steel as well as attacking intent, ensuring Tottenham rarely threatened to add to their goal, which came against the run of play, and then holding their nerve in the penalty shootout. The outcome was closer than he might have hoped, but this was exactly the kind of mature, determined Chelsea performance Sarri had called for.
Having refused to deviate from his way of playing, it also provided some timely vindication of his philosophy.
Hazard steps up
There was some alarm when Sarri followed up his attack on his players at the Emirates Stadium with individual criticism of Hazard during his pre-match press conference. "At the moment, he's not a leader," he said. "He is a wonderful player, but he is an individual player, an instinctive player. I think he has to do more because the potential is higher than the performances."
Sarri's comments were a gamble but they certainly seemed to coax the right reaction out of Hazard. The Belgian stepped up when Chelsea needed him, taking their second goal brilliantly and causing Tottenham constant problems with a man-of-the-match performance.
The goal, powered home on the stretch from Cesar Azpilicueta's cut-back, was the obvious highlight of his performance but there were plenty of others. For the most part, he hovered menacingly on Chelsea's left but shortly before half-time he could be seen dribbling through a crowd of white shirts deep in his own half before releasing Kante with a raking, 50-yard pass.
Hazard's key stats
Created more chances (five) than anyone else
Ranked top for passes in the opposition half (43)
Reached double figures for crosses (10)
Ranked top for dribbles (five)
It showed the breadth of his influence and so too did the statistics. Hazard created more chances than the entire Tottenham team combined. He also ranked top for passes in the opposition half, crosses and dribbles. It was clear, too, that he enjoyed combining with Giroud rather than being on his own up front as he was against Arsenal.
"Eden Hazard was different class again tonight," said former Chelsea forward Joe Cole in the Sky Sports studio. "The manager questioned him too, saying, is he a leader? We talked about different types of leaders and he took the ball in difficult situations, releasing Emerson down the left, releasing Giroud. I felt he led the team with his performance on the pitch."
"He's magnificent," added Jamie Redknapp. "He's worth the entrance fee. You watch some of the things he does - the touches, the way he goes past people and that was not a simple finish. There's nothing he can't do - the little one-twos, how he injects pace into the game like no-one else can. [Gonzalo] Higuain will have been watching, thinking, 'I'll have a bit of that.'"
Kante's evolution
Sarri has been criticised for moving Kante out of his favoured holding role in order to accommodate Jorginho, but the midfield positioning worked perfectly against Spurs.
Jorginho was excellent, unpicking Tottenham's defence with some slick forward passes from deep, while Kante showed he is getting more and more comfortable in his new role. His goal, powerfully struck through a crowd of Spurs bodies, was his fourth of the season - matching his total for the previous four seasons combined.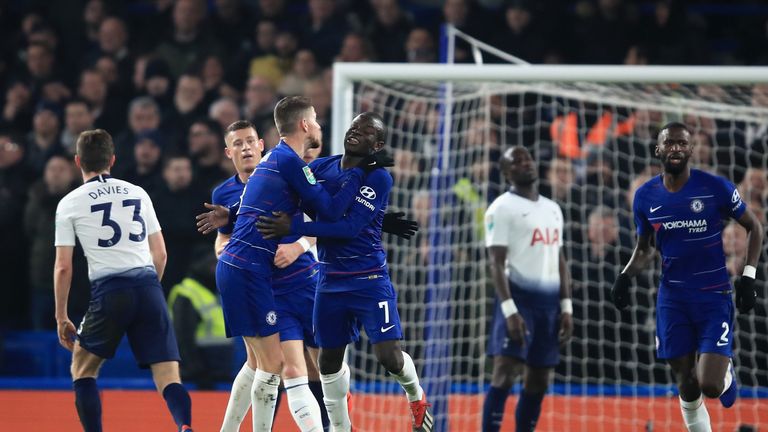 Kante made no interceptions and only made a single tackle, but his role is different now. He showed his usual energy, helping out defensively when required, but he was most effective at the other end of the pitch. As well as having two shots on goal, he created three chances for his team-mates - his second-highest total of the season so far.
It is still strange to see arguably the world's best holding midfielder used in a different role, but Kante is evolving and this performance showed that he is capable of making it work. Continue like this and his endearingly awkward goal celebrations might soon start to come a little more naturally.