Manchester United vs Liverpool: What has Ole Gunnar Solskjaer changed since the last meeting?
Man Utd vs Liverpool, 2.05pm, Sunday, Sky Sports Premier League
Last Updated: 22/02/19 6:01am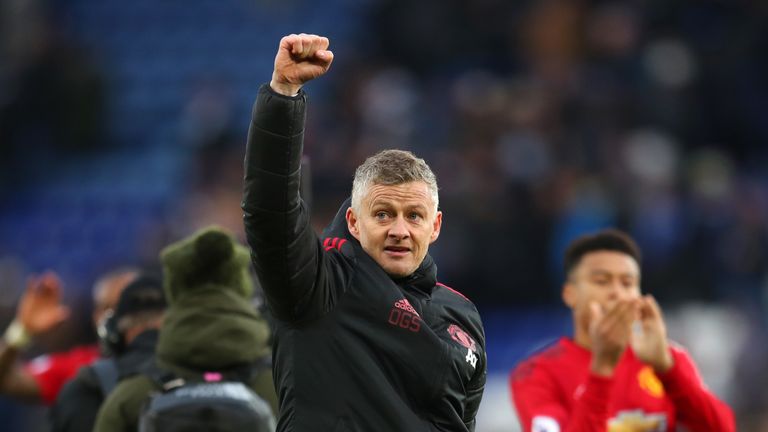 Manchester United's 3-1 loss to Liverpool in December was Jose Mourinho's last game in charge. Ole Gunnar Solskjaer has had a transformative impact since then, but as United prepare for the return game against their old rivals on Super Sunday, what exactly has he changed?
Positivity
Paul Ince did Solskjaer a disservice in January when he suggested any manager could have inspired a turnaround at Manchester United after the drift and disharmony of Mourinho's tenure. But while there is much more to the improvement than a simple arm around the shoulder, it is certainly true that a little positivity has gone a long way.
The atmosphere had turned toxic under Mourinho, whose dour demeanour was not helping, but Solskjaer has struck the right notes from the moment he walked into the place. The Norwegian was an immensely popular figure at the club as a player and it is the same story now.
One of his earliest priorities was to repair the squad's morale.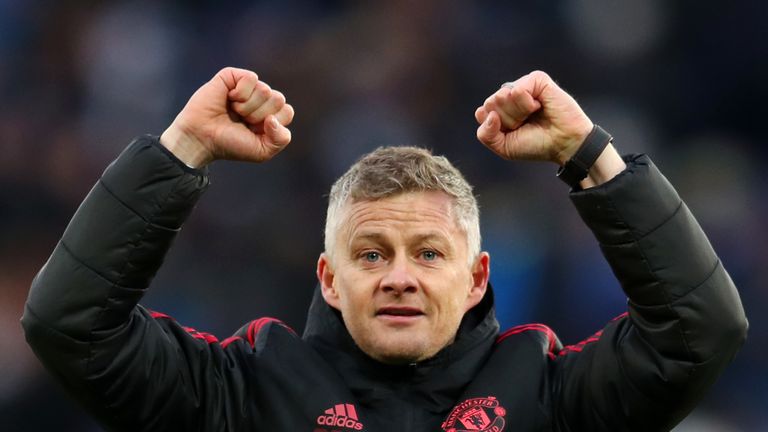 "It's down to man management," he said at his first press conference. "I had the best manager as a player and a coach to learn how he deals with people. It's about communication - I'll sit down with the ones not playing, what I expect from them. When you're at Man United there are certain demands - and one of them is to be a team player."
With the squad finally pulling together off the pitch, Solskjaer was able to get them firing on it. The shackles were cast off and the upturn in form was immediate, starting with the 5-1 thrashing of Cardiff City before Christmas. As he would later tell Sky Sports, it was about restoring the club's attacking identity. The fans loved it and so did the players.
"I think you can see from the outside how much he has changed things in such a short space of time," Luke Shaw told Sky Sports. "He is just a really positive manager, he knows what the club needs and also what the fans want in the way we are playing. He's bringing that attacking, quick play back to Old Trafford. I'm sure the fans are going to appreciate that as much as we do."
Manchester United travelled to Anfield with little expectation of getting a result in December, but the mood and momentum has changed as they prepare to welcome them back to Old Trafford.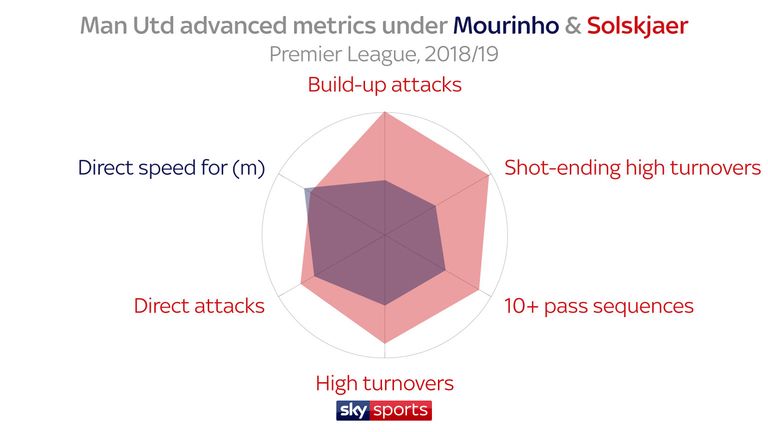 Pogba unleashed
No player has benefited more from Solskjaer's arrival than Paul Pogba.
The France midfielder was an unused substitute that day at Anfield, his relationship with Mourinho seemingly broken beyond repair, but he has been practically ever-present under Solskjaer and he will be centre stage on Super Sunday. On recent evidence, Jurgen Klopp should be worried.
Solskjaer has liberated Pogba, giving him the attacking freedom he was denied by Mourinho, and the results have been spectacular. In nine Premier League appearances, and with Nemanja Matic and Ander Herrera sweeping up behind him, there have been eight goals and five assists.
His sending off in United's Champions League defeat to Paris Saint-Germain stalled his momentum, but his suspension does not extend to domestic competition and there is no question that he has benefited from Solskjaer's approach.
"I am playing a bit further forward. I have more security behind me, it gives me the freedom to go forwards to try to get into the box and support the strikers," said Pogba recently. "It is a pleasure to play again. That's normal. Now I am always smiling."
Solskjaer, who previously worked with Pogba in United's academy, has taken a totally different personal approach with him, too. Instead of condemnation there has been encouragement. And having been stripped of his vice-captaincy under Mourinho, Pogba has even been talked up as a future captain.
"He's a character, he influences people, he cares and he really wants to be successful," said Solskjaer last month. "I know him from before and when he's enjoying himself he brings so many good things with him. He knows he can't do it by himself, he knows it's a team game but you can see the personality, you can see what winning the World Cup meant to him, so for me, yes, he's captain material."
Return of the counter-attack
Solskjaer spoke at length about his determination to restore the club's identity in his fascinating sit-down interview with Sky Sports earlier this month.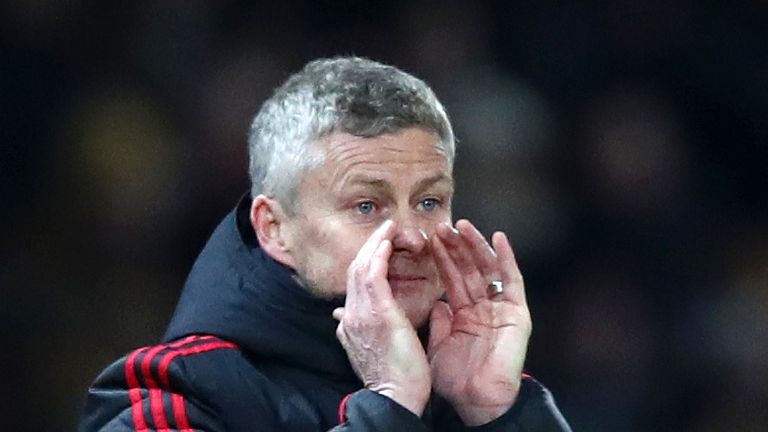 "The way we play with pace and power, we should never forget our history of counter-attacking, even though we are one of the teams that want to dominate games," he said. "If teams drop deep we need to have a way of playing against those teams but also when we defend we defend to win the ball to counter-attack quickly."
The counter-attack has returned in emphatic fashion. According to Opta's definition, United registered just three 'fast breaks' in their first 17 Premier League games of the season under Mourinho, but there have been 11 in nine games under Solskjaer. It is a dramatic change which takes them from bottom of the Premier League rankings to the top.
It makes you wonder why Mourinho was so reluctant to use the tactic effectively before. At Anfield in December, United had just 35 per cent of the possession and yet posed no threat on the break. While injuries to Anthony Martial and Jesse Lingard are a blow to Solskjaer's plans, recent evidence suggests Liverpool can expect a very different game on Sunday.
"We want to take risks," added Solskjaer. "We want to go for the second, the third and the fourth goal because that's just how we do things at Manchester United. If you can't handle that then you are at the wrong club."
Rashford rewarded
For the first time since being thrown into the team by Louis van Gaal in February 2016, Rashford is enjoying an extended run in his favoured central striking role. The 21-year-old was stationed on left of Mourinho's midfield at Anfield in December, spending more time in his own half than he did in Liverpool's, but, like Pogba, he has been unleashed by Solskjaer.
So far, there have been six goals in nine Premier League appearances - including decisive strikes against Leicester, Brighton and Tottenham. According to Sky Sports pundit Jamie Carragher, Rashford could now make the centre-forward position his own for the long-term.
"The form he's in at the moment, if he continues that, they won't need to buy anyone else or bring Romelu Lukaku back into the side," said Carragher earlier this month. "He can be United's main man.
"I was at this ground [the King Power Stadium] to see England against Switzerland and we debated that night whether Rashford could ever be that man. I was doubtful of that, but what's happened under the interim manager - we talk about an audition for the manager, but Rashford can make himself United's centre-forward and show he can be the man to take you to a title or a Champions League."
Stronger defence
Solskjaer has improved Manchester United defensively as well as offensively. There is still plenty of work to do there - the 2-0 loss to Paris Saint-Germain was a reminder of that - but United look far more resilient and far better organised than they did the last time they faced Liverpool.
Individual performances have been better, with Victor Lindelof, Phil Jones and Eric Bailly among those to have turned in impressive performances, and the statistics underline the overall improvement. Having conceded 29 goals in 17 Premier League games under Mourinho, United have conceded just six in nine under Solskjaer.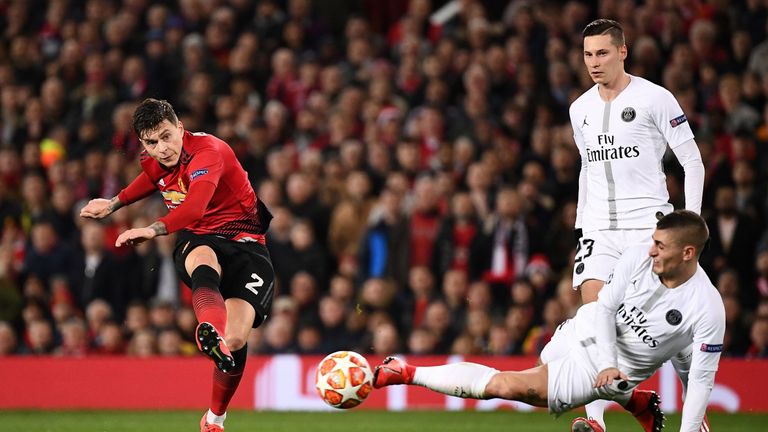 It's a result of giving their opponents fewer chances. United have gone from facing 13.9 shots per game and 5.2 shots on target per game under Mourinho to facing 11.8 shots per game, with only 4.2 on target under Solskjaer.
United's defenders have been helped by a defensive midfield axis of Herrera and Matic, too. The duo have been excellent in front of the backline - it is no coincidence that United dropped points in the only game they did not start together - breaking up play with energy and intelligence and also providing a platform for Pogba, Rashford and the rest to get forward.