Brits abroad - Rob McDonald
Continuing our Brits abroad series in which we speak to players to get the lowdown on their time overseas, Adam Bate speaks to Rob McDonald about his fascinating career in Holland, Portugal, Belgium, Denmark and Turkey.
By Adam Bate - Follow @GhostGoal
Last Updated: 24/03/13 7:46pm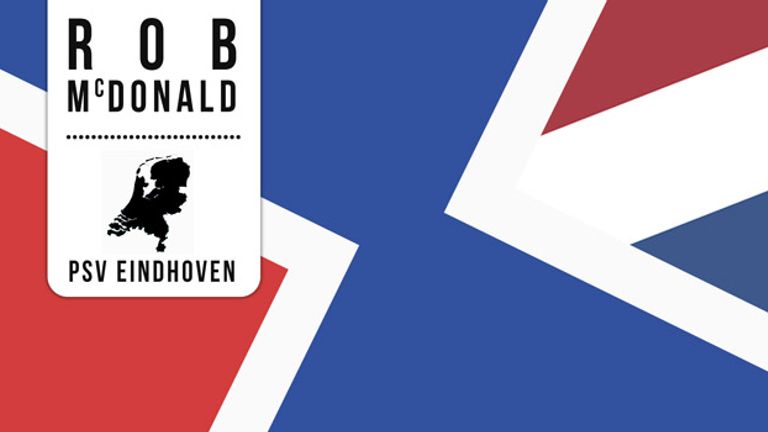 In the late 1970s, Rob McDonald was a young striker trying to make his way at Hull. What followed was an extraordinary globetrotting career that included an Eredivisie title with PSV in 1986 and tales of hat-tricks for Sporting Lisbon. Adam Bate caught up with the Englishman, who is still living in Holland, to find out more about his fascinating career.
So you're a young lad playing for Hull. How does the move to Holland come about?
I was a local boy making huge steps to the first team and I didn't want to ruin it by going to a second division club in Holland. But when a new manager comes it can shake everything up. Mike Smith came with Cyril Lee and they were quite clear that they didn't want to go ahead with young players. So the writing was a little bit on the wall.
Cambuur wanted to loan me for half a season and I thought, 'I've got nothing to lose'. I only played seven games out there but luckily out of that I played three really good ones. And then the coach who was at Cambuur moved to Wageningen. He soon rang me up and said: 'Rob, I'd love you to come to my new club.'
And that was Eredivisie football...
They were in the Premier League of Holland. And that meant your Ajax and so on. That was when I thought this is worth the risk and breaking all ties from home. In the third game away at Ajax, we won 4-2 and I scored two goals and got two assists. All of a sudden everyone knew who Rob McDonald was.
That season we got relegated but I had a good season and got a lot of interest. I moved to a club called Willem II and it was a year when I scored a lot. I was the third-top scorer in Holland with 21 goals behind Wim Kieft and Kees Kist, two top strikers for Ajax and AZ.
But we were battling relegation so I moved again, simply because I was a player who could bring money in and they were having financial problems. So I went to FC Groningen. I think if people were to mention my name in Holland they would always mention FC Groningen. Not just because we did well, breaking into Europe, but also because I spent three years there.
It was quite a successful rise for you then. Do you think it suited you as a player out there?
Oh yeah. I never really understood the English game. I couldn't understand why a big man should run the channels and then give the ball off to the little wingers. Then you've got to be lucky for your other striker to be a big man so he can head it in.
When I came over here it was a 4-3-3 and I was reliant on crosses from the wings. I created so many more chances and it just made sense. So it suited my style of football. I don't know if I'd have been successful in England if I'd stayed. Simply because I didn't agree with the tactics.
Do you believe Dutch players think about the game more and put a greater emphasis on tactics?
I learned more in the first couple of years in Holland than I did in all my time at Hull City. And that's no disrespect to anyone at the club. But [in England] we were nearly every day in the gym - 20 against 20. It was just a matter of keeping up the atmosphere and not working on tactical things.
You didn't know you were going to play until the last minute so how can you work on set-plays if you don't know who is playing? It's little things like that. Holland really opened my eyes a great deal.
And after Groningen there was a big move to PSV Eindhoven. That must have been an exciting one?
Talk about nipping yourself! In my third year [at Groningen] I was really in form. I got 17 goals and I'd missed quite a few games. That [move] was huge. When you come in and you've got players like Ruud Gullit, Willy van de Kerkhof, Eric Gerets and Hans van Breukelen. Great players.
Was that daunting?
When I went there and had my photo taken with my foot on the ball in the centre circle I was just nipping myself. These were things you'd dreamed of and all of a sudden it comes true. It was fantastic and we were easily champions with, I think, six weeks to go. It was such a great team.
Special memories of Ruud Gullit?
I just remember he was such a personality. He walked in and he's all charisma. I'm tall and well-built but he stood out. And on the training ground he always gave everything. He wasn't lazy at all. He would help carry the bags if it was his turn to take them onto the bus.
He drove an old Fiat. It was quite funny, he had this little white Fiat and this massive hair in the car. It was just a funny thing to see. But he wasn't one to come in with flashy cars or anything like that. We were sponsored by BMW so the majority of others drove BMWs but he just said, 'Nah, I'll stick to my Fiat'. He was a good bloke.
And winning that title must be one of the high points of your career?
Oh yeah. I can say I won a championship with a very good team because two years after that they were champions of Europe. My proudest moment was my debut for Hull simply because I'm a local boy and that was something I'd always dreamed of. But the second was obviously that championship.
But you left after that season with PSV didn't you?
Well, I got injured. I had a 50/50 ball with a keeper and he came out with his studs. It took the inside of my leg and I had to have 20 stitches. In the time that I was out, Ruud went up front... And he's not a bad little player as you know!
As well as that, I knew that there was talk of Wim Kieft, who had gone to Italy to play for Pisa, coming in. And then all of a sudden Sporting Lisbon came in for me.
Another huge football club...
Yeah. I just had that feeling. Do I want to hang around and fight for a place with Wim Kieft? I wasn't frightened of that. But when I heard about the opportunity to go abroad and play for such a huge club as Sporting Lisbon I just jumped at it. I've always had this little bit of adventure about me. So I went on loan. They didn't want to sell me because they didn't want to be short of strikers if Wim got injured.
You didn't see much action out there though?
That was a time when you were only allowed two foreign players. And I was the third one. The first was Manuel Negrete. You'll remember that in Mexico (1986 World Cup) he scored that famous overhead kick.
And Raphael Meade who played for Arsenal was there too. They weren't happy with him and had more or less brought me in to take his place. But did he play well! It was just that kick that he needed and I've got to be honest he deserved to play.
I made my debut in Iceland against Akraness in the UEFA Cup because the third foreign player was allowed to play in Europe. I scored a hat-trick. But the next game Raphael was back in. Then it happened again when I'd scored while Raphael was injured.
The boss got me in [to his office] and said: 'Look, I've got nothing against you, you're training hard but you know the rules - I can't play you.' At that moment, I realised I'd got to get myself back to Holland.
Back on your travels then...
I went back to Groningen on loan and then on to Belgium [with Racing Jet]. That move was purely due to a fascination with the famous Belgian coach Raymond Goethals (who later won the European Cup with Marseille in 1993).
I knew at that stage I was going to be a coach. The money there wasn't that great but I though, you know what, I'd pay good money to work with this guy. But it wasn't a good move. They started to have financial problems and because I was a top earner I had to leave.
And then because of the transfer deadlines the only place I could go was to Scandinavia. So I went to Denmark to play for a club called Ikast who had reached the UEFA Cup. I gave it a bash there and was soon back again.
Holland, Portugal, Belgium, Denmark... Do you think you need to be a certain type of person to be willing to travel the world like that?
You've got to be a person who can mix and adapt. I've always been one for learning languages. I can speak Dutch fluently but I should do now I've been here for 32 years! In Portugal I took lessons there. I wanted to get the craic in the dressing room and after three months I could understand quite a bit of it. I think you've got to be open to learning the language.
But you briefly found your way back to England with Newcastle. In a funny sort of way, was it difficult to adapt to life back in your homeland?
It was in a way. You are a complete unknown. And yet, you're an Englishman.
It was a huge club with huge expectations. The first couple of months everything was on adrenaline. It didn't really bother me that I had the same name as one of the greatest players who has ever played there (Malcolm Macdonald), I just tried to adapt and do things my own way. I enjoyed it.
But all of a sudden the fact that I hadn't played for a few months just hit me and I struggled. I kept battling but I should have gone there when I was 26 after Sporting Lisbon. That would have been perfect. But I still managed to score in [what is now] the Premier League and met some great people.
So it was off to Besiktas but you didn't stay long?
They didn't pay the salaries. If I have to wait three months before seeing any money, I'm out of there. One day I said to Gordon Milne (the manager), because I was due to get paid the following day, if I don't hear from you before 2pm I'm off. He started panicking.
But I told him I was a professional and I wanted to be treated like a professional. I gave it until 2.30pm, got my suitcase, got in a taxi and went to the airport. All of a sudden the tannoy came on: 'Telephone call for Mr McDonald, telephone call for Mr McDonald.' I don't think so. I left.
It's not something I'd normally do. I went back to Jim Smith (Newcastle boss) and explained what had happened because apparently I was AWOL. It wasn't that at all. They just didn't pay the salaries.
You then went back to Holland and, aside from the occasional coaching jobs all over the world, it's where you still are to this day. Does that feel like home now?
Yeah, I'd say I've got two homes. One is Hull. But this is where I've spent most of my life now.
And what are you up to these days?
I'm a head-hunter for professional coaches, particularly youth coaches.
I took Henk ten Cate to a Chinese club called Shandong Luneng. You'll remember he was the assistant to Avram Grant when Chelsea reached the Champions League final. He's been at Ajax, he's been at Barcelona. He's a great coach.
I've just taken a technical director to Ajax Cape Town. I've taken two coaches to Red Bull Ghana. And I've taken a goalkeeper coach to Libyan club Al-Ahly.
So all that travelling around the world has built your contact base?
I've got a huge network. That's the thing about it. I can always fall back on people I know and, more importantly, people I trust.
So presumably you'd recommend footballers opening their eyes to possibilities abroad?
Definitely!
You can find out more about the career of Rob McDonald, his work as a guest speaker and his role as a head-hunter of top-class coaches on his official website - www.robmcdonald.nl