Brits abroad - Ray Hudson
The North American Soccer League wasn't just about ageing superstars. Former Newcastle midfielder Ray Hudson moved to the United States at just 22 and never looked back. Here he discusses his time playing for Fort Lauderdale Strikers alongside the likes of George Best and Gerd Muller.
Last Updated: 03/04/13 8:07am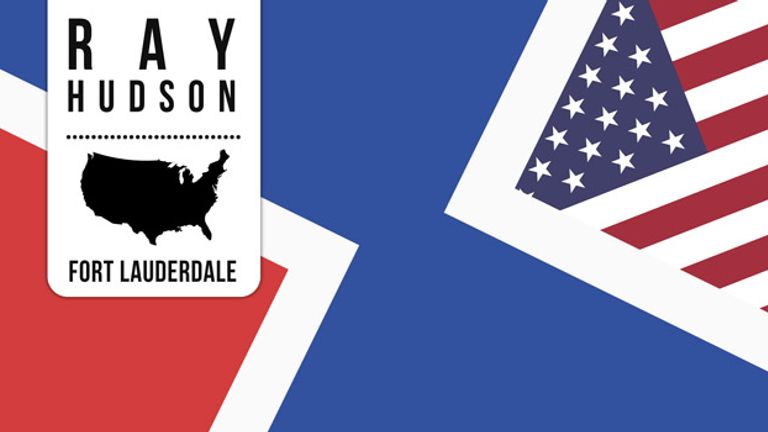 In 1977 Ray Hudson was a young footballer trying to make his way at Newcastle United. A loan move to the North American Soccer League to play a summer with Fort Lauderdale Strikers was supposed to be a learning experience. It changed his life. Adam Bate caught up with Hudson to discuss his experiences Stateside...
You're a young lad playing for Newcastle. How does the move to Fort Lauderdale come about?
I'd been in and out of the team in the four years I'd been at Newcastle. In fact, I'd been through four different coaches in my time there. They wanted me to get some experience and there were too many international players ahead of me at Newcastle. It was very difficult for a local lad to break into the team.
They asked me to go on loan to the States because the game was picking up there. No problem, I said. When they told me there was a club interested called Fort Lauderdale I didn't know what to expect. The first image that hit me was like something out of Dances with Wolves - I had in mind some isolated outpost.
But when they told me it was near Miami I thought I'd take that all day. I'd heard of Miami. I'd seen the James Bond films! So I came over and from then on it was a Cinderella story. It was just phenomenal. We won the division that year against Pele's New Year Cosmos and Rodney Marsh's Tampa Bay Rowdies. It was just incredible. It completely turned my head.
Every game there'd be something different. There were great crowds and every game it was exciting. I just loved America. I was a Woodstock kid and I'd grown up loving Americana. So just seeing the United States was something very special for a 22-year-old kid from Newcastle. Going to places like Hawaii and Las Vegas... And of course Fort Lauderdale was the place to be for Spring Break. So you can just imagine the hanky-panky that was going on.
A lot of guys went out there at the end of their careers or just during the summer months but you went out lock, stock and barrel. That was a big move for a young guy...
That's right. But I couldn't go back to Gateshead anymore. I loved Newcastle and [after the initial loan] I did go back and play another season for yet another manager in Bill McGarry. But I'd had enough. I just wanted to enjoy my football and that's something I'd never done as much as when I played in the United States.
When I went back to Newcastle I made my case to McGarry. I told him that I didn't want to be fighting for my place and I wanted to go back to the States. I kept on going into his office and seeing him.
In my last game against West Ham we lost 1-0 and Alan Devonshire scored the goal. We got on the bus afterwards and McGarry blew a fuse. He told me I could go back to my Mickey Mouse football. He just erupted on the team bus. He apologised on the Monday morning when I went in to see him about the move. But the ties were cut and I came back to America.
How did you find the standard of the game? People always want to compare it to a certain European league but I guess it's tricky given the mix of big names and ordinary players?
The football in the NASL just got better and better over the years. There were some phenomenal names. Johan Cruyff, Franz Beckenbauer and Rudi Krol all followed after Pele. So there were these gods of the game playing against journeyman footballers.
I remember talking to one of the referees out there, George Courtney, and asking him what it was like. He said it was a nightmare because he didn't know whether to ref the game in the style of the South Americans, the North Americans or the Europeans. It was a very difficult league in that sense.
It was such a melting pot. You had these dynamic players. There were real mavericks out there like Rodney Marsh, Frank Worthington and George Best. Then you had the gods of the game like Beckenbauer and Carlos Alberto. We had Gordon Banks in goal for us!
But then we'd be playing against guys who'd come over from the third division of England on loan. The competitive nature of everyone involved ensured it was a competitive league. But the emphasis was on excitement. We were turning the crowds on to this new game.
There was no football on the television back then. We've got four soccer-specific channels in the United States now. Nowhere else in the world covers as much football these days but back then there was nothing. For them, it was this weird game but it was exciting and fun. It was an amazing time.
They had some novel ideas to generate excitement didn't they?
The first week that I arrived in the United States they explained the playoffs to me. We go through the entire season and, at the end of it, it doesn't mean a thing? Instead we go into this knockout tournament. So it's a cup? We can win the league and then get knocked out in the first game of the playoffs? That concept alone was crazy. That's exactly what happened to us. Our team had by far the best record but come the playoffs we drew the Cosmos and they bounced us out in the first round.
The shootout where you ran at goal from the 35-yard line was amazing. Pele never scored in a shootout. He never even wanted to take it. That's how difficult it could be. The best one I ever saw was Carlos Alberto and he had to score for the Cosmos to stay in the playoffs. He'd never taken one before but he scooped the ball up and ran with it bouncing it off his knee before lobbing it over the goalkeeper. Genius under pressure.
Fort Lauderdale had a pretty special team and you played alongside the likes of George Best, and Gordon Banks. What are your memories of them?
Nothing but the best. When these guys walk into your locker room it's numbing to you. These were people who you'd grown up worshipping and there they were stripping off next to you and hanging out at the restaurants afterwards. In terms of the football it was fantastic to test yourself against them. These were the cream of sports personalities and it triggered you tremendously.
Then there was Gerd Muller and Teofilo 'Nene' Cubillas too...
There was Ian Callaghan as well. We had a hell of a team. Me and Nene played together for so many years and that combination was the dynamic that worked for us in midfield. Gerd up front came in shortly after being top goalscorer yet again in the Bundesliga. Of course, they were at the plateau of their career. But it wasn't like people made out, that they were on the slide. They still had plenty to offer and they loved the NASL.
Any particular highlights on the field?
There are so many but beating the Cosmos when Best and Cubillas scored. That was a magical night at Fort Lauderdale. There were seven or eight World Cup captains on the field that night. It was astonishing the talent that was out there.
Then there were the battles against the Rowdies and Rodney Marsh. He was the king of the castle up there and we'd have some fantastic duels. People say the Cosmos was the best club but it wasn't. The Rowdies had everything and there was nothing like playing at Tampa.
You did briefly return to European football to play in the German second-tier with Union Solingen. How was that?
Ours was a summer league so in the winter some of the lads would go overseas. I'd never fancied going home or anything like that. I used the free time to see the country and loved it. But that one year I fancied it. It was a good team. They were in the second division but they were right up there pushing for the Bundesliga and we only just missed out on promotion.
It was great. It was just a brief stint as I had a head injury out there. Believe it or not I was on my honeymoon out there and we couldn't speak a word of German. Even if I could, a Geordie speaking German was going to lose something in the translation! But it was a wonderful experience.
You saw the demise of NASL while you were there. What is your take on the reasons for that?
It was just an inverted pyramid. It was very top heavy. The American kids weren't coming through in the numbers that they did later on. Happily, that was our legacy. We inspired all these kids, the likes of John Harkes, for example, who grew up watching the NASL, to go and become good footballers. But there wasn't that quality when we needed it in the NASL. Certainly not in big numbers.
And then there was the expansion. We went to 36 teams from 12 within a few years. There just wasn't the market support for that and the league became completely diluted quickly. It all dissolved very quickly. It was like a shooting star. Astonishing to watch and very exciting but, like that, it was gone.
But it did spawn what is now the MLS. It had a profound influence on the players that played in MLS and carried the national team to what it is today. So we have a proud legacy there, that's for sure.
And you continued to play in the US and tried your luck with the indoor game. How was that experience?
It was crazy! For the type of player I was, it wasn't a perfect fit but I was still a pretty skilful player. I was decent on the ball but being confined to a little bull-ring like that wasn't ideal. Smacking a ball off a wall isn't quite the way I was brought up so it was crazy.
But again, the carnival atmosphere was cool. It was fun. What you see now in the NBA all comes from what you saw in the Major Indoor Soccer League (MISL). When they turned the lights down and the disco music up; when the smoke came out and the players were introduced. It was phenomenal and the NBA lifted it right from MISL.
Crazy game though! Being paid as a professional to play five-a-side? Some of the English teams would come over in the off-season to play exhibition games and we'd kill them because they didn't have the concept of the indoor stuff. It's not even the same game. It's wacky.
And after coaching roles with Miami Fusion and DC United, you're still living in Florida?
I still live in Fort Lauderdale just two miles from the stadium where I played all those years ago.
Did you envisage you'd still be there now?
I did! I'm not saying I could see into the future obviously but from day one I never wanted to leave Fort Lauderdale. This is my town and I consider it my town.
But I still go back to Newcastle to see my 94-year-old father. I go to the greyhound racing. In fact, I've never had a real holiday in all the years I've been here. Every chance I get I go back to hang out with my father. But with the beaches I have here in Fort Lauderdale I don't need a vacation!
And presumably you'd recommend British players heading for MLS?
I cannot endorse this country more. It's a different landscape altogether to when I joined. When we arrived it was a curiosity. Now it's established. It's not NFL, NBA or Major League Baseball but in individual towns it's big time and it's incredible to see the sell-out crowds around the country. So I'd encourage anybody to make the jump.
But the MLS isn't quite NASL...
It was such a special experience. There's never been a league like it before and there'll never be a league like it again. I was just lucky to catch the wave and ride it.