Team of the season: Gary Neville and Jamie Carragher name Premier League dream XI
Find out who Gary Neville and Jamie Carragher named in their Premier League team of the season.
Last Updated: 28/04/14 9:33am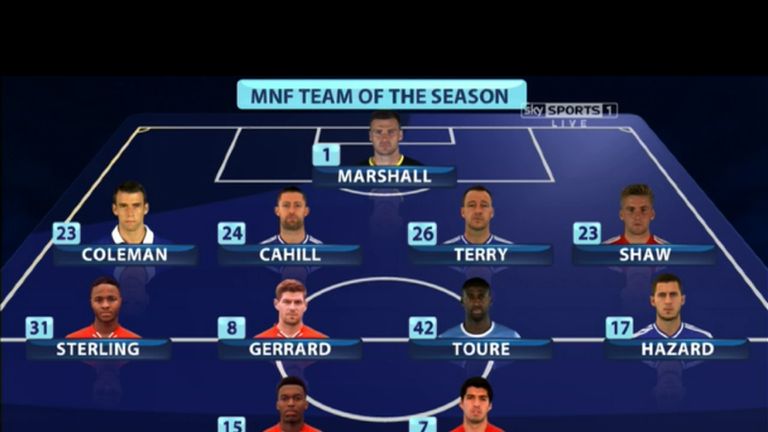 Gary Neville and Jamie Carragher spent most of Monday debating the issue - and in the end they needed a little bit of help from the Monday Night Football viewers to settle their disputes.
Sky Sports' dynamic duo agreed on eight of the players to feature in their dream team, but relied on a Twitter vote to decide who should play in goal, at left-back and on the right-hand side of midfield.
Carragher's selections won the public vote on all three positions with Cardiff's David Marshall (83%), seeing off Petr Cech (17%); Southampton's Luke Shaw (73%) beating Everton's Leighton Baines (27%); and Liverpool's Raheem Sterling (68%) getting the nod over Saints star Adam Lallana (32%).
Here, Carragher talks us through the names that made their way into the team.
Goalkeeper - David Marshall
CARRA SAYS: Every keeper is a good shot-stopper. If they weren't good at stopping shots then what's the point of them being in goal? They are all good shot-stoppers, of course they are, but he's the one. I haven't got much time for keepers to be honest - whenever someone tells me they have made a great save I think they should save it because that's what they are there for - but he has made four or five saves this season that I've thought 'top save, I expected that to go in'. He's probably the only keeper I can think of who has made those type of saves.
Defence - Seamus Coleman, Gary Cahill, John Terry, Luke Shaw
CARRA SAYS: I was picking Seamus Coleman anyway, but his performance on Sunday shows why he's been put in that side. He was man of the match against Man United. The two centre-backs are the best partnership and have got the best record for goals conceded and clean sheets. They were always a must. I was very close to putting Azpilicueta in at left-back, but his slip against Sunderland maybe tipped the balance for Shaw. He was fantastic at Villa Park, as he has been and he has such power and strength for a young player. You normally see that when they come to 23 or 24 and they gain that strength and pace, but to see it as a kid at that age dominating players with experience in the Premier League... he is a top player and it will be interesting where he will be next season.
Midfield - Raheem Sterling, Steven Gerrard, Yaya Toure, Eden Hazard
CARRA SAYS: If you go right through the team they almost pick themselves and that's the reason we've picked all the same players. Certainly the two in midfield: Yaya Toure gets goals and Steven Gerrard in his new holding role. Maybe Eden Hazard may have been one you weren't quite sure about and David Silva could have come into it and maybe Aaron Ramsey also in central midfield to be honest because he's just come into form again.
Strikers - Daniel Sturridge, Luis Suarez
CARRA SAYS: I think the front two pick themselves. I think a while ago you may have been looking at Sergio Aguero and Alvara Negredo, but we both agreed on these two.
Do you agree with their choices? Let us know by using the comments box below...