Howard Webb explains controversial refereeing decisions on Monday Night Football
From shirt-pulling to violent conduct, former ref has his say
Last Updated: 25/11/14 1:12pm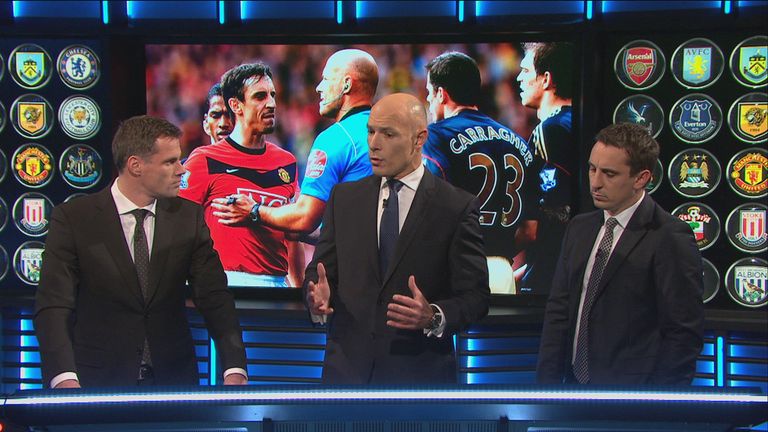 Howard Webb was the special guest on this week's Monday Night Football and answered Gary Neville and Jamie Carragher's questions about refereeing.
Webb, who has become technical director of the Professional Game Match Officials Board since hanging up his whistle in August, had a distinguished refereeing career. The Englishman became the first person to referee the finals of both the Champions League and World Cup in the same year in 2010 and won praise for his performances.
On Monday Night Football Webb explained the thinking behind Premier League referees' decision-making and tried to explain some of the more controversial rulings from recent weeks.
Here's Howard Webb on…
Refereeing the big games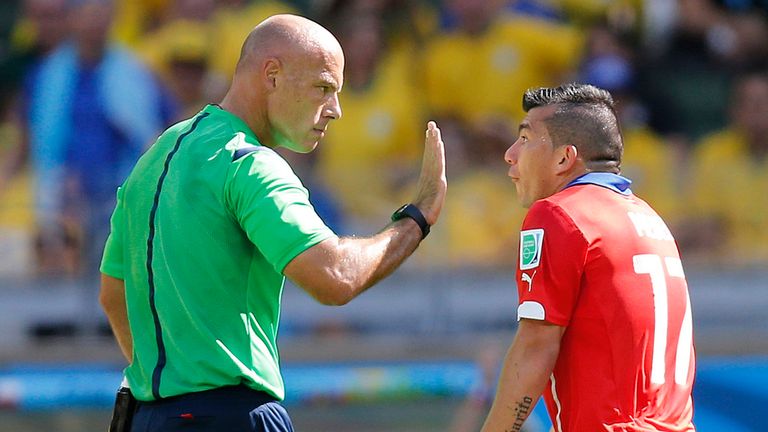 People say the best referee is the one you don't notice, but that's not always the case.
Howard Webb
I was lucky to be involved in so many great games in the Premier League and around the world and every one of those games is massively important to those taking part and me as the match official. I have to do my job correctly, whatever the match is. Finals are hugely important and of course that affects players. You try to be that calming influence on the players, to set the benchmarks early in the game so the players understand where the line is. You don't want to go in too early with discipline if you can manage the situation.
Refereeing derbies
Sometimes you have to be busy from the first minute because the game demands that. People say the best referee is the one you don't notice, but that's not always the case. Sometimes you have to be seen and heard for you to be in control and you have to step your involvement up. Yes, sometimes the atmosphere in the stadium is more hostile and excitable than other ones and you know that's going to affect the participants, so you need to be that calming influence in the game. The important thing is that the referee on the day is consistent through the 90 minutes.
Violent conduct and players going head-to-head
The match officials have to make a judgement on what is violent, what's aggressive. Violent conduct has got no place on the pitch. But emotion is there in the game as well and sometimes that leads to aggression. The match officials have to get the best viewing angles, and then taking action when they consider it has taken place.
Players run a big risk when they put their hands above the neckline, into the face. That's really quite offensive. If you push someone violently to the chest to the ground then you're looking at a red card but generally speaking we're looking at above the neckline being the area where players run a big risk of being sent off.
As a referee you don't want to overreact when you see two players coming together; the stakes are high, every game in the Premier League is massively important and the league table is tight. Of course we need to be consistent and we get together on a regular basis and look at these situations. We've got 17 individuals who are all trying to get that consistency, determining what is aggressive and what is violent. It's difficult to set hard and fast rules to interpret that.
Troublesome individuals
Our officials work with players all the time. People think that doesn't happen but it does. There's an interaction taking place, an encouragement from the referee and advice going the other way. That's a strong feature of the English game, that there is that interaction, that element of working together. That's come on leaps and bounds, working with captains. We have a team-sheet exchange with the captains in the referee's dressing room before the game where we talk about how we're going to run the game that particular day. We have lots of traction with the PFA, we talk about situations with players and managers. It's a whole-game approach to achieve that level of consistency.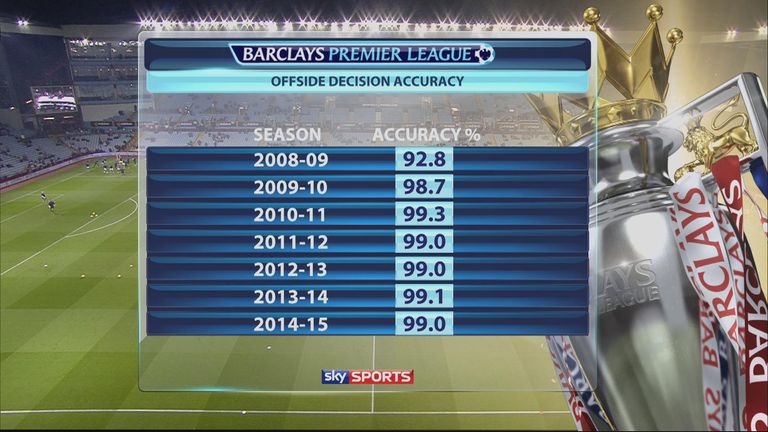 Shirt pulling
You've got to understand the difficulties when you've got so many people in a small, confined area. Football's a contact sport and we allow contact. It's trying to define what's legal contact and what's not legal contact. At the moment we're in a consultation period, with various stakeholders in the game, with a view to giving out some clear guidance with what we consider to be legal and illegal contact. Even when we give the guidelines out – which haven't been the easiest to draw up – there are going to be occasions when referees don't see everything. What we don't want to do is give some new directive people are going to over-react to. Clearly it's a talking point – that's why we're doing the consultation – we're keen to make sure everyone is on the same page.  
Simulation
There was a reduction of 30% in simulation last season from the previous season and this season has been consistent with the last so far, with seven cautions for simulation. It's an issue the whole game has taken care of. No one wants to see an act of simulation. Managers have condemned their own players when that's been evident. There are occasions when the referee misses the offence, when he doesn't see what happened, he gets fooled. There are other occasions when they choose not to caution because there's an element of doubt about whether it was a dive. You're asking referees to accuse a player of cheating and you need an element of certainty to be able to do that. But our evaluation of our officials, which takes place on each and every game, suggests instances of a referee having to make a judgement of simulation or not have actually reduced.