How Mauricio Pochettino's Espanyol beat Pep Guardiola's Barcelona
By Adam Bate
Last Updated: 01/10/16 11:53am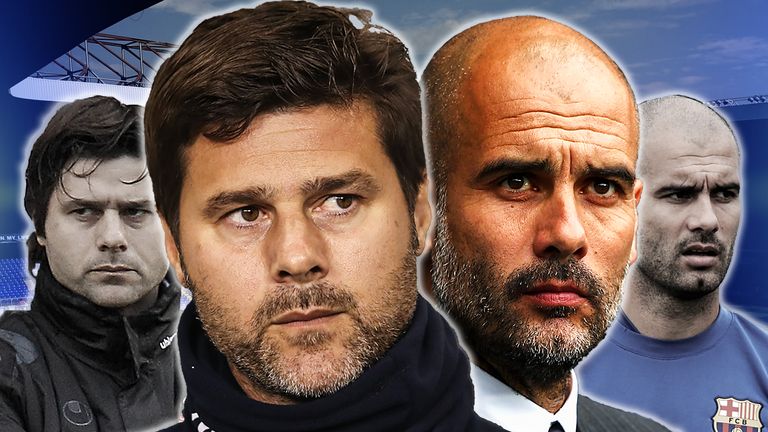 Mauricio Pochettino's managerial career began with Espanyol in 2009, with his first win coming soon after. Remarkably, it was against Pep Guardiola's Barcelona in the Camp Nou. Ahead of Tottenham's clash with Manchester City, Adam Bate revisits the story...
"I don't know how we did it," said Mauricio Pochettino, recalling the night in February 2009 when he secured the first win of his coaching career. "Espanyol were bottom and Barcelona were top, and all the people were saying Espanyol were dead and had no chance. It was a special victory and an unbelievable memory."
Unbelievable is a good word for it. Barcelona went into the weekend 10 points clear at the top of La Liga and new coach Pep Guardiola had yet to be beaten in the competition in front of his own fans. This would prove to be his first ever defeat there and Espanyol's first win there for 27 years.
Barcelona were in awesome form. Valencia had already shipped four at the Camp Nou. Almeria and Deportivo had both been beaten 5-0 and even Atletico Madrid had been hit for six. By the end of the year, Barca had won not only La Liga but the Copa del Rey, Champions League, European Super Cup, Spanish Super Cup and Club World Cup.
Espanyol, meanwhile, were struggling badly. The city's other side had gone 14 league games without a victory - that solitary win over Osasuna itself bringing a six-game winless streak to an end. Bartolome 'Tintin' Marquez was sacked for the first run. Successor Mane paid the price for the second.
In January, with the club five points from safety and desperate to stay in the top division ahead of their long-awaited summer move to a new stadium, they turned to former defender Mauricio Pochettino for help. A committed and thoughtful figure, he'd been a student of the celebrated Argentine coach Marcelo Bielsa.
Nevertheless, it was a gamble. This was the 36-year-old's first job in management. He'd left as a player only three years earlier. Quickly he set about instilling discipline. Player liaison officer Dani Ballart, an Olympic gold medallist in water polo, was soon sacked for his involvement in a team night out. Pochettino was all business.
Such were Espanyol's goalscoring problems at the time, there was talk of Hernan Crespo or Mario Balotelli arriving on loan to bolster the squad. But in a move that would prove characteristic of his coaching style, Pochettino preferred to focus on his work at the training ground as the transfer deadline approached.
"I'm not in a position to make decisions regarding possible signings because I have only been here for two weeks," he explained. "I think it would be irresponsible of me to think about these things. I have not asked for anything, I came here for the players because I believe in them. I assume the responsibility to guide them to victory."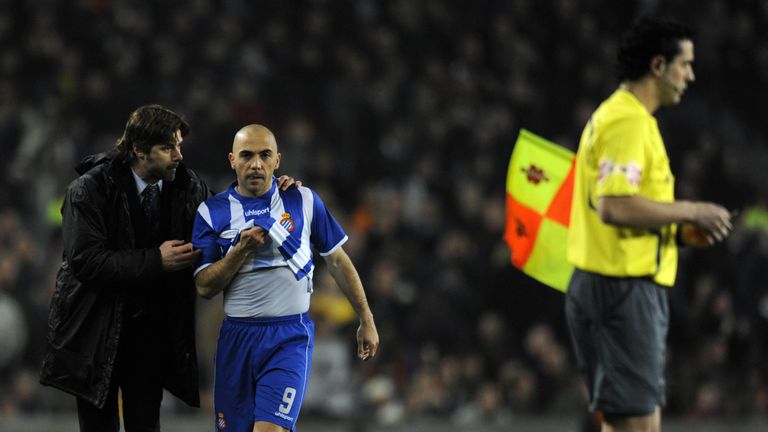 It had a galvanising effect on the group. Star names such as Ivan de la Pena embraced their responsibility and the trust that had been placed in them. Players who'd been struggling and were bereft of confidence began to perform better. "Since he arrived, all the players feel important and valued," said full-back Javi Chica.
There were some heartening results. Three consecutive draws restored some confidence and a narrow two-legged defeat to Barcelona in the Copa del Rey offered hope too. But they still went back to the Camp Nou having lost 2-0 at home to Sevilla the previous weekend. It was the sort of fixture that could go very badly wrong.
"This was the third or fourth game that I was in charge and I'd started to set a different style on Espanyol," Pochettino later recalled. "The plan was to press high and to surprise them. I remember Barcelona had Ronaldinho, Eto'o, Henry, Yaya Toure, Abidal, Puyol and Iniesta, all in their prime, and they were surprised how we played."
Perhaps that's an understatement. It had become customary to sit back against Barcelona. To defend deep and limit the damage, particularly away from home. Pochettino's Espanyol had other ideas. "There are teams that wait for you and teams that look for you," Guardiola would later say. "Espanyol look for you."
That night it worked. El Mundo's Francisco Cabezas wrote of Barcelona being dragged into "quicksand" by their opponents' aggressive approach. Jorge Colipe in Diario de Almeria would go on to call this style of play "guerrilla warfare" - describing 90 minutes against Pochettino's men as "the closest thing to hell" in football.
Espanyol needed some fortune as well. Thierry Henry headed over, Xavi dragged a shot wide and Lionel Messi found the side-netting. Then Seydou Keita was harshly sent off. Once ahead, the visitors wasted time, delaying all they could. They were aggressive and savvy. "As always," admitted Pochettino, "you have to be a little bit lucky too."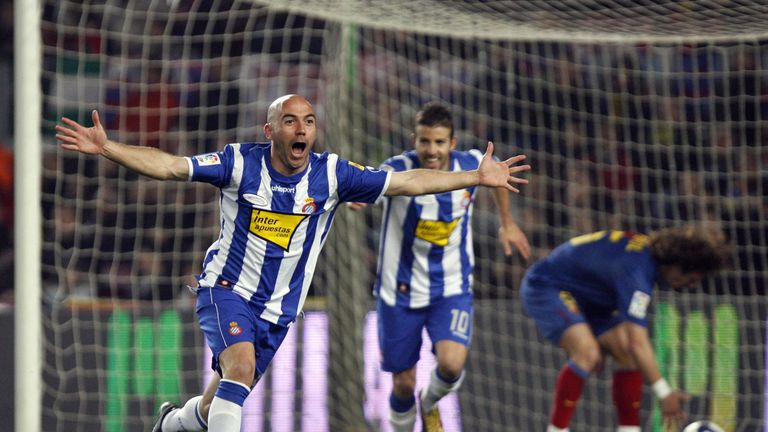 It was De la Pena who provided the quality. The diminutive playmaker, a former team-mate of Guardiola's at Barcelona, headed in the game's first goal at the far post before capitalising on Victor Valdes's poor clearance to expertly chip home a second from long range. Toure pulled one back but the equaliser wouldn't come.
For the Espanyol fans who suffered at Barcelona's hands for the best part of three decades without a triumph, victory was sweet. They'd endured the chants from Barca fans telling them in no uncertain terms that their team was heading for the second division. But their players, finally, had delivered a riposte.
Pochettino problem?
Even after beating Pochettino's Espanyol 5-1 in December 2010, Guardiola described it as Barcelona "most complicated game of the season" up to that point.
While briefly giving hope to Real Madrid, the result didn't prove too much of an issue for Barca. In fact, it was their final defeat of the season. However, it did help to transform the fortunes of Espanyol. Astonishingly, they picked up 25 points from their final 10 games, winning eight of them, to finish in the top half of the table.
Pochettino's efforts at Espanyol eventually helped to get him a move to England. Now at Tottenham, there have been some big wins since and he'll take on Guardiola's Manchester City with expectation as well as hope this Sunday. But nothing is ever likely to replicate that very first win of his career. The day his struggling side beat Barca in the Camp Nou.