Jack Wilshere at Bournemouth: Earning his Arsenal future?
Last Updated: 24/11/16 6:48am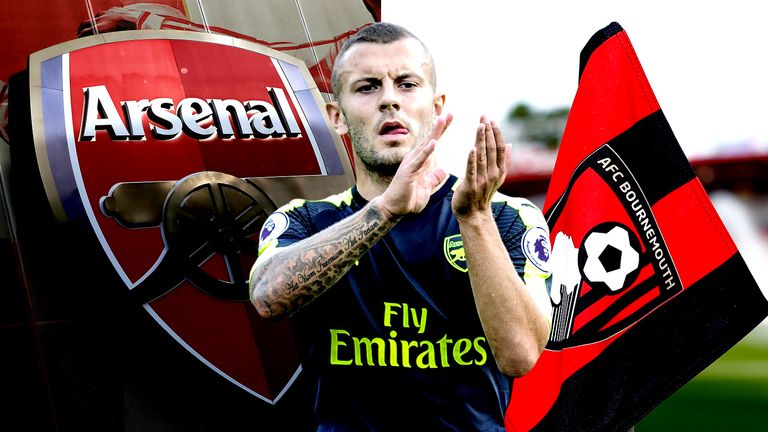 Jack Wilshere's impressive performances on loan at Bournemouth suggest the midfielder still has a future at Arsenal, writes Adam Bate.
"His quality on the ball, his technical ability, is second to none," Eddie Howe told Sky Sports. "And I think he is so comfortable he's made us a totally different team with the ball."
It's clear that Bournemouth are going to miss Jack Wilshere at the Emirates on Sunday.
However, what's even more intriguing is that he has qualities that could also come in handy at the club that decided they could do without him this season. He might be more prodigal son than king over the water but Wilshere's creativity is lacking at Arsenal right now.
Surprisingly, the Gunners rank down in ninth for chances created this season. Indeed, they are closer to the bottom team than the top on that metric. Santi Cazorla's absence through injury has not been dealt with well. In deep areas, penetration in their play is a problem.
It's debatable whether Wilshere is the man to provide that - particularly given that he's playing in a more advanced role on the south coast. But the fact that the midfielder has been able to impose his style at one of the Premier League's lesser lights is impressive.
Arsenal have created the fewest chances of any team in the top seven.
Wilshere is playing 94 per cent of his passes short rather than long. He remains committed to that style of play. It's true that Bournemouth play a game with which he's familiar but, as Howe suggests, it's equally fair to argue that he's coaxing positive change at the club.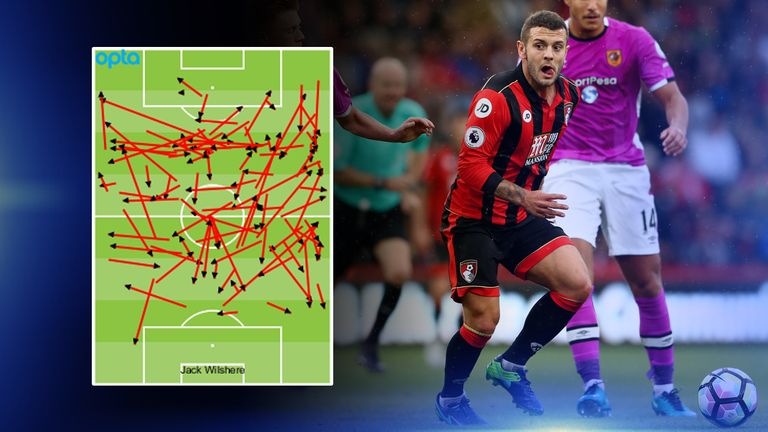 The evidence is there within the data. A key element for analysts when evaluating players is the ability to benchmark performance. What do the numbers look like for a quality player? Is there anyone out there who is under the radar but replicating the traits of the very best?
That can be a tricky thing to measure with players who are at smaller clubs but Wilshere's work should not be dismissed just because he's yet to directly score or assist a goal. There's a reason why Howe is so happy with the player's performances.
Bournemouth in 2016/17 - Chances created from open play
| Player | Chances created |
| --- | --- |
| Jack Wilshere | 17 |
| Jordon Ibe | 12 |
| Charlie Daniels | 12 |
Wilshere has created more chances than any other Bournemouth player. He's done so while maintaining the tidy use of the ball in tight situations that was his trademark. That's reflected in a passing accuracy of over 77 per cent in the confined spaces of the final third.
Which midfielders are keeping the ball like that in those attacking zones, while also creating more chances than Wilshere? The stats show that David Silva and Mesut Ozil have done so. Kevin De Bruyne and Paul Pogba boast similar numbers too. But it's a short list. And they're not at Bournemouth.
"Until now people could say he's been at Arsenal and it's easy in a team like that," said team-mate Harry Arter last month. As Howe points out, Wilshere has dismissed such talk by "moulding himself to the team" and "fitting into the team ethic" at Bournemouth.
Bournemouth in 2016/17 - Possession won
| Player | Possession won | Recoveries per 90 |
| --- | --- | --- |
| Jack Wilshere | 54 | 7.1 |
| Andrew Surman | 60 | 6.8 |
| Harry Arter | 70 | 6.1 |
| Dan Gosling | 27 | 6.1 |
There were justifiable reservations over whether Wilshere could cope with the physical demands of the Premier League given that he'd not played this many games in a row for well over three years prior to this season. But those fears have also been allayed.
In the 1-0 win at Stoke last weekend, Wilshere not only covered more ground than he had in any Premier League game this season but it was also only the second time he'd managed 50 sprints. Nobody on the pitch won possession of the ball more times (11) than he did.
"His defensive performances have been of the highest class," said Howe. It raises one obvious question: if Wilshere can defend and if he can run, then surely when combined with his undoubted technical attributes, he still has lots to offer Arsenal as well as Bournemouth?
At 24, despite the injury issues, there's time to deliver. So while it's the visiting manager who faces the immediate challenge of coping without Wilshere this weekend, the thoughts of Arsenal fans might also drift to the man who could yet provide solutions for their side too.
Upgrade to Sky Sports now and get 12 months half price. Hurry, offer ends December 4!