Chelsea's inconsistent form will have Manchester United boss Jose Mourinho brimming with confidence ahead of their Super Sunday showdown this weekend, according to Ray Wilkins.
Mourinho's side travel to Stamford Bridge following back-to-back wins in the past week and will view the game, live on Sky Sports Premier League, as an opportunity to capitalise on the champions' recent form.
Chelsea's 3-0 defeat to Roma in the Champions League on Tuesday highlighted the team's weakness in defence with 11 goals conceded in their last six games, and Wilkins believes Mourinho will be confident of getting a result.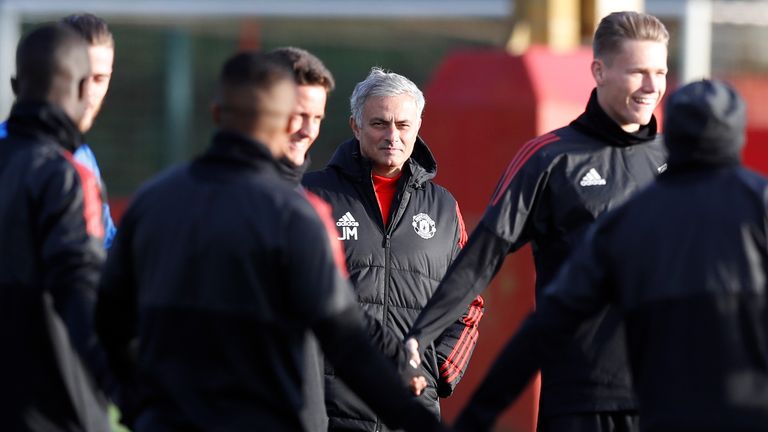 "Jose Mourinho must be looking at this situation now, after watching Chelsea in Rome, that they are a side that's struggling," Wilkins - former Chelsea and Manchester United player - told Premier League Daily.
"He has now got the best possible chance to go to Stamford Bridge and claw back three points that Manchester City also got.
"He must feel they've got every opportunity to win this game. Chelsea are lacking confidence, the players are not playing to their abilities or their strengths and this is an opportunity for them to come to Stamford Bridge and take the game away from them."
Mourinho's rich history with Chelsea will ensure a vocal atmosphere is guaranteed at Stamford Bridge on Sunday, though Wilkins feels it's unlikely the former Blues boss will receive the warmest of receptions.
The United manager and Conte have become embroiled in a number of confrontations since the Italian arrived in London, adding a further element to a hugely-anticipated tie.


"I don't think he'll [Mourinho] get a good reception at all," added Wilkins. "For me, it's unfair because of what he's done for us."
"We were an up and down yo-yo club for many years and he came in and turned that around and we won the Premier League. For what he's done for Chelsea he should be respected for that."