As Opta expand our vocabulary and understanding of football statistics, new phrases enter the lexicon. Expected goals is a concept that is gaining wider traction this season with Monday Night Football using this data to help explain events on the field.
But what's next? While assists lead to goals, expected goals lead to us discussing expected assists. So what are expected assists (xA) and why is it a useful statistic to help us understand player performance? Here, we take a look…
What are expected assists?
It is probably best to begin with Opta's own definition:
"Expected assists measures the likelihood that a pass will be a primary assist. The model is based on the finishing location of the pass, what type of pass it was and a variety of other factors. This model is not reliant on whether a shot was taken from this pass, so credits all passes, regardless of whether they result in a shot."
Why not just record assists?
Assists remain a popular measure of a player's output but, as many people have noted over the years, this is not necessarily an accurate reflection of the quality of chances created.
For example, does a midfielder who plays a square pass before a goalscorer's mazy run really deserve the same amount of credit as a player who lays it on a plate for a team-mate?


Of course, goal totals are not an accurate reflection of the quality of goals scored either. But with assists often used to measure creativity, expected assists provides more information.
What is included in the data?
Importantly, as noted in Opta's definition, the expected assists figure is not merely calculated by adding up the expected goals value of a player's key passes in a game. Instead, it includes all of a player's passes - even if the recipient of that pass does not have a shot.
Why is this so important?
As a result, expected assists provides a deeper level of insight into each situation and allows the player who made the pass to be assigned a more appropriate level of credit for that pass regardless of what happens to the ball from that point onwards.


Indeed, every single completed pass that a player makes during the game has an expected assist value to it. Most will be extremely low. But this enables greater credit for those passes that progress the attack - for example, the pass before the so-called key pass.
So what does this data tell us?
The cumulative effect of this data brings up a list of those players whose passes can be expected to have produced the most assists so far in the 2017/18 Premier League season. It is a list that included some of the most celebrated players in the country.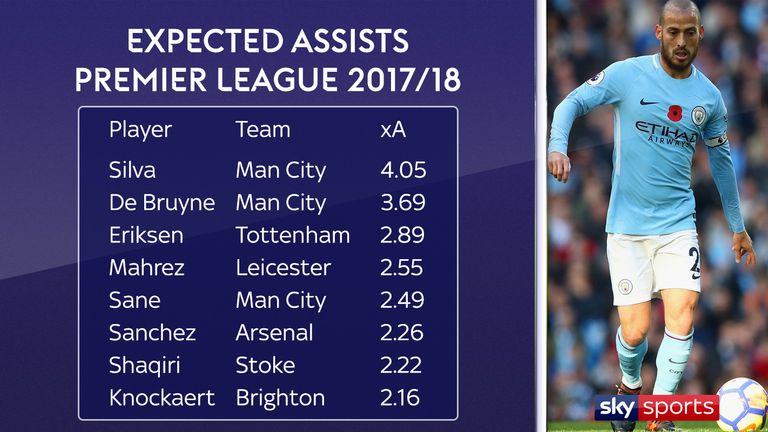 David Silva is on top, just ahead of Manchester City team-mate Kevin De Bruyne. This is not a huge revelation given that the pair have provided more assists than anyone else in the Premier League this season too. But there are some surprises.
Consider, for example, the presence of Brighton's Anthony Knockaert among the top players for expected assists. There are 44 players in the Premier League who have provided more actual assists than Knockaert but it seems the Frenchman is creating openings.
More stories will emerge as the season progresses - and expected assists can help to tell them.