Antonio Conte has hit back at Jose Mourinho's criticism of other managers' touchline antics, saying the Man Utd boss has forgotten his own past behaviour.
On Thursday, Mourinho appeared to take a thinly-veiled swipe at his managerial rivals when comparing his own behaviour in the technical area to other managers in the top flight.
Mourinho claimed he did not need to act like a "clown" to prove his desire to stay at Manchester United, saying his commitment to the club is "total".
"Because I don't behave as a clown on the touchline, it means that I lost my passion," said Mourinho.
"I prefer to behave the way I am doing it, much more mature, better for my team and myself, I don't think you have to behave like a crazy guy on the touchline to have that passion.
"That passion, you see it every day. The way a person is dedicated to his work, not what you do in front of the cameras."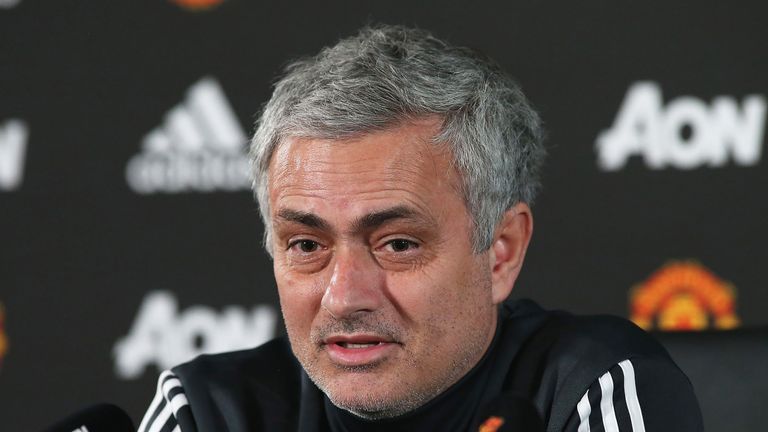 When asked about Mourinho's comments on Friday, Conte, struggling to find the right English translation for his response, used the Italian phrase "demenza senile" in relation to the Manchester United manager, which translates as senile dementia. A club spokesman later confirmed Conte meant to say amnesia.
Conte said: "I think he has to see himself in the past - maybe he was speaking about himself in the past. Maybe, sometimes, I think that someone forgets what's said in the past, which is his behaviour.
"Sometimes I think there is, I don't know the name, but demenza senile... when you forget what you do in the past."
Conte and Mourinho clashed after Chelsea's 4-0 win over Manchester United at Stamford Bridge last season, with the Portuguese accusing his rival of attempting to "humiliate" the visitors with his exuberant celebrations.