Referee Jon Moss was right to award Harry Kane's first Tottenham penalty against Liverpool and his decision was not influenced by the fourth official, Professional Game Match Officials Limited (PGMOL) has insisted.
PGMOL has defended Moss over his handling of the incident at Anfield after he appeared unsure whether the ball had touched Dejan Lovren before reaching Kane, who would have been offside had it not.
After a lengthy discussion with assistant Ed Smart, Moss asked fourth official Martin Atkinson if he had "got anything from TV", which PGMOL have admitted was a mistake, but the referee was always aware that a Red shirt had touched the ball on the way through.
A PGMOL spokesman said: "Jon Moss was in a good position to see that a Liverpool player deliberately played the ball before it fell to Harry Kane in the penalty area. He then correctly judged that Kane was fouled by Lorius Karius.
"However, given the speed of the attack, he was uncertain of the identity of the Liverpool player who kicked the ball. Eddie Smart, having identified that Kane was in an offside position, correctly sought clarification on whether Dejan Lovren had deliberately played the ball.
"His question created some momentary confusion when Eddie asked if 'Lovren' had touched the ball. Moss knew a Liverpool player had touched the ball but not that it was Lovren.
"He then asked a question to his fourth official Martin Atkinson and acknowledges that referencing 'TV' was misguided. Atkinson did not reply to the question and so had no involvement in the decision.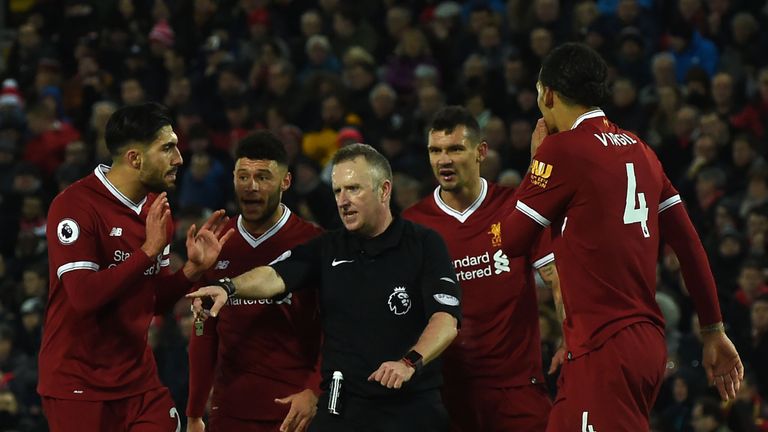 "Having properly reflected on the questions asked, Jon knew that a Liverpool player, now identified as Lovren, had played the ball and that no offside offence had occurred. He then awarded the penalty.
"For the avoidance of doubt, Atkinson did not view a television monitor and did not relay any information to the on-field officials.
"In real time this was a difficult series of decisions, which the match officials judged correctly in recognising that Kane was not offside, as Lovren had deliberately played the ball, and he was fouled for the award of the penalty kick.
"The interpretation of 'deliberately' kicking a ball considers whether a player has intentionally tried to kick a ball - it does not consider whether the ball ends up where a player may have wanted to kick it."