Richard Scudamore to step down as Premier League executive chairman after 20 years
By James Dale
Last Updated: 07/06/18 9:40pm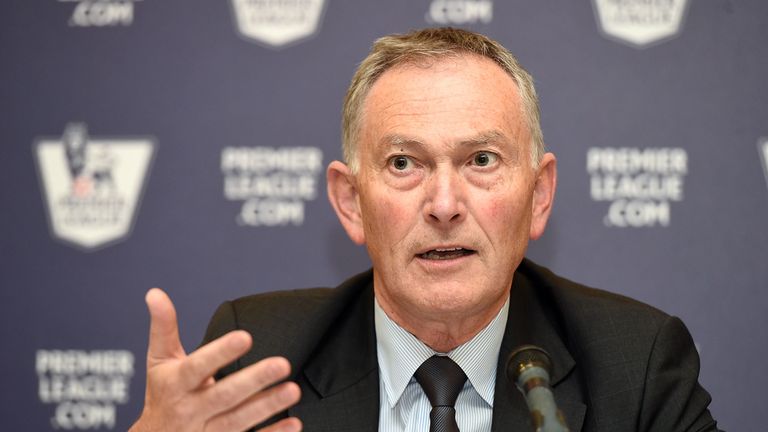 Richard Scudamore is to step down as Premier League executive chairman after almost 20 years leading the organisation.
Scudamore has been an influential figure in overseeing the English top-flight's expansion during his 20 years in charge.
He intends to vacate his position before the end of 2018, insisting he leaves the Premier League "in great shape".
Scudamore announced his decision on the same day Premier League clubs agreed new revenue-sharing for international broadcasts that will see the top clubs potentially earn more.
"It's an absolute privilege to have been allowed to enjoy this role for so long, it is too much fun to be called a job," he said.
"Football is an intoxicating environment and therefore difficult to give up being so involved, but my passion for what football means to so many and the positive impact it can make will never diminish."
Scudamore paid tribute to the "enormous commitment" of broadcast and commercial partners across the world in steering the Premier League's success.
"That number will run into hundreds, they have all contributed to our story and I would like to thank them enormously," he said. "However, I am sure they will forgive me for singling out Sky for special recognition.
"Back in 1992 they were the catalyst for the start of the Premier League journey and have backed us all the way since, joining forces to see off regulatory and other challenges throughout whilst setting global standards in broadcasting excellence that others have strived to replicate."
Scudamore said he has no plans to retire but said the Premier League will continue to attract fans around the world under "new and re-invigorated leadership".
Former FA and Arsenal vice-chairman David Dein said "every club that's competed in the Premier League over the last 20 years owes him a debt".
"The success of the Premier League is his legacy," Dein told Sky Sports News.
"It's quite remarkable what he has achieved, he's done it through a combination of skill, intelligence, charm, integrity and the ability to bond all the clubs together which is not an easy task in the modern game.
"The astronomic rise in the Premier League has been sensational. He is the driver of the fastest train on the track."