Claude Puel has ticked all the boxes at Leicester this season, says Emile Heskey
Foxes stunned late on at Molineux as Diogo Jota snatches Wolves win
Last Updated: 19/01/19 5:51pm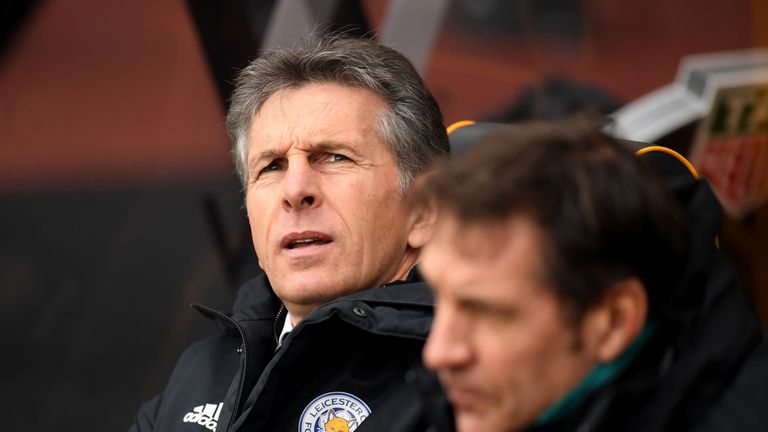 Emile Heskey believes Claude Puel has "ticked all the boxes" required of him this season and should be given time to take Leicester to the next level.
Leicester were seconds away from a credible point at Molineux when captain Wes Morgan scored their second equaliser to make it 3-3 on 87 minutes.
But Leicester's desire to find a winner, coupled with their leaky defence, allowed Diogo Jota to complete his hat-trick in stoppage-time as a roller-coaster match left Puel with his head in his hands.
Jota treble in thriller heaps pressure on Puel
Wolves 4-3 Leicester: As it happened
"Puel is under a lot of pressure [to keep his job] because every single week it seems to be he is getting sacked," former Foxes striker Heskey told Sky Sports.
"There is no smoke without fire, so I'm guessing there will be rumblings at the top of the club to see if it is the time."
Asked whether he thought Puel's time at Leicester was up, Heskey added: "I don't see why it should be time.
"I don't think they will go down. If you told me at the start of the season they would have around 30 point halfway through the season, I'd have been happy with that.
"He's ticked the boxes I think he should be ticking. It's about the style of play now and he's trying to take the club to the next level and advance us."
Jota's opener and Ryan Bennett's quick-fire second had Wolves in the driving seat inside 12 minutes at Molinuex but it took Leicester just six second-half minutes to roar back as Demarai Gray and a Conor Coady own goal hauled the Foxes level.
Jota restored Wolves' lead with his second before Morgan looked to have earned a point with his late header, but that was not the end of the drama as Jota sealed his hat-trick with a dramatic late winner.
Heskey accused the senior players in Leicester's squad of failing to take control of a game they had fought so hard to get back into.
"As a senior player going into the closing stages, you've got to be pulling people around - allow the front three to go and potentially win the game while making sure the rest sit deep," he said.
"But they kept on going, everyone seemed to want that next goal and that's what happens, you get hit on the break and they score.
"The young players get excited so the senior players should be more calculated in those situations and be more solid.
"Senior players need to take responsibility. They came from two goals down to 2-2, then from 3-2 to 3-3 - see the game out, you've got two minutes.
"After being down you should be happy with that result because it was an emotional roller coaster."