Pep Guardiola says Manchester United are in Premier League title race
Watch in-game clips from Everton vs Man City on Wednesday in the Sky Sports app
Last Updated: 05/02/19 11:20pm
Pep Guardiola insists Tottenham, Chelsea and Manchester United remain in the Premier League title race along with Manchester City and Liverpool.
Leaders Liverpool dropped points for a second successive game as they drew 1-1 at West Ham on Monday evening, leaving City just three points behind, with Tottenham two points further adrift.
Fourth-placed Chelsea are 12 points behind Liverpool, while Manchester United, who have won seven out of eight games since Ole Gunnar Solskjaer took over in December, are two points further back.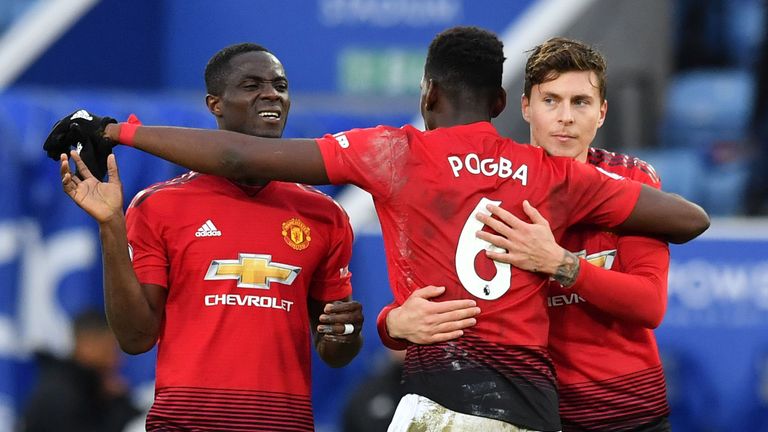 "I never said Tottenham was not there, nor Chelsea," Guardiola said on Tuesday. "I never put out all five-six teams, and United is making this run of victories every single week, they'll be there to fight for the Premier League.
"If Chelsea is able to do games in a row, games in row, they'll be contenders too to win the Premier League, so everybody is there. The gap is not too big.
"With 39 points to play for, when you are nine, ten points behind, it's not too much. Seeing what's happening right now in the Premier League, everybody is ready to take points."
Champions City suffered a shock defeat at Newcastle last Tuesday, which gave Liverpool the chance to go seven points clear at the top, but Jurgen Klopp's side were held by Leicester on Wednesday, before stuttering to another draw at the London Stadium after City had beaten Arsenal on Sunday.
City have since been installed as favourites to retain their title, but Guardiola is wary of his team to become distracted before they return to Premier League action at Everton on Wednesday evening.
"Three, four days ago we were already done," Guardiola said.
"The champion was Liverpool and now we are the favourite and maybe in three days we are leading or we are seven points behind."
"We try to be calm in this situation. There will be a lot of surprises and it will be tough for every team to win all games because the contenders and non-contenders and all the teams have the abilities, capacity and skills to create problems."