Arsenal were denied victory in the north London derby but Unai Emery got his tactics and selection just right. Is his vision becoming clearer?
For much of Unai Emery's first season in charge, Arsenal fans have struggled to see the Spaniard's vision for his side. Is the idea to dominate possession and pick opponents apart? Are they built to press high and play on the break? What exactly is the identity? What is the Emery way?
The lack of clarity has been frustrating at times and downright baffling at others, but after Saturday's 1-1 draw with Tottenham, a game Arsenal were unfortunate not to win, it is gradually becoming clearer. Emery's intention is not to create a defined style. Rather, it is to build a side with the flexibility to vary their approach from one opponent to the next.
Arsenal came into the derby having dismantled Bournemouth 5-1 just a few days earlier. It was a thrilling performance, one of their best of the season so far, but instead of sticking with what worked so well in that game, Emery ripped it all up and started again.
There were five line-up changes and many of them prompted head-scratching. Pierre-Emerick Aubameyang and Mesut Ozil were dropped for Alexandre Lacazette and Aaron Ramsey despite their outstanding displays on Wednesday night, while Lucas Torreira, man of the match against Spurs in December, was also left out along with the dangerous Sead Kolasinac.
The system changed, too, with the back three abandoned in favour of a 4-2-3-1 formation. Laurent Koscielny and Sokratis Papastathopoulos were paired together at centre-back, with Shkodran Mustafi lining up in an unfamiliar right-back role and Nacho Monreal starting on the left.
It was not easy to decode Emery's thinking before kick-off, but soon enough every decision began to make sense. Most significantly, the change of formation flummoxed Mauricio Pochettino. The Spurs boss had deployed a back three in anticipation that Arsenal would do the same. Instead, the hosts were left overstocked at the back and outnumbered in midfield.
Arsenal's midfield was helped by the defensive diligence of Lacazette and Ramsey, who tracked back and hunted down possession in ways that Aubameyang and Ozil would not. Their combination for Arsenal's goal, Lacazette shrugging off Davinson Sanchez before releasing the onrushing Ramsey to score, perfectly vindicated their selection.
On the flanks, Alex Iwobi and Henrikh Mkhitaryan provided the same levels of intensity. Indeed, at the time of Ramsey's second-half substitution, it was telling that the three of them ranked first, second and third among Arsenal players for sprints. In a game in which Emery knew Spurs would dominate possession, that off-the-ball industry was invaluable.
Koscielny and Sokratis shone as a central defensive pairing, just as they did in the 2-0 win over Chelsea in January. From start to finish, they barely gave Harry Kane or Heung-Min Son room to breathe, repeatedly snuffing out danger with impeccably-timed clearances and interceptions.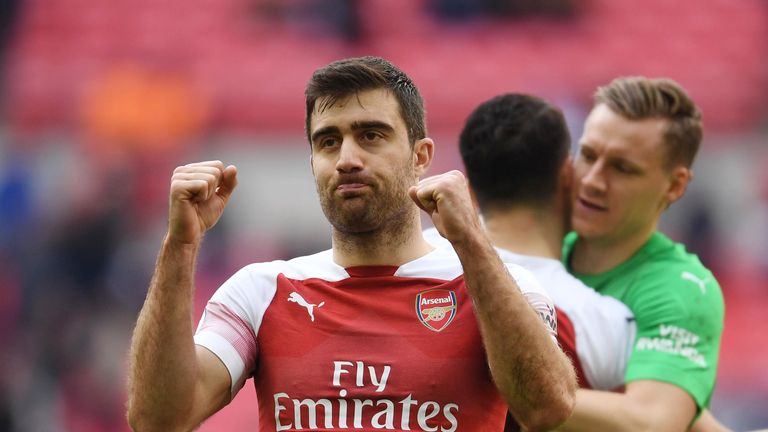 Crucially, however, they were well supported by Arsenal's full-backs. Mustafi was badly at fault for Tottenham's penalty, needlessly barging Kane to the ground after the linesman failed to flag for offside, but Emery's reasons for using him and Monreal over the more offensively-minded Ainsley Maitland-Niles and Kolasinac were clear.
Their conservative performances helped Arsenal contain the duel threat of Danny Rose and Kieran Trippier. According to Opta, Monreal made more tackles (six) and interceptions (four) combined than anyone else on the pitch. Mustafi, meanwhile, rarely strayed into the attacking third.
Live Renault Super Sunday


For Emery, the biggest source of satisfaction should be how well - and how willingly - these Arsenal players executed his game plan.
The Gunners registered one of their lowest possession percentages (39.9 per cent) and their lowest passing accuracy rate (64.3 per cent) of the season so far, but their defensive discipline was such that Spurs did not even manage a shot on goal in the opening half hour. It was the first time that has happened to them in a Premier League home game since 2012.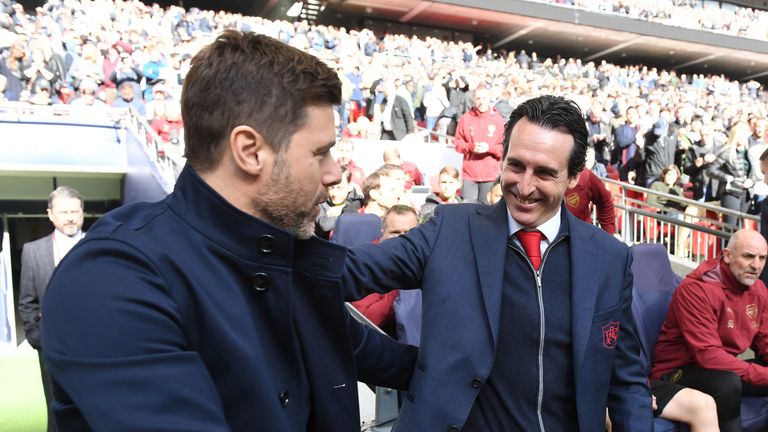 Arsenal counter-attacked as effectively as they defended. In fact, according to Opta, they registered more 'fast breaks' (three) than in any other Premier League game all season. In the resurgent Mkhitaryan, Emery has identified the perfect player to orchestrate them.
All in all, it should have been enough to claim their first away win against top-six opposition under Emery. As well as Aubameyang's late penalty miss, there were two glorious opportunities spurned by Lacazette and another fine save from Hugo Lloris to deny Iwobi.
The late drama ensured it felt like a missed opportunity, but for Emery the positives outweigh the negatives. Arsenal are adapting to his methods and his vision for the team is finally becoming clearer. Expect more surprises when Manchester United visit the Emirates Stadium next weekend.