Murphy denies Jol fall-out
Danny Murphy insists he never fell out with manager Martin Jol while the pair were together at Tottenham.
Last Updated: 03/07/11 4:59pm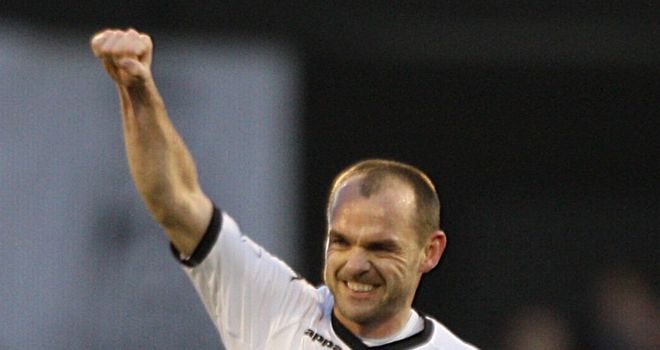 Fulham midfielder Danny Murphy insists he never fell out with manager Martin Jol while the pair were together at Tottenham.
The ex-Liverpool man spent one season at White Hart Lane following his Anfield switch in 2006, but he failed to secure regular football.
It had been suggested that Jol, who is now in charge at Craven Cottage after Mark Hughes' exit, had clashed with the skilful playmaker.
However, Murphy has revealed a number of factors curtailed his ability to shine with the north Londoners, most notably a family bereavement.
After resurrecting his career at Fulham he was contacted by Dutchman Jol, who had taken note of his impressive displays for The Cottagers.
Denial
"Me and Martin never fell out - far from it," he told the club's official website. "There were a lot of different factors that I didn't speak about at Tottenham.
"My Dad died when I was in my only full season at Tottenham and it wasn't something I started talking about in the papers as I didn't think it was relevant at the time.
"I was out of the scene for the best part of two months and obviously you lose some fitness and things didn't quite go well. When I did get a chance there was quality around me. I can't remember how many games I played in a run, probably eight or 10 in my best run, and I did okay but I didn't play as well as I could have.
"Of course when you're in the middle of it you'll have a difference of opinion because you think you should be playing. You've got to remember there was a hell of a good squad at Tottenham at that time and international players and looking back it was a good learning curve for me because it gave me a kick up the backside to kick on and move on, do something different and become a better player.
"Whilst I was doing well at Fulham in my first year or two, Martin contacted me a couple of times to say 'well done'. We had contact after I'd left Tottenham and we always got on. I knew that he'd want to play football and I knew he knew my qualities - after all he took me to Tottenham.
"He watches a lot of games and he knows what I've been doing and what I've achieved since I've been here so in that respect I don't feel like I've got anything to prove. He knows my quality and I know the way he works.
"He's been great since he got here. I'm still captain and still playing and as long as I keep doing it on the pitch I'm sure that will remain the case."