Wigan chairman Dave Whelan insistent over Callum McManaman challenge
Dave Whelan has insisted to Sky Sports that Callum McManaman's challenge on Massadio Haidara was a 'fair' one.
Last Updated: 18/03/13 7:14pm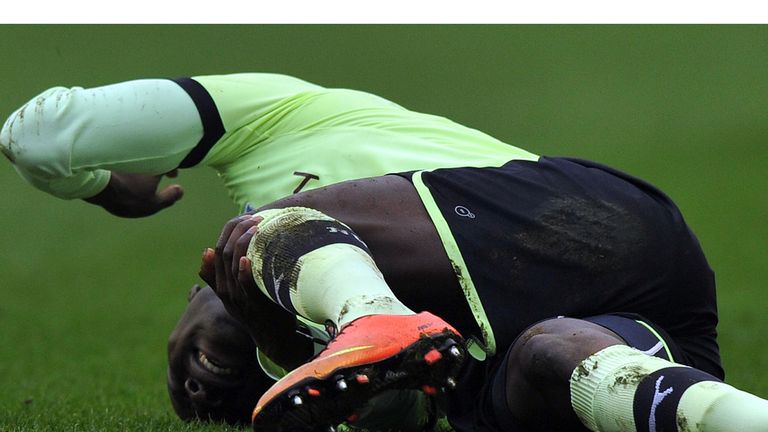 Haidara had to be stretchered off after the controversial tackle in Sunday's match but Whelan has launched a staunch defence of his player and does not feel he should be punished.
After the match Roberto Martinez insisted the challenge was not malicious, whilst referee Mark Halsey looked to have his viewpoint blocked.
Whelan insists that it was not a foul, and he told Sky Sports News: "Can I say to the Newcastle player that I hope you're soon well and hope you don't miss any matches, it was a pure accident and so we wish you a speedy recovery.
"I was watching the match and the referee was only 15 to 10 yards away, the ball came down between the two players, they both went for it. Our lad got the ball, no question he got the ball, but they collided - the still pictures look like he has gone for the player and gone over it, but he didn't, he got the ball.
"The referee was only 10 yards away and didn't even give the foul - it was a fair challenge, you have to see it all - our lad went for the ball, and they collided, it is football. It is tough game but it was an accident."
Newcastle are understood to be 'baffled' by Whelan's response but have not made an official statement on the matter.
Whelan himself had his career ended in the 1960 FA Cup final by Norman Deeley - but says players collide, and that is football.
"I have got a fair view, when a ball bounces between two players - I had the same at Wembley when the ball bounced between myself and Norman Deeley," he said.
"I got the ball but we collided and I broke my leg - and these accidents do happen. It was an accident when we went for the ball and in football you are allowed to go for the ball.
"We have to have 100 per cent commitment from every player, and I don't care who you're playing - they were fighting for the ball as much as ours - but our lads won't be unfair.
"It was a complete accident and hope the lad from Newcastle recovers quickly."
Right message
Whelan is adamant that the Football Association should not charge McManaman.
"It sends out the right message, the message is this; you play football and the ball bounces you are entitled to go and win it, kick it or get the ball as long as you go for the ball and it is not too high and this was only 14 inches off the ground - now that is playable," he said.
"That is what young McManaman has done, he has gone for the ball and has won the ball and the referee was only 10 yards away and didn't even give a free-kick and there is a lot to be said for that."
Whelan says they have been told by Newcastle that nothing is broken.
"We have asked for it [a check on the player], but they have said nothing is broken and they are just checking on ligaments but hopefully the lad will be playing in a fortnight," he said.
Should the FA charge the Wigan player, Whelan says they will not fight it.
"We will accept it as the FA look at things carefully, but they won't stop the pictures like the press do," he said.
"It was a tough match and we did not play at our best and I am sure Newcastle were a bit tired, but we stuck at it and lady luck smiled on us a bit and we had a little bit of good luck, not Callum McManaman which I thought was right, but others like the goal which apparently hit the hand before going in."