Daniel Agger hoping to see Christian Eriksen join him at Liverpool
Daniel Agger believes Christian Eriksen would be well suited to Liverpool and hopes a deal can be struck with Ajax.
By Ejder Akbal
Last Updated: 13/05/13 1:13pm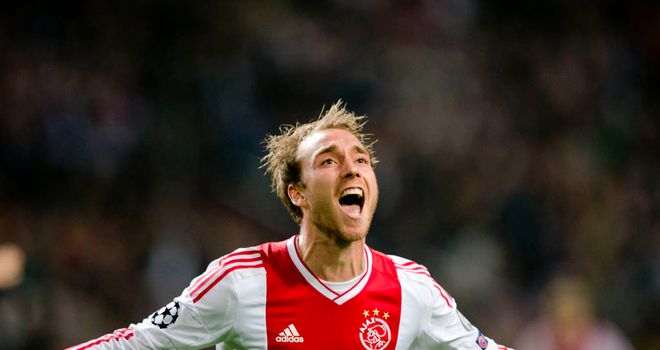 The Reds are reported to be among those closely monitoring the Denmark international heading into the summer transfer window.
Eriksen is understood to have been a target for some time, but has only recently opened to the door to a move away from Holland.
He has expressed a desire to play in the Premier League in the past and Agger feels Anfield would provide the perfect stage for his fellow countryman to express himself.
The Danish centre-half told Jyllands-Posten: "We want to play attacking football with the ball on the ground and that is exactly what Christian Eriksen is all about. That is the kind of player we need."
Asked if the 21-year-old playmaker could shine in England, Agger added: "It all depends on which team he plays for.
"If he plays for a team who want to keep the ball on the ground, then the answer is yes - due to his passing, his runs and his hard work.
"He has to do what he believes is best and no-one else but him should decide his future. You must never listen to anyone else other than yourself."
Clarity
Eriksen would appear to be torn when it comes to making a decision, as the youngster admits to having had his head turned by interest from UEFA Champions League finalists Borussia Dortmund.
He told De Telegraaf: "Dortmund are a club where I would like to play. I think I would be a good fit there with the football there.
"Dortmund play nice, attacking football. The Bundesliga has never really been my preferred choice and a few years ago I would not even have considered it, but now I do.
"The competition is getting stronger and it is no coincidence the two Champions League finalists are German clubs.
"I know there has been contact between the two clubs, and both Ajax and Dortmund have already talked to my agent.
"I will consider all the clubs and quietly make a decision. I want clarity when preparing for the new season, that's the best thing - for everyone."