Premier League: Sunderland sack manager Paolo Di Canio
Sunderland are on the hunt for a new manager after sacking Paolo Di Canio following a miserable start to the season.
Last Updated: 23/09/13 11:46am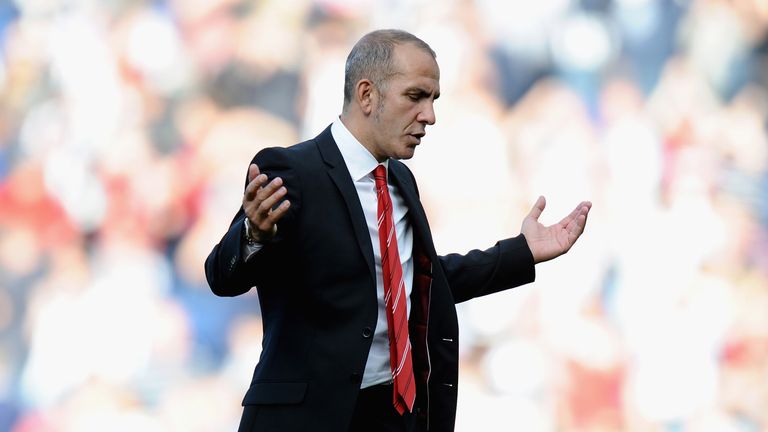 Defeat to West Brom at The Hawthorns on Saturday left the Wearsiders bottom of the Premier League with just one point from their opening five games.
The club confirmed on Sunday evening that they had "parted company" with Di Canio but it is understood that Saturday's 3-0 loss, which saw the Italian face up to angry fans at the whistle, and a subsequent meeting forced Stadium of Light chiefs to act.
A statement on the club's official website read: "Sunderland AFC confirms that it has parted company with head coach Paolo Di Canio this evening.
"Kevin Ball will take charge of the squad ahead of Tuesday night's Capital One Cup game against Peterborough United and an announcement will be made in due course regarding a permanent successor.
"The club would like to place on record its thanks to Paolo and his staff and wishes them well for the future."
The former Swindon boss succeeded axed Martin O'Neill with just seven games to go in late March but oversaw only two Premier League victories during his tenure.
Sunderland scraped to safety, finishing 17th, but Di Canio's appointment prompted tumult as critics cited reports of his alleged fascist sympathies, forcing the club into a robust defence of their new man.
Di Canio repeatedly spoke of his desire to "revolutionise" Sunderland but changes to backroom staff, a tough new fitness regime and the influx of 14 new players in the summer failed to yield results.
He had remained bullish after defeat at The Hawthorns but hinted at divisions behind the scenes when he said: "I absorb the insults as it's part of the game - if I was in (the fans') position, I'd be furious.
"It's obvious we're still not together. We don't have many leaders in terms of desire to play with a premier style. I'm never going to change my regime. I am what I am. My way to manage the team is for the top, top level."
Sky Bet swiftly installed former Chelsea boss Roberto Di Matteo as the favourite to replace Di Canio, with Gus Poyet also a frontrunner.
Former Sunderland chairman Niall Quinn believes Di Canio's feisty management style may have cost him his job.
Quinn has described the decision as "brave" and told Sky Sports News: "It's a quick decision - some will say too quick.
"They're making a quick decision on this again and looking back, the support Paolo Di Canio got in the summer with the players he brought in, I honestly thought he was going to get longer, no matter the start.
"If we start to peel the layers off in the coming days and find out what life was like under him from various players, you'll probably see a story that says this was a guy who did things in a totally unique way and by the looks of things, the players weren't buying into it.
"They've made a very brave decision to appoint him, they got what they wanted out of him, and now they've made a brave decision (for him) to go.
"It wouldn't have been my style. I think I would probably have tried to give people as much time as possible.
"Something tells me there's a little more to it as well.
"It was perhaps they felt that the players were finding it hard to conform to his unique style. I think that might have played a part in it as well.
"They've made such a brave decision now. Will it pay off for them?"