Showdown
Once Upon A Time In The...North...West. Man City and Chelsea are preparing for what could be a classic showdown at the top of the Premier League but how will their super-strength squads compare over the rest of the season? We look at a magnificent seven key men...
By Words: Peter Fraser - Graphic: Sam Kallen
Last Updated: 03/02/14 11:46am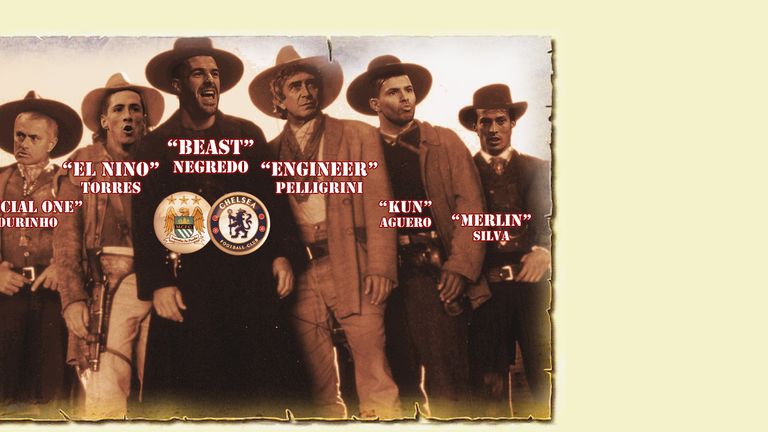 The Etihad Stadium could be renamed the OK Corral on Sky Sports' Monday Night Football when two of the Premier League's top teams meet for what many believe will be a title showdown and potential fight to the finish.
Whether in the dugouts or on the field, there are tense head-to-heads everywhere you look between the Manchester City and Chelsea squads. Never mind a few dollars more, it is a billion dollars more contest as England's nouveaux riche face off with renowned managers, superstar players and expensive imports.
From the gunslinging forwards, protective goalkeepers, hustling playmakers and tactical bosses, both clubs have what are considered the best squads in the league. The game itself therefore has all the hallmarks of a Wild West classic but how will the key comparisons in personnel develop beyond Monday and over the remainder of the campaign?
The Chief: Pellegrini v Mourinho
Master tacticians, leaders of men and focused on winning but, at the same time, often good, bad and ugly personalities mean there is a longstanding grudge. The pair do not get on and the dislike was emphasised in the return fixture earlier in the season when pragmatic City boss Manuel Pellegrini refused to shake charismatic Jose Mourinho's hand after Chelsea's dramatic injury-time victory at Stamford Bridge. The reason for the feud is seemingly Mourinho's decision to offer a thinly-veiled criticism of Pellegrini after succeeding the Chilean as Real Madrid manager in 2010. Pellegrini, having notched a record points tally at the time, had been sacked and was less than impressed. He has apparently proceeded to hold a resentment regarding Mourinho ever since. Mourinho, though, has the upper hand and lost just once in seven games against former Villarreal and Malaga boss Pellegrini in La Liga and the Copa del Rey, winning five of them. That, combined with Mourinho's past experience of winning Premier League and UEFA Champions League titles, just about makes him the meanest manager in the business.
La Liga - Pellegrini v Mourinho
Games
5
Wins
1
Draws
1
Losses
3
Goals For
6
Goals Against
20
Win %
20
The Deputy: Kompany v Terry
No good posse operates without an enforcer in the heart of the battle to ensure their chief's orders are carried out, and rival captains, City's Vincent Kompany and Chelsea's John Terry, are those men. Both are Premier League title winners and are respected in world football as two of the best in the business with a mixture of footballing knowhow and brawn. Kompany averages 6.4 clearances per game in the Premier League and has made 89 clearances overall in the season. He may have suffered with injuries but he remains a colossus of a defender and leader for City. Likewise, Terry - who is waiting to see if he will get a new contract - is one of the finest centre-backs in Europe. The Chelsea skipper may be ageing but his experience means he remains a feared opponent. The former England international averages more clearances per game (seven) than any of his club-mates and has made almost double that of Kompany at 162 clearances in the campaign. Terry (0.7) also blocks more shots per game on average than Kompany (0.4). But this is balanced out by the fact Kompany averages more interceptions, successful offside traps and tackles per game than Terry. It is therefore a head-to-head which is impossible to call.
| | | | | | |
| --- | --- | --- | --- | --- | --- |
| PL Head-to-Head | Clearances Per Game | Blocked Shots Per Game | Interceptions Per Game | Successful Offsides Per Game | Tackles Per Game |
| Vincent Kompany | 6.4 | 0.4 | 1.8 | 0.9 | 2.4 |
| John Terry | 7 | 0.7 | 1.1 | 0.5 | 0.9 |
The Rancher: Hart v Cech
Keeping things safe at the back and protecting the land of the penalty area, both goalkeepers - Joe Hart and Petr Cech - are vitally important for City and Chelsea, respectively. It has been a turbulent season for Hart, resulting in him losing his place in the City team for a period after a series of blunders - including in the game against Chelsea at Stamford Bridge. The England No.1 has consequently only made 16 appearances in the Premier League this season while Cech has been a typical ever present for Chelsea with 23 outings. Hart has made more saves per game than Cech but the latter has made more overall saves as a result of playing more games. Interestingly, Hart has been forced to make almost double the total of saves of Cech from shots from outside the area while the latter has made more saves from efforts inside the penalty box. Cech (70.2 per cent) just edges Hart (68.9%) in terms of his shot saving success while Chelsea's long-serving goalkeeper, owing to playing more matches, has made 27 catches to Hart's 17 at the same time as having failed to produce a single drop. If it came down to a head-to-head, Cech is the safer custodian.
| | | | | | | |
| --- | --- | --- | --- | --- | --- | --- |
| PL Head-To-Head | Saves | Saves (Shots Inside Box) | Saves (Shots Outside Box) | Save % | Catches | Drops |
| Joe Hart | 43 | 19 | 23 | 68.9 | 17 | 1 |
| Petr Cech | 48 | 34 | 13 | 70.2 | 27 | - |
The Hustler: Silva v Hazard
Clever, sneaky and with all the tricks in the book to try and unlock their rivals, David Silva and Eden Hazard are the key playmakers for City and Chelsea. As they drift around the pitch, they are lethal weapons in outwitting opponents for both of their respective sides and have the skills to open up the tightest of defences. Hazard has fulfilled his potential this season to mean he is Chelsea's top scorer in the Premier League with nine goals and he has also produced his club's most assists (five), key passes on average per game (2.6) and dribbles on average per game (3.5 - the second highest total in the Premier League). In eight less Premier League appearances this season, City's Silva may have scored fewer goals (four) but he has seven assists (the third highest total in the Premier League) and 3.9 key passes per game, which is the best average in the division. Hazard may be the master dribbler but for that little bit of hustling ingenuity to lead to a goal, Silva is not nicknamed Merlin for no reason.
| | | | | |
| --- | --- | --- | --- | --- |
| PL Head-To-Head | Goals | Assists | Key Passes Per Game | Dribbles Per Game |
| David Silva | 4 | 7 | 3.9 | 1.1 |
| Eden Hazard | 9 | 5 | 2.6 | 3.5 |
The Bartender: Fernandinho v Ramires
Doing all the hard work while others have their fun, this is not quite the role of the water carrier but is perhaps the unsung hero. Fellow Brazilians Fernandinho and Ramires will be in the centre of the midfield tussle on Monday night and then they will go a long way to deciding where the title race war is won or lost. Fernandinho has been excellent in his debut season in the Premier League, eclipsing Ramires - who has the greater experience of England's top flight having joined Chelsea in 2010 - in almost every key area. In two less appearances, Fernandinho averages more tackles (3.3), interceptions (2.4) and passes (56.4) per game than his compatriot and has also scored more goals and produced more assists. If Chelsea want to try and stop City, Ramires will need to prevent Fernandinho from providing the service.
| | | | | | |
| --- | --- | --- | --- | --- | --- |
| PL Head-To-Head | Tackles Per Game | Interceptions Per Game | Passes Per Game | Goals | Assists |
| Fernandinho | 3.3 | 2.4 | 56.4 | 3 | 3 |
| Ramires | 3.2 | 1 | 49.8 | 1 | 2 |
The Gunslinger: Negredo v Torres
This head-to-head is a good, old-fashioned face-off between two sharpshooters from the west. Madrid natives Alvaro Negredo and Fernando Torres, the latter of which is not fit for Monday night, could be the men to score the goals to down their opponents over the course of the season but, on paper at least, there is only one winner. City slicker Negredo has taken the Premier League by storm. Chelsea's Torres, who scored the deciding goal between these two teams at Stamford Bridge after having an excellent game, is more mobile in his average dribbles of 1.2 per game compared to Negredo's 0.4 but the latter is otherwise superior in all other important areas for a striker. Negredo has played more games, scored more goals, made more assists and averages more shots and key passes per game. It would be a one-sided 10 paces at dawn.
| | | | | | |
| --- | --- | --- | --- | --- | --- |
| PL Head-To-Head | Goals | Assists | Shots | Key Passes Per Game | Dribbles Per Game |
| Alvaro Negredo | 9 | 3 | 2.7 | 1 | 0.4 |
| Fernando Torres | 4 | 2 | 1.8 | 0.8 | 1.2 |
The Bounty Hunter: Aguero v Eto'o
Highly skilled, cunning and ruthlessly clinical, these men are not to be underestimated. Manchester City's Sergio Aguero is a master of his art and in the form of his life but the hamstring injury he sustained in the line of fire against Tottenham Hotspur is a big blow after it ruled him out for a month. Chelsea's Samuel Eto'o, meanwhile, is the old hand who has seen it all before and has the experience of being a three-time UEFA Champions League winner. Aguero, the Premier League's second top goalscorer behind Liverpool's Luis Suarez, is the better marksman than Eto'o this season with more goals, assists, shots, key passes and dribbles on average per game. However, as Eto'o has demonstrated time and again, particularly with his recent hat-trick against Manchester United, he is a man for the big occasion and when the chips are down.
| | | | | | |
| --- | --- | --- | --- | --- | --- |
| PL Head-To-Head | Goals | Assists | Shots | Key Passes Per Game | Dribbles Per Game |
| Sergio Aguero | 15 | 5 | 4.1 | 1.6 | 1.5 |
| Samuel Eto'o | 6 | 1 | 2.9 | 0.9 | 0.6 |