Premier League: Louis van Gaal pleased with Manchester United's win over QPR
Last Updated: 15/09/14 8:38am
Louis van Gaal was pleased to see Manchester United make 'a new start' with a crushing 4-0 victory over Queens Park Rangers.
The Dutchman had to wait until his fourth outing as a Premier League manager before toasting his first success, but is delighted to be off the mark.
It has taken this long for his plans to be pieced together, with a busy end to the transfer window and the international break forcing him to be patient.
New boys such as Marcos Rojo and Daley Blind were handed their debuts on Sunday, along with Radamel Falcao – who was introduced off the bench.
With other big-money signings such as Angel di Maria and Angel Herrera shining alongside established stars like Robin van Persie and Wayne Rooney, Van Gaal believes a fresh chapter has been opened at Old Trafford.
He told Sky Sports: "We always have to analyse what we have done. Of course the result is fantastic but we can do much better, I believe.
"It's a very good start. I said before the game, 'Let's make a new start again'.
"Since 1st September, we only had three days together before the game with the internationals coming back and with the jetlag, like Falcao.
"I think the result is fantastic, but we can get better. We have made a very good new start."
While always striving for more, Van Gaal acknowledges that there are plenty of positives for United to take from their first win of the 2014/15 campaign – with Di Maria, Herrera, Rooney and Juan Mata easing them to three impressive points.
He added: "When you have a result that is 4-0, you can be happy.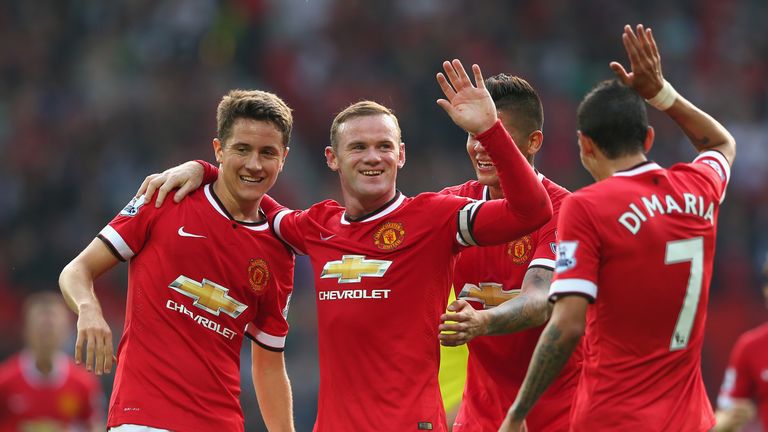 "As a coach you always have points that you can improve. I said that at half-time and also after the match.
"But I am very happy with the result because of the way we have played. We were very dominant and we scored goals. A clean sheet is also very important."
Asked where he feels United have most improved since their last top flight fixture, Van Gaal said: "In ball possession. I think we have lost the ball too much.
"We were more direct to the goal, and I like that. Also we have created, surely in the second half, a lot of chances. But then we don't score and it's always the thing. But I'm very happy."