Swansea's Bafetimbi Gomis collapsed on the pitch at White Hart Lane on Wednesday evening – but it is not the first time the striker has experienced health problems.
Gomis suffers from vasovagal attacks, which caused him to lose consciousness three times at previous club Lyon, with the latest episode occurring while he was training with the French national team in 2009.
Certain triggers cause his heart rate to slow, which leads to a drop in blood pressure and him fainting when there is a lack of blood flowing to the brain. Sufferers regain consciousness when they fall to the floor, as blood flow to the brain is restored.
Gomis has passed medicals at his previous clubs, and Swansea boss Garry Monk said after the match with Tottenham that the club were aware of his problem.
"Coming off the pitch he was fine, talking and he actually wanted to stay on the pitch," said Monk. "But obviously precautionary-wise, we have to make sure that we double check everything.
"We're well aware of the history. We knew about this when he came to the club. He's had all the medical checks that you can possibly do and it's just part of his life. It's to do with low blood pressure."
Gomis tweeted after the game to confirm he had recovered. "I wanted to reassure you concerning my health, it actually looks much more scary than physically dangerous and I am feeling well now," he posted via his account, @BafGomis.
"I have been under a great deal of stress and fatigue due to my father's health that requires me to go back and forth to France. I was disappointed that I couldn't help my team tonight but now everything is back In order."
Cleared to play
Lyon doctor Emmanuel Ohrant has previously spoken out to dispel any concerns about Gomis' health, who, he says, has been affected by this condition since he was 14 years old.
"Since 14-years-old, Bafe has been the subject of such vasovagal episodes, comparable to a drop in blood pressure, as a lot of people could experience," he said.
"At [previous club] St Etienne, he used to faint. We got his whole medical file, and I can testify very exhaustive medical examinations have been made, and he has been put under extreme monitoring.
"The final conclusion is there is no contraindication to high level sport."
Previous collapses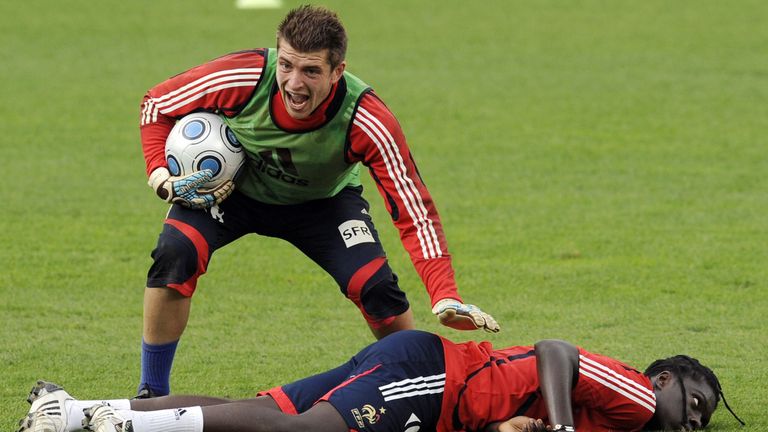 Gomis has a history of fainting since his teens but his most high-profile collapse, prior to Wednesday's Premier League contest at Tottenham, was while he was on international duty with France in 2009.
Training ahead of a 2010 World Cup qualifier against the Faroe Islands, Gomis fell to the floor – within a week of fainting while with Lyon.
Remarkably, despite being unconscious for around a minute, Gomis resumed training 15 minutes later.
"We can't not be worried, it scares you each time," Lyon owner Jean-Michel Aulas said at the time.
Gomis had previously collapsed while with France in 2008 and fainted in the opening match of the 2010/11 Ligue 1 season against Monaco and had to be replaced by Kim Kallstrom with 15 minutes to play.