Jurgen Klopp's record vs Mourinho, Wenger, Van Gaal and Pellegrini
By Adam Bate and Scott Penhaligon
Last Updated: 09/10/15 4:52pm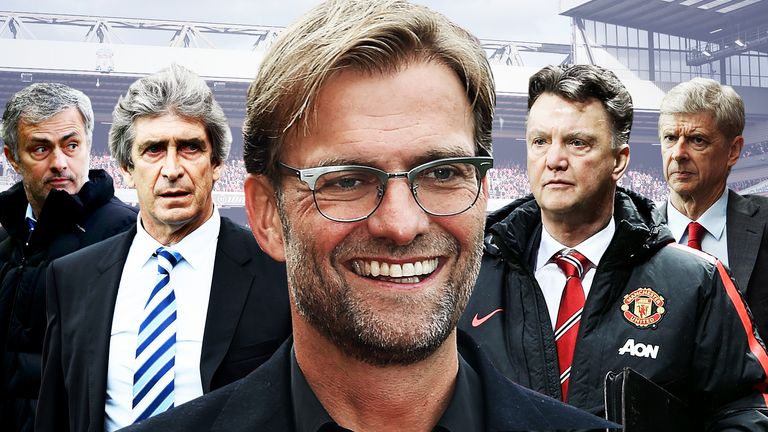 With Jurgen Klopp confirmed as Liverpool's new manager, thoughts will soon turn to the big games ahead and what the German's presence on the touchline could bring.
There's a trip to face Jose Mourinho's Chelsea looming later this month, while next month will take Klopp to Manchester City to face Manuel Pellegrini's men.
In January, both Arsenal and Manchester United visit Anfield inside a week so Klopp will get to pit his wits against Arsene Wenger and Louis van Gaal respectively.
These are the four clubs who occupied the top four in the Premier League last season and that's the clique that Klopp will be trying to break up.
Brendan Rodgers' struggles on the road against both top-four opposition and neighbours Everton - he won just one of 18 away games against them - proved a problem.
But Klopp has pedigree against all four of his peers already. Here we examine his record against the top-four managers during his time at Borussia Dortmund…
Klopp v Mourinho
Klopp's Dortmund took on Mourinho's Real Madrid four times in the Champions League in the 2012/13 season. It was Klopp who got the better of the Chelsea boss, topping their group and later eliminating Real from the competition. He also seemed to get under Mourinho's skin. "I have said a little bit about Dortmund and that's enough," said the Portuguese coach before their last-four meeting. "Since the day of the draw, Klopp talks every day." The BVB boss was unconcerned.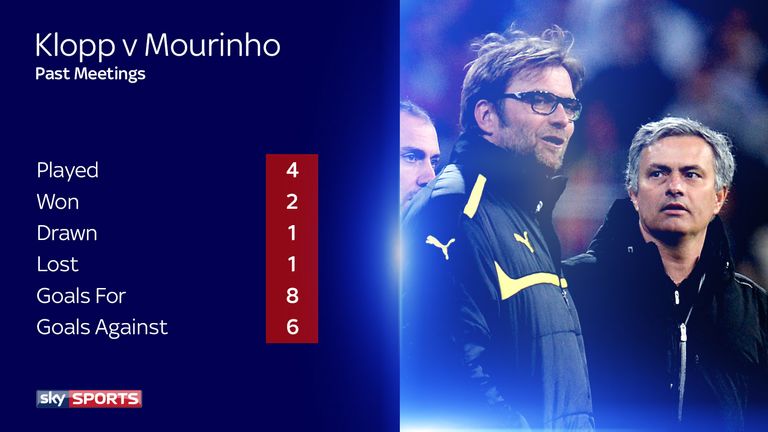 "Mourinho says I speak too much? That's what one of my teachers used to tell me. I don't care, I don't think about this." Asked whether this was mind games, Klopp added: "I'm not intelligent enough to understand what it should be. But it's no problem, now I'll shut up, and everything is okay." It was for Klopp. His Dortmund side beat Mourinho's Real in the Champions League semi-final with Robert Lewandowski's four goals in the first leg blowing away the then nine-time champions.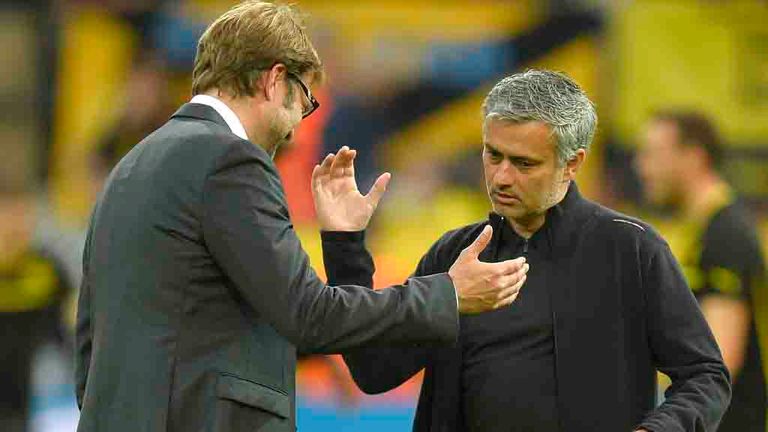 Klopp v Pellegrini
Klopp and Pellegrini have faced each other just once in their careers - over two legs of a quarter-final in that 2012/13 Champions League campaign. It was a controversial encounter too with Klopp's Dortmund needing two goals in stoppage time to stay in the tournament -- and getting them both. What's more, Felipe Santana's winner was wrongly allowed to stand when the defender should have been flagged for offside. For Pellegrini, it was a crushing finale to a heart-breaking week.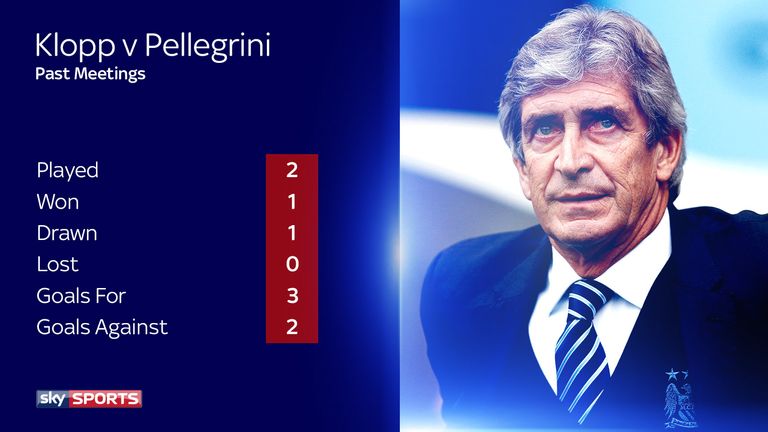 The Chilean has since described it as one of his "saddest weeks" having only returned from his homeland on the day of the game, following the death of his father. "Maybe of all us at Malaga thought the tie was finished before it was. Even so, it was only an important mistake by the referee that prevented us from making the semi-final. It was very difficult - I don't think we could believe it." Klopp acknowledged his team's fortune but insisted his side "deserved to qualify".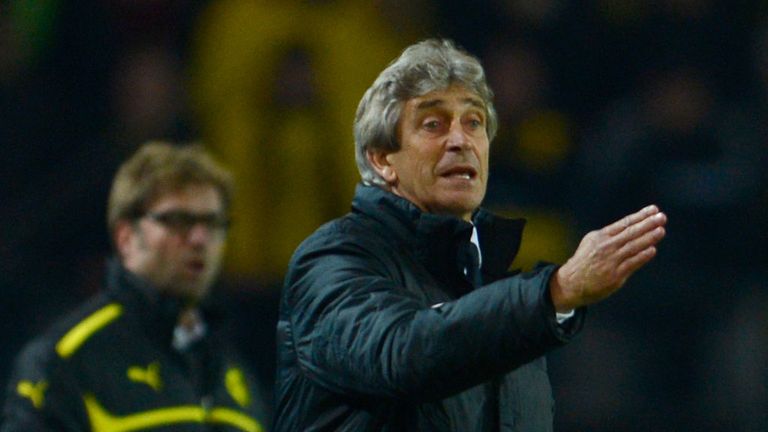 Klopp v Wenger
Klopp has had no fewer than six competitive meetings against Wenger - all of them in the Champions League group stages - and the Frenchman is the only Premier League manager to boast a winning record against him. Indeed, Dortmund finished bottom of their group, with Arsenal top, when the sides met in 2011/12. However, when the teams subsequently met in each of the past two seasons, they traded victories with both progressing to the knockout stages.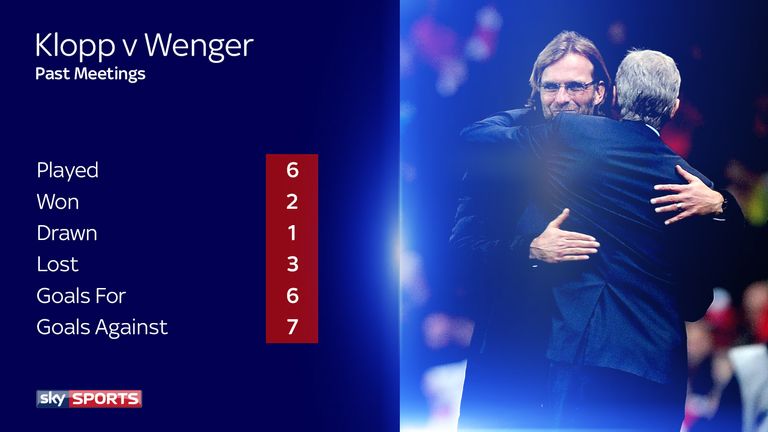 Wenger has praised Klopp repeatedly - even though he has occasionally expressed annoyance at "the circus" surrounding his future - and there appears to be a mutual respect between the two men. However, it's Klopp's quote about their differing styles that is the line that's really stuck. "He likes having the ball, playing football, passes," said Klopp of Wenger's Arsenal. "It's like an orchestra. But it's a silent song. I like heavy metal."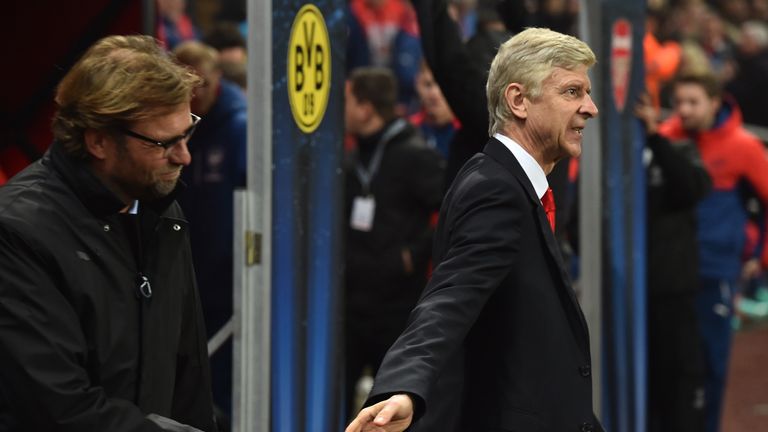 Klopp v Van Gaal
The sequence of games between Klopp's Dortmund and Van Gaal's Bayern perfectly illustrated BVB's resurgence in the Bundesliga. The first meeting between the two men in 2009 saw Van Gaal's team come from behind to win 5-1 in the Westfalenstadion and they repeated the trick in Munich by shrugging off an early Dortmund goal to win 3-1 and complete the double. But it was all change the following year as Klopp's men delivering a Dortmund double instead for only the third time in Bundesliga history.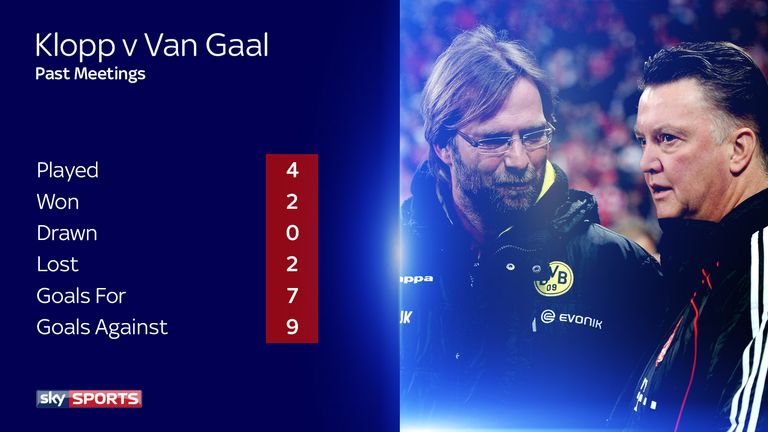 Lucas Barrios and Nuri Sahin scored both home and away with the 3-1 win in Munich proving particularly memorable as it was their first there in 20 years. "When BVB last won here, most of my players were still being breastfed," said Klopp. As for Van Gaal, just nine days after the defeat, it was announced that his contract would be cancelled. Dortmund, meanwhile, went on to win the first of their back-to-back Bundesliga titles and go on a run of five consecutive victories over Bayern.