Referees have been in the headlines in the opening weeks of the Premier League season after enforcing - and then failing to consistently enforce - laws around grappling in the penalty area.
Following a pre-season directive to referees to get tough on shirt-pulling and blocking in the penalty box at corners and free-kicks, Stoke City's Ryan Shawcross and Manchester City's Raheem Sterling were both penalised in the same game in the second round of fixtures, while Bournemouth's Charlie Daniels was punished on Saturday for a challenge on Crystal Palace's Christian Benteke.
However, also this weekend, Tottenham's Jan Vertonghen escaped with a warning when he hauled down Liverpool's Joel Matip, while Swansea City's Federico Fernandez and Leicester City's Daniel Amartey also escaped punishment for similar offences.
The variation in punishments has caused frustration among players, managers and supporters alike, with Liverpool boss Jurgen Klopp conceding he was unclear on the rules and Manchester United manager Jose Mourinho calling for a systematic approach across the board.
"My problem with new rules is always the consistency or inconsistency in the decisions," said Mourinho. "The grab, the pull of the shirt, not looking at the ball and just at the player to grab them - this is a penalty, but it has to be a penalty every time, with every club, with every player."
Here, we take a look at the confusion around the laws involved and why referees are trying to clamp down on the issue…
What is the law the referees are enforcing and is it a new one for this season?
There has not been a law change or new law created - instead, referees have been directed to clamp down on fouls in the penalty area from attacking and defending players at set-pieces. It is an issue which was raised a number of times last season and it was decided action should be taken.
Law 12 is the ruling in question. It states: "A direct free-kick or penalty is awarded if a player commits any of the following offences… holds an opponent, impedes an opponent with contact…"
Did players and managers know this was going to be a focus for referees?
Yes they did. Below is part of a presentation referees gave in pre-season meetings with players and managers highlighting the fact they would be focusing on shirt-pulling, blocking and holding at set-pieces and that penalties could be awarded for those offences.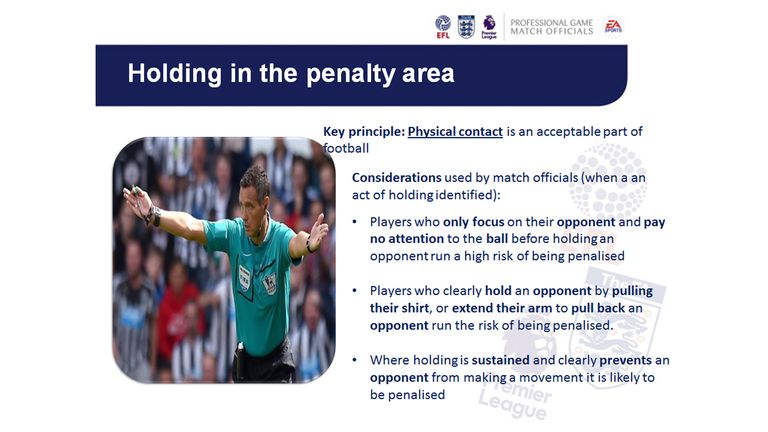 Shawcross, who conceded a penalty to Manchester City after holding back Nicolas Otamendi, said he had made a silly mistake "having known what's been said in the summer after meeting the refs".
What steps are referees taking to ensure they are consistent?  
According to a Premier League spokesman, the referees meet every couple of weeks at St George's Park to discuss how they are implementing the laws of the game.
What constitutes and what does not constitute a foul in this situation is sure to be a topic at their next get-together.
Does the referee have to give a penalty in each case?
As Liverpool found out to their detriment, Law 12 can only be applied when the ball is in play. Vertonghen's clash with Matip came moments before Jordan Henderson took Liverpool's corner and put the ball into play. As a result, referee Robert Madley was able to warn both players without awarding a penalty.
Referees have been encouraged to speak with players before the set-piece is taken to try to avoid the situation occurring. However, once the ball is in play, they are required to award a penalty should such an incident take place.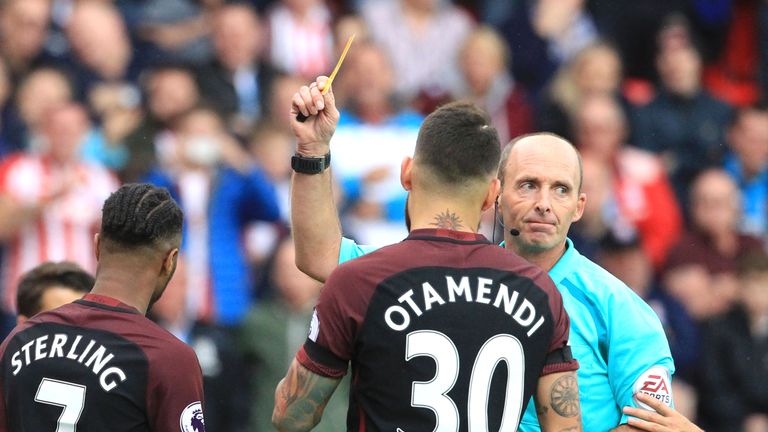 Is this a focus simply of referees in the Premier League or have referees in the EFL been issued with similar instructions?
The directive has been issued to referees "across the board", which means players in the Sky Bet EFL could also be punished this season.
Watch Dermot Gallagher analyse the weekend's refereeing decisions on Sky Sports News HQ from 10am on Monday