What's the key to avoiding the drop in the Premier League? Sam Allardyce shared his survival blueprint with David Jones and Jamie Carragher on Monday Night Football.
Allardyce, who defied the odds to keep Sunderland and Crystal Palace up in 2015/16 and 2016/17, has never been relegated in 15 seasons as a Premier League manager.
So how exactly does he do it? From keeping clean sheets to having attacking players with quality in the final third, here's his seven-point blueprint to Premier League survival.
Keep clean sheets
Allardyce regards keeping clean sheets as fundamental to survival. "It only takes one goal to win a game," he said. "Clean sheets give you the platform to be successful in a season. You can't always score two or three goals."
Allardyce referenced his time in charge of Crystal Palace last season as an example. "Crystal Palace had only kept one clean sheet in 17 Premier League matches when I got there last season, which meant the bare minimum was two goals to win a game," he said.
Allardyce prioritised improving Palace at the back. He worked hard with his players on the training ground, and also brought in new signings Patrick van Aanholt, Mamadou Sakho and defensive midfielder Luka Milivojevic.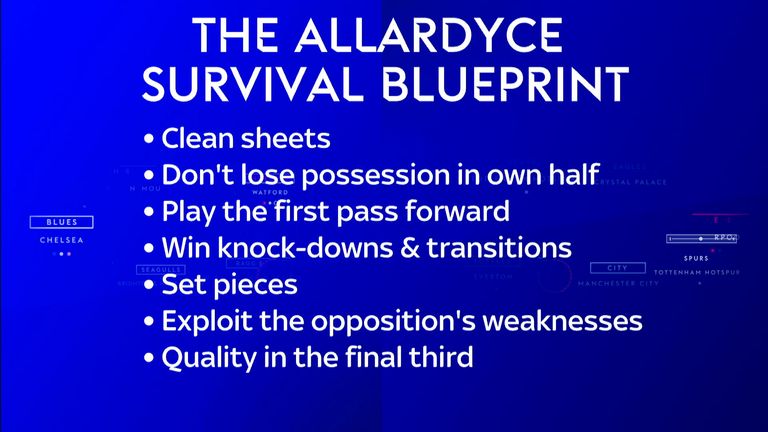 "We were becoming desperate for three points," added Allardyce. "It didn't happen straight away, in fact it took me six games before I got a clean sheet at Bournemouth, where we won 2-0.
"That was the last day of the transfer window and the influx of new players made all the difference defensively. It creates a lot more confidence and flair for the front lads. They can go off and create and score more goals because they've got confidence in the defence."
Palace went on to keep six clean sheets in the final 16 games of the season - winning all six of those games and vindicating Allardyce's approach by comfortably avoiding the drop.


Don't lose possession in your own half
In order to keep a clean sheet, Allardyce drums into his players the importance of not losing the ball in their own half. If under pressure, they are instructed to take a safety-first approach.
"The Premier League is so good that the opposition can capitalise massively on those mistakes," he said. "You give the ball away there and the opposition are at your back four or your back two and they are shooting and scoring goals."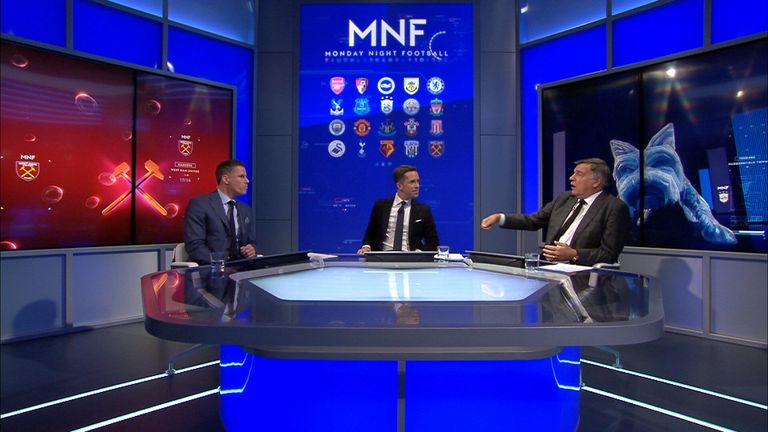 Play the first pass forward
When it comes to turning defence into attack, Allardyce believes the first pass is vital. In order to catch opponents out on the break, he asks his players to play the ball forward as early as possible.
"I was brought up to always make your first pass forward if you can," he said. "Even against the best defensive team in the Premier League, it's a quick forward pass that creates the opportunity to score.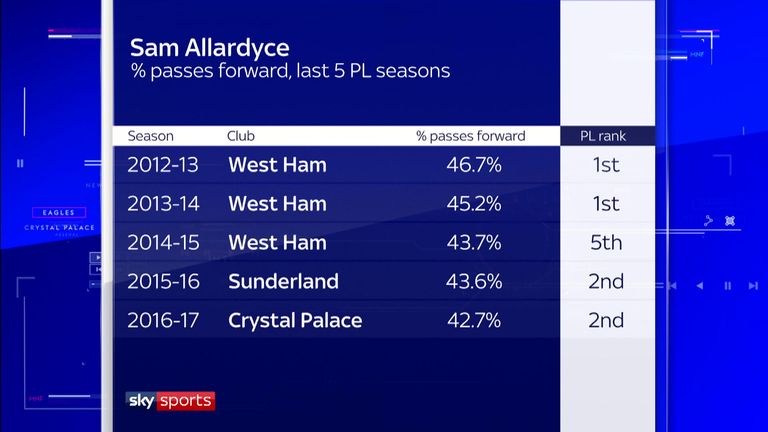 "Too many sideways or backward passes allow the opposition to get back into their own half and put up two banks of four.
"Last season, I didn't think Crystal Palace were good enough to break that down, particularly at home, so I wanted to get the ball forward quickly either through the lines or off Christian Benteke, where we could win the knock downs and put pressure on the opposition in the final third."
The stats show the emphasis Allardyce places on direct passing. In each of his last five seasons as a manager at West Ham, Sunderland and Crystal Palace, his teams have always ranked in the top five in terms of the percentage of passes forward.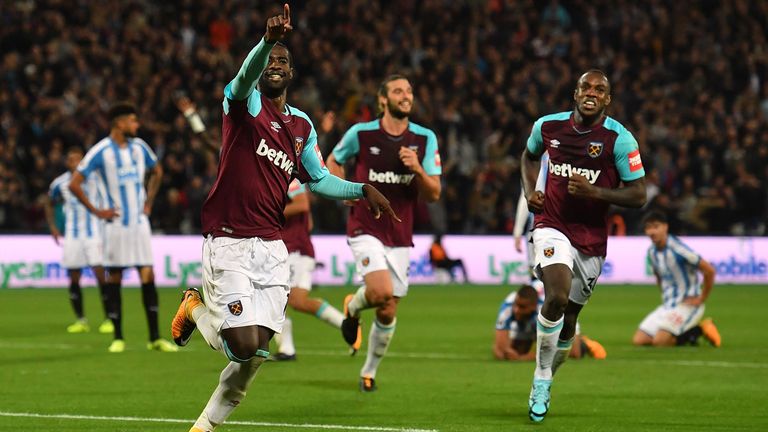 "There's an emphasis in the Premier League now not to play the ball in behind the opposition quick enough," he added. "It's fashionable now to have possession in midfield, but no defender likes running back towards their own goal with a centre-forward chasing them down."
Win the knock-downs
When using a direct passing style, Allardyce emphasised the importance of winning knock-downs from the centre-forward. In order to do that at Palace, he instructed Wilfried Zaha and Andros Townsend to run beyond Benteke for every long ball.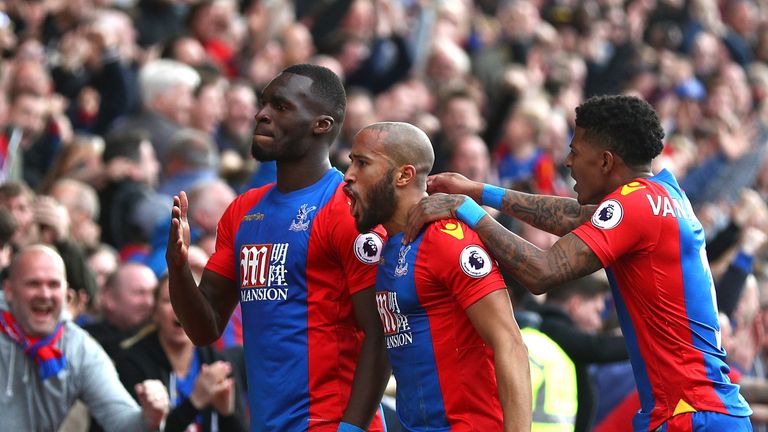 "If you're static, you're not going to put yourself in a good position to win the ball," he said. "If you get on the move when the ball is on the move, then you can adjust or get into a position where you might be able to regain possession.
"Christian Benteke would flick on a big percentage of those balls, so why not put two in behind him?"
Prioritise set pieces - both offensively and defensively
For any Premier League side in the bottom half of the table, Allardyce believes set pieces are vital in both an offensive and a defensive sense.
When he kept Sunderland up in 2015/16, the Black Cats scored more set piece goals than any other side and also conceded the fewest. It was the difference between relegation and survival.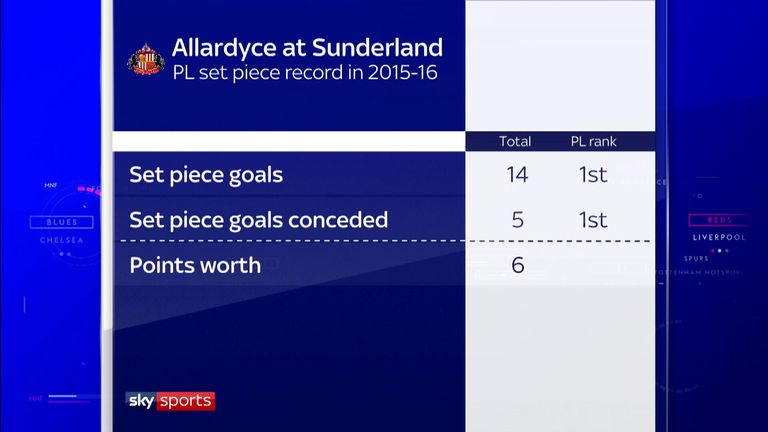 "It comes from working on the training ground," he said. "Every week it's just a case of highlighting who we're playing against, what they try to do from set pieces, and who each player is going to mark.
"The players need to remember when you go out on the pitch that these are very important times in the game. I think on average more than 30 per cent of Premier League goals come from set plays now.
"If you don't coach it or show your players how to defend it then you can play as well as you want, you can be on top of the game as much as you want, but one set play can give the opposition the goal that gets them ahead."
Exploit your opposition's weaknesses
Allardyce used Crystal Palace's 2-1 win at Chelsea last season as an example of the importance of exploiting an opponent's weaknesses.
In that game, the decisive goal came from a counter-attack in which Palace robbed possession from a Chelsea throw-in, before playing the ball to Benteke, who had confused Antonio Conte's defenders by drifting from his usual centre-forward position to the flank.
"We looked at Stoke in the previous game, when they had shut them down at throw-ins and won the ball back. We said we had to do that.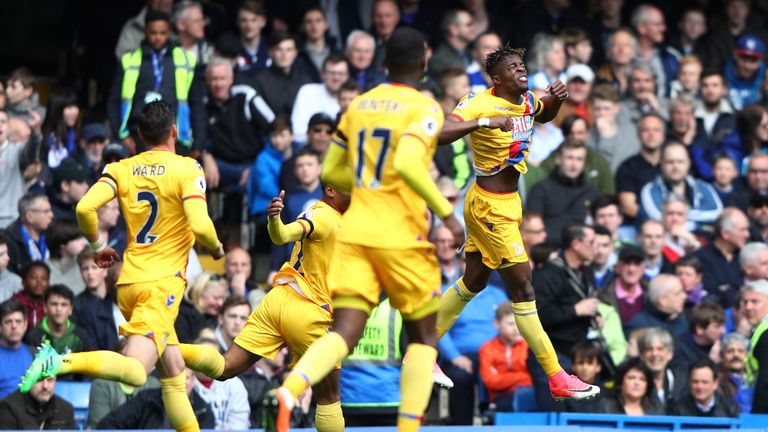 "I'm not sure a lot of coaches analyse that, but it's a free throw-in. If you get that right, you can be off on the attack. If you get it wrong you can find yourself defending. We broke away well."
Allardyce also explained how Benteke and Zaha were deployed in wide positions. "Everybody else had tried different ways of playing against Chelsea," he said. "Some had tried to match them, some tried 4-5-1, some tried two banks of four.
"We decided to play with no centre-forward. We put our centre-forwards in the wide positions, tucked in when we didn't have the ball. Would Chelsea's centre-halves come out and pick them up or leave them? We gave them something to think about.
Have quality in the final third
The last point on Allardyce's blueprint survival is to have quality in the final third. At Sunderland, that quality came from Jermain Defoe. At Palace, it came from Zaha, Townsend and Benteke.
Allardyce pointed out that, even when the build-up play is perfect, a lack of cutting edge can be decisive. "It's alright playing the ball forward but it's the quality of the pass that counts," he said.
Capitalising on scoring opportunities can make all the difference in a relegation battle.