Why Liverpool's collapse at Crystal Palace makes a fitting end to an extraordinary title challenge
A dodgy defence and poor second-half record have been worries for Liverpool all season. On Monday night, they proved the Reds' downfall as their title hopes surely died with a 3-3 draw at Crystal Palace...
Last Updated: 06/05/14 12:13am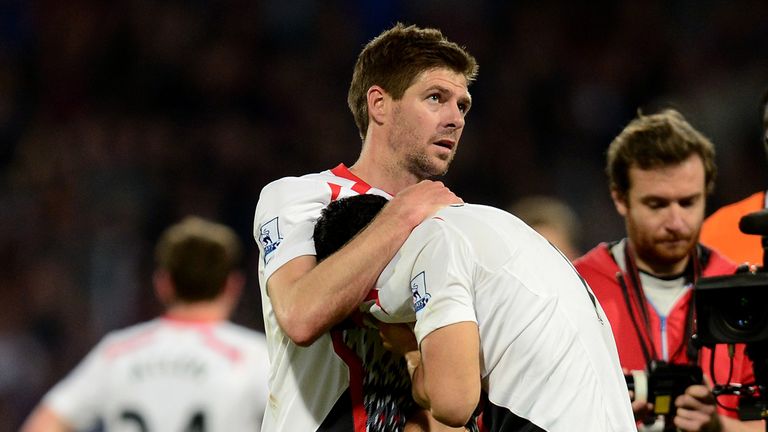 All season we have wondered whether Liverpool's defence would cost them in the title race and all season the goals of Luis Suarez and Daniel Sturridge have got the Reds out of jail. But not on Monday night.
This was a finale as dramatic as they come, a remarkable collapse in which Liverpool lost a three-goal lead to a team who had previously picked up only two points from losing positions in the Premier League. In nine hectic minutes, Crystal Palace destroyed the Reds' dream. In nine hectic minutes, Liverpool threw it away for a final time.
Steven Gerrard's slip against Chelsea was supposed to be the defining moment in the title returning to Manchester City's hands, but it seems much more fitting that Liverpool were once again betrayed by their inability to defend. If this is to be the last twist, it is also an appropriate end to a thrilling battle at the top, more so than both City and Liverpool winning their last two matches without surprise and the former succeeding on goal difference. We craved an explosive climax, but an implosion is adequate consolation.
When Suarez made it 3-0 to the visitors on 55 minutes - just moments after Sturridge had squeezed in the second - the Reds' focus switched to reining in City's nine-goal advantage. At that stage it had been cut to six strikes but at the final whistle it no longer mattered. Yet again Liverpool had left the back door open and Dwight Gayle's introduction turned the tide against them. As Gayle and Yannick Bolasie repeatedly tore the Reds apart, their title hopes disintegrated as quick as their resolve until it was eventually over, with Suarez left disconsolate and in disbelief at what he had just witnessed. 
Jamie Carragher wasn't surprised in the Sky Sports studio, however, as he reflected on Liverpool's defensive fragility that has been "their Achilles' heel all season". "You always felt the defence would come back and haunt them," said Carragher. "The strikers normally get them out of jail. You can't keep conceding goals at this level and expect to win big trophies."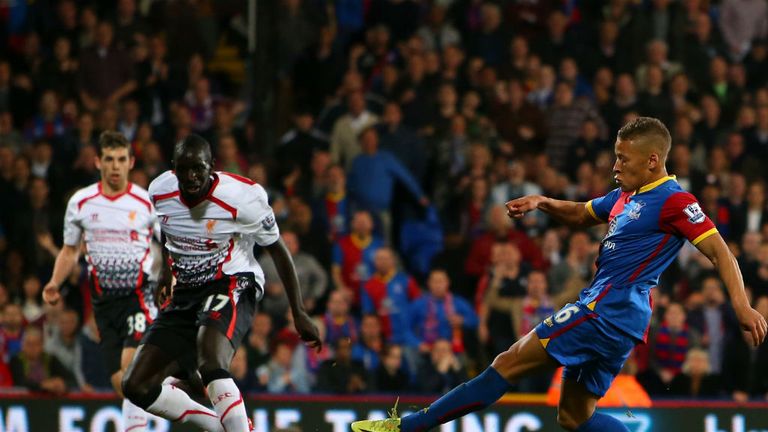 If they still go on to win the title Liverpool will be known as the champions with the worst defence since Derby in 1975, who also conceded 49 goals. If they ship just one strike to Newcastle on the final day, that record extends back to Ipswich's triumph in 1962. When you consider that, the odds were always stacked against the Reds as long as Rodgers failed to fix the leaks and address a number of subdued second-half performances. We may have harped on about it, but Monday's slip up had been a long time coming.
That eight teams have conceded fewer goals than Liverpool this season underlines the porous nature of their back-line. To his credit, Rodgers has repeatedly accepted responsibility for a high-risk strategy, claiming that the Reds are always going to be open at the back because of their style and tempo. But on Monday, after watching his players blow it in spectacular fashion, he reneged on his previous loyalty. "It was really poor defending," said Rodgers as he lambasted the team's poor decision-making. It was little surprise he would have been happy with a 1-0 win before kick-off.
Rodgers had an air of resignation as he gave his pre-match interview, reflecting on what has been an outstanding season for Liverpool rather than the dying embers of the club's title fight. It is true that the Reds should be proud of their achievements this year, and their sublime attacking football has been a joy to watch at times, especially in the 5-1 demolition of Arsenal that started an 11-game unbeaten run.
However, it is impossible to escape the fact that they have thrown it away. That is the inconvenient truth that was etched into Rodgers' face at full-time and hidden beneath Suarez's shirt as Gerrard pushed away the TV camera. Liverpool are victims of their own success and yet also their own worst enemies. To come so close to a first title in 24 years and let it slip with three games remaining will be incredibly hard to stomach. Automatic qualification to next year's Champions League group stage should soften the blow, but any intention to return stronger and better prepared for the title race must be founded in improving a defence that has cost them until the bitter end.