Chelsea have had many impressive results in their unbeaten start to the Premier League season but perhaps the best so far were their two away victories on Merseyside at both Everton and Liverpool. They have something in common too. Nemanja Matic delivered the team talks.
Meeting up with him in Fulham at the promotional launch of new racing game The Crew, the suggestion that he might have got a taste for the experience gets short shrift. "No! I don't like to talk but every game some player has to say something before the game. I hope that I have finished for this season with the speeches."
So what did he say? "I just told them that we have to win this game because it's very important, Liverpool are a good team and when you win games like this it gives you more confidence for the rest of the season. But with Chelsea you can say what you want, the players know what they have to do."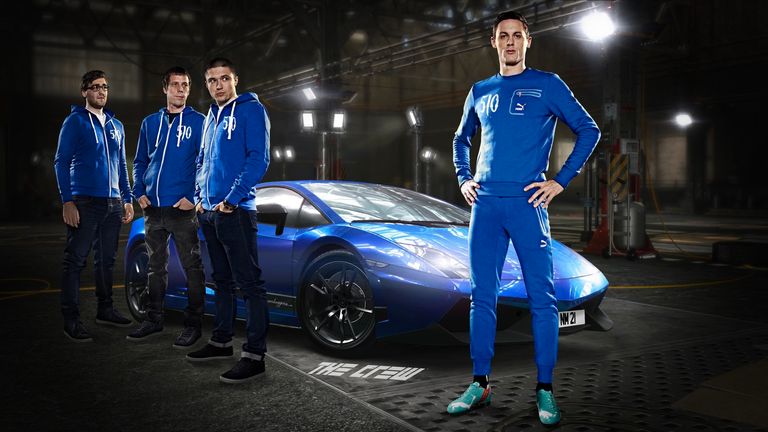 Matic certainly does. Since returning to Chelsea in January, he's already become a player his manager Jose Mourinho leans on. He's the midfield enforcer and, in the words of Mourinho himself, "a monster" on the pitch. It's clear the two men have an understanding of what is expected.
"Jose has helped me a lot," says Matic. "He gave me that confidence to play my game. Before every game he gives me a clear message what I have to do. Sometimes he doesn't have to say anything, he just looks at me and I know what he thinks I have to do in the next situation. He's a great coach and I hope we will continue like this and that I will continue to improve with him."
Improvement
Coming back to Stamford Bridge as a £21million signing just three years after being sold to Benfica brings pressure, but not only has his captain John Terry described him as the "complete player" but former Chelsea team-mate Michael Ballack has told Sky Sports that, frighteningly, he feels there remains room for further improvement.
Matic agrees that he has returned from Lisbon a better player and feels there is more to come. "I got some experience there. I played in a good league at a big club. Also I was fighting for the title, played in the Champions League and the final of the Europa League. Of course, these games make you a better player and help you to improve so it was a good time for me there.
"I think throughout your whole career a player can improve. I just have to improve here at Chelsea. I played in Portugal but here it is a higher level so I'm sure I can improve a lot and I will work hard every day. I'm very focused on my job and I'll try to do my best."
That job is to protect his back-four and give this Chelsea team a platform from which to play. The statistics show that he's doing that extremely effectively. Matic is among the Premier League's top midfielders for tackles, clearances, ball recoveries and duels won – a combative figure blocking attacks and setting Chelsea's army of attacking midfield talent on their way for another raid.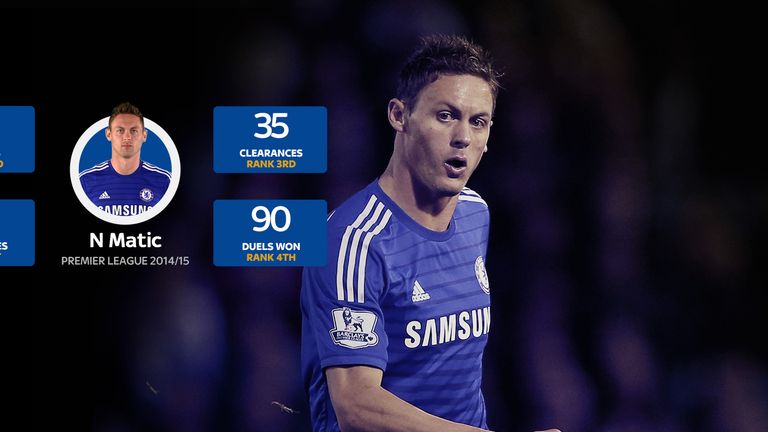 Considering he was once a forward-thinking midfielder, it might have been a tough adjustment to the holding role, but Matic is pragmatic about what is required of him. He's a facilitator for others.
"Before I was more attacking but now in a team like Chelsea I have to be defensive because the players who play in front of me are amazing in that position," he says. "I cannot compare with them. Defensive midfielder is my position and I have to be focused on that role. I have to do everything just to help them to score many goals."
Matic exudes disarming humility. Ask him to discuss his strengths and he's typically humble. There's a glance to the translator, seemingly to stall for time before searching for an answer, such is his reluctance to get drawn into a discussion of the individual contribution of a team man.
"Of course, I know that I have some qualities," he eventually concedes. "I think I can run a lot, that I'm physically well but if I have other qualities I will leave other people to speak about me."
Partnership
They're qualities that help him dovetail with those around him. Matic's partnership with Cesc Fabregas has been a particular strength with the two men developing a good understanding – Matic bringing control without the ball, the Spaniard providing it when in possession.
"He's a great player," says Matic. "He's easy to play with as he's a player with a lot of experience who has played for big clubs. He's very important for us, of course, but if I speak about him I have to say that all the Chelsea players are very important for us. All the players have quality and all give 100 per cent for the team. It's because of that we are first in the table. I hope it's going to stay like this."
With Matic, it's always about the team. If Chelsea maintain anything approaching their current levels, staying top of the Premier League would seem a near certainty. With Champions League ambitions to consider as well, the question now is how far can this team go?
"The most important thing is that we have played very well," he adds. "In every game we have scored goals and also defended well. This makes us happy and shows that we are strong. If we can do something special we will see at the end."
We'll see at the end. It's delivered in that matter-of-fact style. Matic doesn't like speeches but he'd best be warned. With Chelsea top of the Premier League, in the knockout stages of the Champions League and the quarter-finals of the Capital One Cup, there might have to be a few more of them before this season is over.
Nemanja Matic was appearing at a photo-shoot with a crew of fans to celebrate the launch of The Crew, a revolutionary new action-driving game from Ubisoft, out now on PlayStation 4, Xbox One, Xbox 360 and Windows PC