The recent history of Chelsea versus Liverpool has seen some of the most dramatic matches in English football over the past decade.
From Champions League 'ghost goals' to Premier League title twists, the two teams have brought us some truly dramatic moments.
Here we recall just some of the stand-out matches between the teams dating back to an Anfield encounter that Jose Mourinho can't seem to forget…


Liverpool 1-0 Chelsea, May 3, 2005
Such is Mourinho's enduring frustration at Luis Garcia's infamous 'ghost goal', which settled this Champions League semi-final in 2005, that he referenced it as recently as Chelsea's trip to Liverpool in November. "It doesn't affect me, because I don't play, but we've seen in the past how the Anfield pressure affects some people," he said. "Goals that are not goals, penalties that are not penalties."
After a 0-0 draw at Stamford Bridge in the first leg, Chelsea found themselves 1-0 down inside four minutes at Anfield when Milan Baros beat Petr Cech to Steven Gerrard's flicked pass and Garcia steered home. William Gallas attempted to clear the ball off the line, but the Blues' complaints fell on deaf ears and, despite pushing for an equaliser and decisive away goal in the second half, the hosts held on.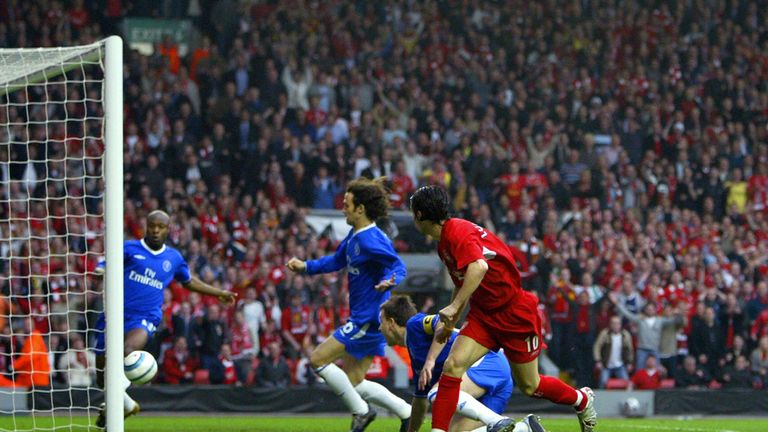 "It was a goal that came from the moon - from the Anfield stands," said an incensed Mourinho afterwards. "Liverpool scored, if you can say that they scored, because maybe you should say the linesman scored. They are in the final and from my heart I hope they win it. The night belongs to them and I don't want to criticise them."
Little did Mourinho know when he declared his magnanimity towards Liverpool that they would win the final in the most remarkable fashion, coming back from three goals down to draw 3-3 with AC Milan and win the cup on penalties. Had it not been for Garcia's controversial strike, we may have been denied one of the greatest comebacks in the history of the game.
Chelsea 3-2 Liverpool, April 30, 2008
It took three years and a change of manager but Chelsea eventually got their revenge on Liverpool, beating the Reds 4-3 on aggregate in the 2008 Champions League semi-final to reach the main event for the first time.
When Avram Grant replaced Mourinho in September 2007, few would have predicted that the Blues could recover from the loss of their influential coach to end the season with a shot at European silverware. But, just as they did in 2012, Chelsea triumphed through adversity, beating Fenerbahce in the quarter-final to set up another showdown with Liverpool.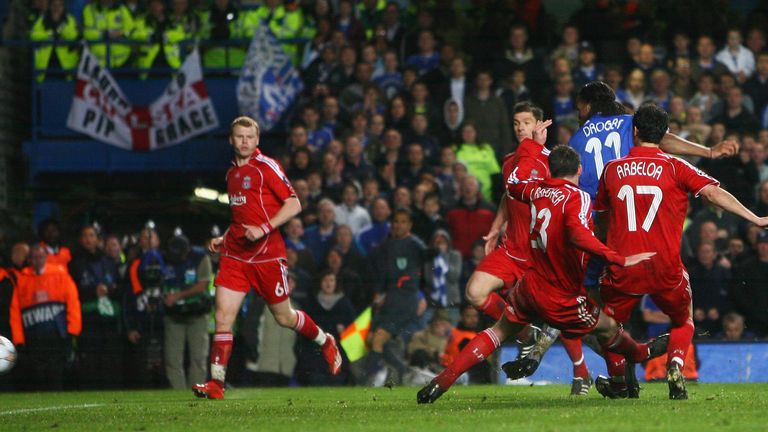 John Arne Riise's 95th-minute own goal at Anfield gave Chelsea a precious 1-1 draw and away advantage to hold on to, but they were pushed all the way at Stamford Bridge. After Didier Drogba opened the scoring, Fernando Torres bagged a second-half equaliser to send the match into extra-time.
The Blues were not to be denied, however, and Frank Lampard converted a 98th-minute penalty before Drogba made the result safe with his second. Ryan Babel set up a tense finish by clawing a goal back with three minutes to go, but it was too little, too late, as Chelsea booked their ticket to Moscow, a meeting with Manchester United and the penalty heartbreak that it would bring.
Chelsea 4-4 Liverpool, April 14, 2009
Within a year of the defeat to Manchester United, Chelsea had replaced Avram Grant with Luiz Felipe Scolari, and then Scolari with Guus Hiddink, who oversaw a last-16 victory against Juventus to put the Blues back on the road to the Champions League final. However, the quarters pitted them against Liverpool again, who were three points above Chelsea in the Premier League and embroiled in a fierce title battle with United.
Surprisingly, the first leg was a breeze for Hiddink's side as they cruised into a 3-1 advantage at Anfield. Torres opened the scoring for the Reds after just six minutes, but a headed brace from Branislav Ivanovic and a goal for Drogba left the visitors firmly in the driving seat.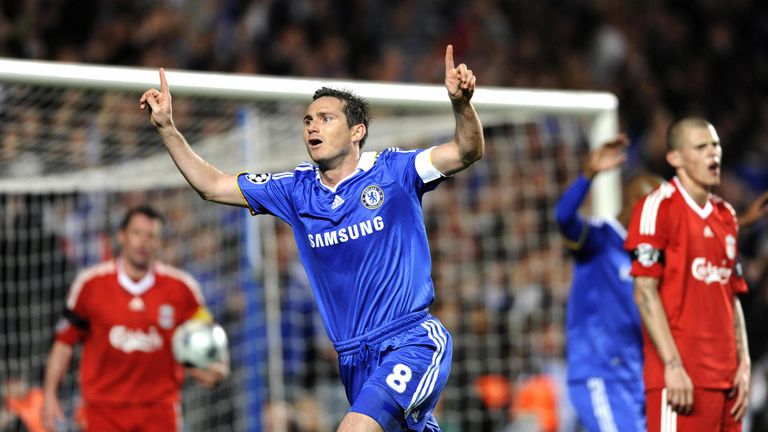 It was perhaps complacency then, as well as Liverpool's impressive fighting spirit, that allowed the Reds back into the contest in the second leg as they burst into a 2-0 lead at Stamford Bridge through Fabio Aurelio and a Xabi Alonso penalty. Chelsea were shocked into action, replying through Drogba, Alex and Lampard, but two goals in the space of two minutes from Lucas and Dirk Kuyt left Liverpool leading 4-3 and needing only one more goal in the last 10 minutes to progress.
Lampard had other ideas, though, sliding home Nicolas Anelka's pass in the 89th minute to level the score on the night and secure a semi-final against Barcelona. It was a breath-taking encounter that left both teams exhausted in the run-in, with Chelsea losing to Barcelona in the semi, and Liverpool missing out on the title after failing to keep the pressure on United by drawing 4-4 with Arsenal a week later.
Liverpool 0-2 Chelsea, April 27, 2014
Mourinho and Anfield has a habit of throwing up drama. In April 2014, an unexpected slip-up at home to Sunderland – his first and only home defeat as Chelsea boss – saw Mourinho's men fall behind the pace in the race for the Premier League title. Liverpool needed only seven points from their final three games to guarantee a first title in 24 years. As it was, Mourinho revelled in the role of the villain on a disastrous day for Reds skipper Steven Gerrard.
Liverpool dominated the ball against weakened Chelsea line-up featuring the likes of Tomas Kalas and Mo Salah. The visitors were more focused on their upcoming Champions League semi-final second leg against Atletico Madrid, but one of the second-stringers was to play a pivotal role. Demba Ba capitalised on Gerrard's error when the Liverpool icon allowed the ball to roll under his foot before stumbling in panic as he attempted to recover.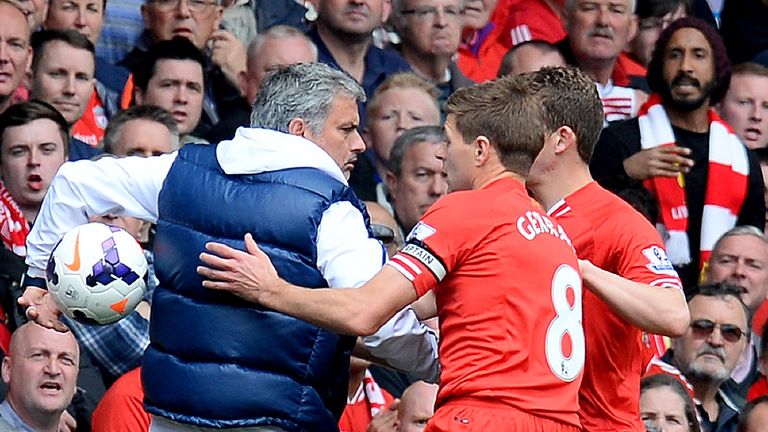 Panic engulfed Anfield and although they pressed relentlessly, Brendan Rodgers' side were unable to find an equaliser. Chelsea defended deep to stop them with Liverpool tossing balls into the box to little effect. All hope was lost when Willian doubled the advantage late on – sending Mourinho charging down the touchline bellowing something about 'clowns' on the way.
The Chelsea boss later explained his reaction in a Telegraph interview with Sky Sports pundit Gary Neville. "I felt that day was a day that was ready for their celebration," said Mourinho. "I used the word with my players. I said – we are going to be the clowns, they want us to be the clowns in the circus. The circus is here." On Sunday at Stamford Bridge, it will be Chelsea partying.
Watch Chelsea v Liverpool live on Sky Sports 1 HD from 3.30pm this Sunday