Ray Wilkins
Football Expert
Manchester United striker Wayne Rooney a No 10, says Ray Wilkins
Last Updated: 13/01/16 4:47pm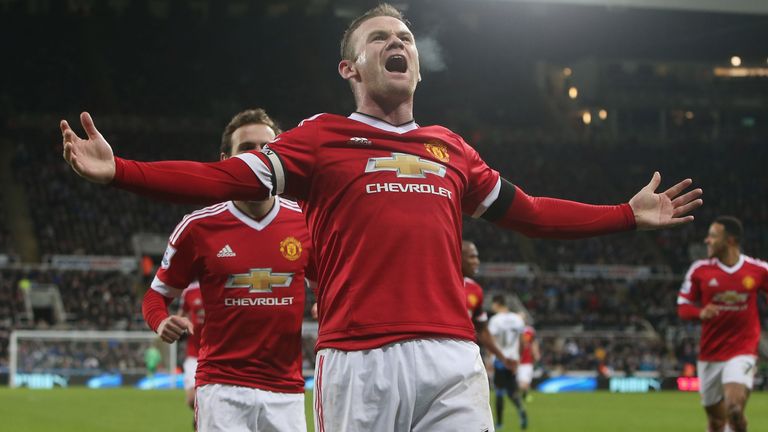 Manchester United forward Wayne Rooney should play in the No 10 role for the rest of his career, according to Ray Wilkins.
The 30-year-old has struggled for form at times this season, but a double in Tuesday night's 3-3 draw at Newcastle meant he has racked up four goals in his last three games.
It was a man-of the-match show from the England skipper and his second goal - a sweetly struck first-time shot from the edge of the box in the 79th minute - perhaps showed the potential he has when playing a deeper role.
Wilkins, who played for United between 1979-1984, told Sky Sports Now: "Wayne is now a No 10 playing just off the forward player.
"He can score all day long coming on to the ball and he has that ability to play passes through to create. For the remainder of his career, he's a No 10."
With United scoring only seven goals in their last 10 games at Old Trafford, manager Louis van Gaal has been lambasted by critics for being too conservative, while some unhappy fans have demanded the team "attack, attack, attack".
Van Gaal admitted himself the team had occasionally been "boring", but the fireworks on show at St James' Park on Tuesday had Alex McLeish praising United's attacking intent.
"It worked perfectly for Manchester United," the former Aston Villa boss said. "They were a good team with quick players and they were able to exploit Newcastle.
"And when a team comes at you, you can pick holes in them and United did that very well. [Marouane] Fellaini should have nailed it late on and you could see the disappointment on Van Gaal's face on the bench. But they played very well on the break."
Having to settle for a point after leading 2-0 and 3-2, Van Gaal was left frustrated and, once again, leapt to the defence of his team's style and tactics.
The Dutchman said: "Newcastle was attacking. They wanted to attack, and that is the difference. When you see two teams who want to attack, then you see a game like this. But when you see a match that only one team wants to defend and wastes time and frustrates the opponent..."
Van Gaal accused Sheffield United of shutting up shop during the FA Cup clash at the weekend. but Wilkins said it was unfair to lay any blame on the League One side.
He added: "Sheffield United went to Old Trafford in a Cup game. They were never going to go there and attack.
"They would have wanted to stay in the game as long as possible. It's up to United to break them down."