Paul Pogba to Manchester United: Five reasons why they needed him
By Adam Smith
Last Updated: 09/08/16 9:45am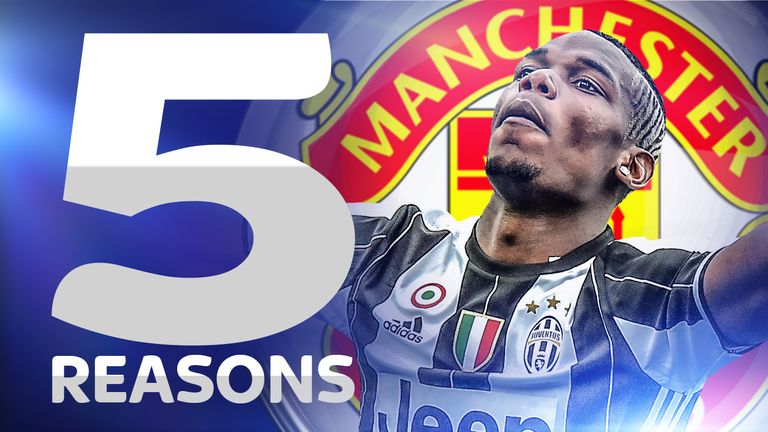 Paul Pogba has returned to Manchester United for a world record £89m - but do his stats reflect the price tag?
We've found five stat-backed reasons why new United boss Jose Mourinho was prepared to pay almost £90m in order to bring the 23-year-old Euro 2016 runner-up back to the club.
1. Star quality
Pogba left Old Trafford on a free transfer to Juventus in 2012, after making only seven first-team appearances as a substitute under Sir Alex Ferguson.
Since then, the versatile midfielder has won four successive Serie A titles, two Coppa Italia titles, two Supercoppa Italiana trophies, received Golden Boy and Bravo awards, and was selected in the FIFA FIFPro World XI and UEFA Team of the Year in 2015.
On the international stage, Pogba has established himself as a regular in the France team, receiving a runners-up medal at Euro 2016 after losing 1-0 to Portugal in extra-time on Sunday.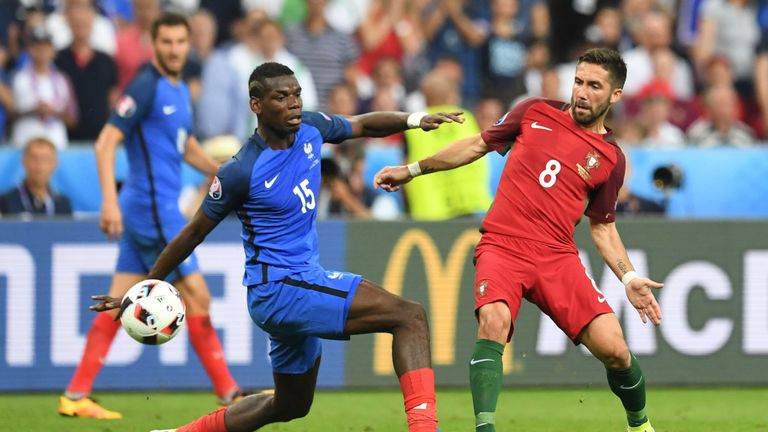 Pogba's outrageous drag-backs, step-overs, back-heels, scoops and outside-of-the-boot strikes generate a fear in opponents only matched by the world's best.
The Frenchman joins fellow superstar Zlatan Ibrahimovic, who signed for United earlier this month, along with defender Eric Bailley and midfielder Henrikh Mkhitaryan.
2. Domination with conviction
Last season, under departed United manager Louis van Gaal, United finished fifth in the Premier League but were below average across the pitch.
In fact, they only finished the season with marginally above-average stats for passes and tackles won, although they did boast a league-high average of 59.92 per cent possession.
Despite recording superior possession, United produced fewer goals, shots on target, assists, dribbles, won fewer aerial challenges and duels than the Premier League average.
The graph below suggests United were an average side who dominated possession without conviction.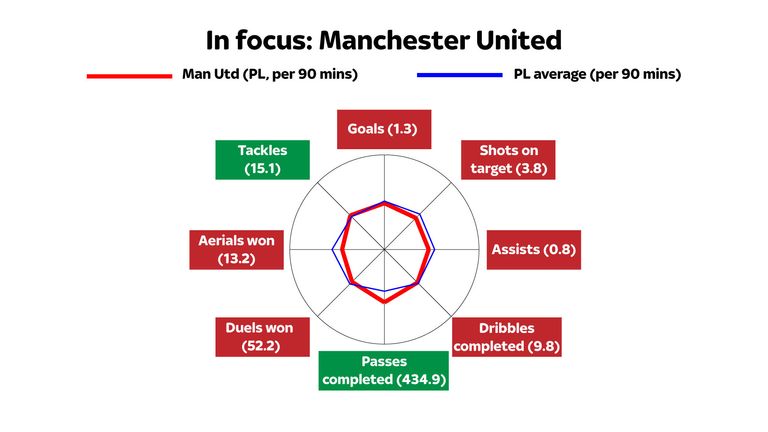 In every area that United underachieved last season, Pogba excelled in Italy for Juventus. He is the antithesis, and potentially the antidote, to everything that was wrong at United last season.
3. Versatility with speciality
United's midfield was plagued with uncertainty last season, with Van Gaal deploying several players out of their established positions, including Wayne Rooney, Ashley Young and Maraoune Fellaini.
Rooney's adopted deep midfield role is now in doubt after Mourinho admitted in his first press conference as United manager: "I am a manager that likes specialists, not multi-functional players.
"For me, (Rooney) will be a No 9 or a No 10, or a number nine-and-a-half, but with me he will never be a No 6, not even a No 8."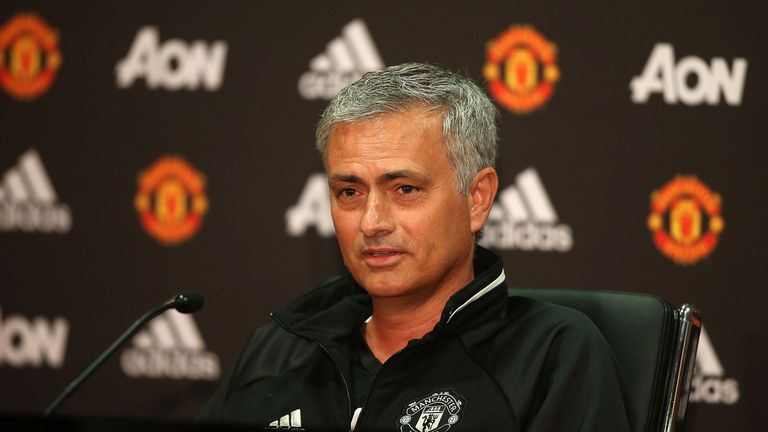 Pogba could push Rooney forward into Mourinho's suggested role, although the England captain will face competition from Anthony Martial, Marcus Rashford and new signing Ibrahimovic.
Whatever it means for Rooney, Pogba would seem the better bet. His attacking and defensive stats are impressive across the board with him capable of playing as a defensive midfielder - as used by France manager Didier Deschamps during Euro 2016 - central or attacking midfielder.
On average, the Frenchman scored one goal every five full league games and registered 12 assists in 3019 minutes last season, while averaging close to just one shot on target per game.
Despite playing deeper and centrally, he still completed three dribbles per 90 minutes - while the average Serie A midfielder only completes one.
4. Aerial and defensive qualities
At 6ft 3ins, Pogba's towering presence in central midfield regains possession, winning nearly two aerials per game - twice the Serie A midfielder average.
Likewise, his aerial abilities and defensive attributes bring protection defending set pieces, while his attacking qualities provide a serious goal threat.
Pogba wins nearly nine duels and 2.3 tackles per 90 minutes, compared to the Serie A midfielder average of six and 2.1, respectively.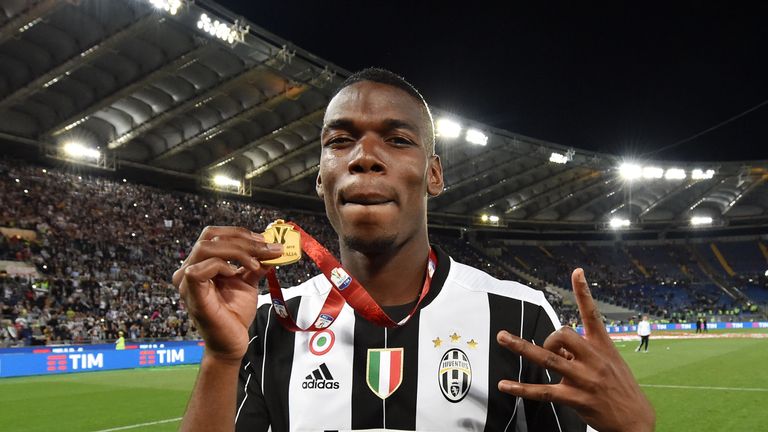 Pogba reinforces United's midfield steel and introduce progressive, attacking football, in a midfield that stagnated attempting to play possession football last season.
5. Top, top player
Pogba's acrimonious departure from Old Trafford in 2012 led to Sir Alex Ferguson saying: "(He) signed for Juventus a long time ago as far as we're aware.
"It is disappointing. I don't think he showed us any respect at all, to be honest. I'm quite happy that if they carry on that way, they're probably better doing it away from us."
But four years on, Sir Alex would struggle to describe the Frenchman as anything but a "top, top player" after his dazzling exploits for Juve.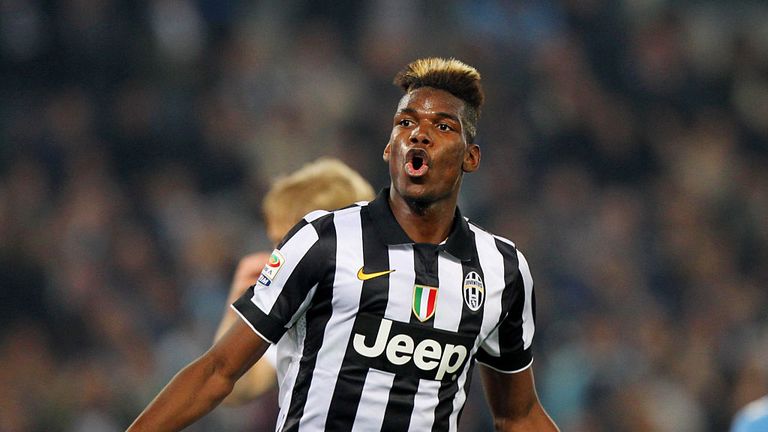 Mourinho knows Pogba is a proven match-winner who owns his position, possessing the aerial presence of Fellaini, the shooting range of Rooney, the work rate and defensive qualities of Michael Carrick in his prime and the skills and audacity of... Cristiano Ronaldo?
At 23-years-old, is £100m really outrageous for a player of Pogba's quality in today's transfer market?