Jose Mourinho must start Marcus Rashford against Leicester City on Saturday after his cameo against Northampton, according to Phil Neville.
United booked a fourth round EFL Cup clash with Manchester City after beating Northampton Town 3-1 with substitute Rashford making a big impact from the bench.
The 18-year-old followed up his goal against Watford on Sunday with a goal and an assist for Jose Mourinho's men, who ended a run of three straight defeats.
Rashford has now scored on his European, Premier League, League Cup and England (senior and U21) debuts and has been involved in more goals in all competitions than any other United player since his debut last season (11 goals, 3 assists).
Neville, who was working as an analyst for Sky Sports at the Northampton game, says the England striker will be hard to leave out on Saturday for the visit of the Premier League champions, live on Sky Sports 1 HD.
"This kid is special," said Neville.
"He has to start [against Leicester] - when a young lad is in such good form you've got to let them fly. You've just got pick him. It puts others under pressure, but this kid is special and he's scoring goals.
"The biggest quality he's got is his temperament. To play for Manchester United is not easy, especially at a young age. He's making it look easy - he's getting quicker, he's getting stronger and the relationship between him and Zlatan Ibrahimovic is going to be special."
Mourinho started Wayne Rooney as the lone striker against Northampton - the first time he'd played that role since May - but he failed to get on the scoresheet.
When introducing both Rashford and Ibrahimovic off the bench, Mourinho moved Rooney to a right-wing role and the skipper struggled to influence the game.
Neville thinks that although Rooney is struggling to show his best form, he's still one of United's most important players and should also start on Saturday.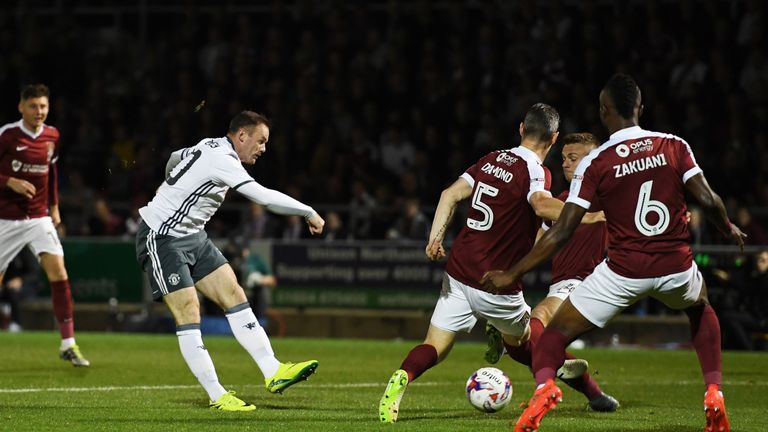 "He's still an important player, but you can see in his performance he's not playing to the top level," Neville said.
"His game is not flowing and things aren't coming easy to him. Tonight was important for him to get out there and play another 90 minutes. The worry is he ended up on the right wing again.
"The continuing change of positions will affect him. He wants to be a centre forward or a centre midfielder - he doesn't want to be stuck on the right wing. That's having a massive effect on his performance."
Watch Man Utd v Leicester, the Ryder Cup and the EFL Cup as part of our three months' half-price offer.