How Jose Mourinho has changed Manchester United: Less passing, less running, more shooting
By Gerard Brand
Last Updated: 05/10/16 6:19pm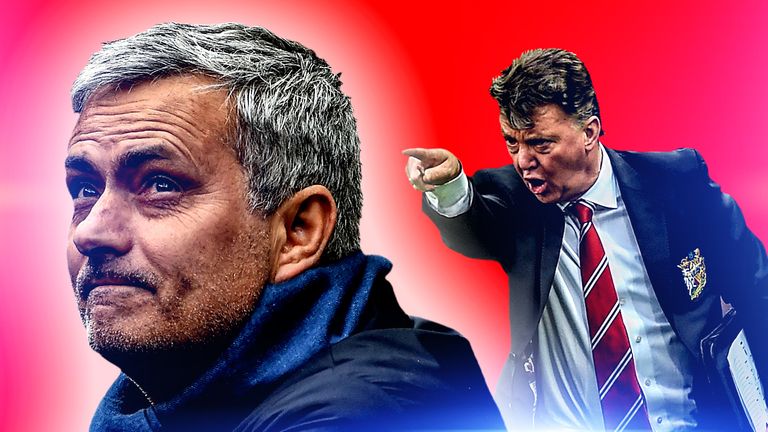 Manchester United manager Jose Mourinho has fewer points than Louis van Gaal had at this stage of last season, but a deeper look at the statistics shows how the Portuguese boss has changed some lingering habits at Old Trafford.
Four wins and a draw from his opening seven Premier League games gives Mourinho 13 points, compared with Van Gaal's 16 last term, which had them top of the table. 
But in two months, Mourinho has dramatically changed their attacking style, possession and work-rate…
First seven league games of 2016/17 compared with 2015/16
| | | |
| --- | --- | --- |
| | Mourinho (16/17) | Van Gaal (15/16) |
| Shots | 92 (1st in PL) | 54 (17th in PL) |
| Passes | 3623 (5th) | 4053 (2nd) |
| % passes in final third | 31.5% (7th) | 29.6% (14th) |
| Crosses | 179 (2nd) | 123 (17th) |
| Distance run | 735.6km (20th) | 802.2 (3rd) |
| Sprints | 3524 | 3363 |
| Av possession | 55.9% | 59.8% |
Attacking
United have one more goal at this stage than they did under Van Gaal last season, but the number of shots has nearly doubled under Mourinho.
After seven games of last term United had registered just 54 shots on goal, ranked 17th in the Premier League, but United are currently top of the charts with 92, though only 45.7 per cent of those have been on target (11th in the Premier League).
Although Van Gaal's United were relatively shot-shy, they converted 22.2 per cent of their efforts on goal in their first seven games of last season (second in Premier League), compared with 14.1 per cent under Mourinho (10th in Premier League).
United's 1-1 draw with Stoke on Sunday saw United register 24 shots, but just a single goal and point to show for it.
"One of those days" was the feeling after the match, a far cry from numerous United performances at Old Trafford under Van Gaal in 2015/16, where they averaged 13.1 shots per game. This season that number is up to 16.5.
Mourinho was still pleased with the Stoke showing, saying after the match: "It should have been three or four-nil at half-time, six or seven-nil at the end. But the result is 1-1. That's football. It was very undeserved but the best performance so far."
At the other end of the pitch, with United far happier without the ball than under Van Gaal, their defence has inevitably been tested more. They have faced more shots, made more blocks, clearances and interceptions, won slightly less tackles and have conceded three more goals. Conclusion? Mourinho is certainly more daring.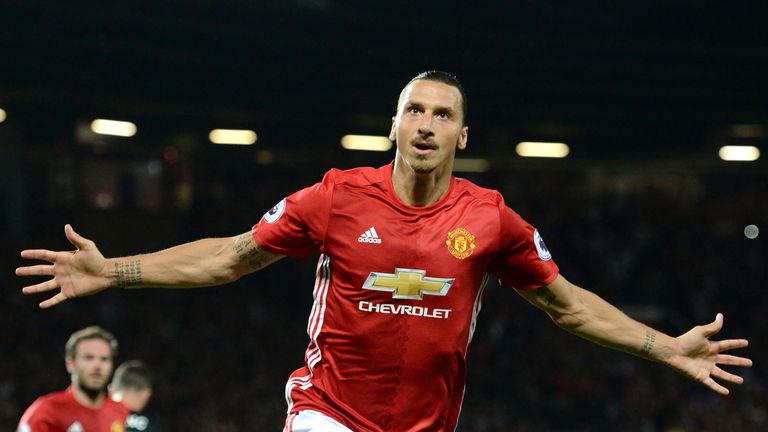 Passing
In the aftermath of United's 2-1 Community Shield win over Leicester, Mourinho's sly comment on the winning goal, a Zlatan Ibrahimovic header from an Antonio Valencia cross, didn't go unnoticed.
"There are some changes and that takes time," Mourinho said. "The second goal, probably last year, instead of crossing, Valencia gets down [the line] and plays a back pass."
Van Gaal was heavily criticised for lateral and backwards passing last season, and although Mourinho admitted after the Manchester City defeat that some habits are harder to shift than others, he is making a change.
In their first seven Premier League games, United have made over 400 fewer passes than last season, though their pass completion remains at around 85 per cent (second in the Premier League).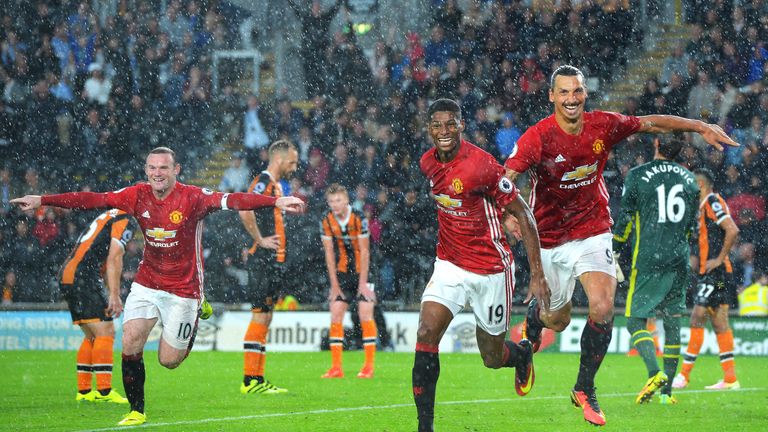 Possession wise, United are happier without the ball, averaging 55.9 per cent compared with 59.8 per cent for the 2015/16 season.
Their passes in the final third remain similar to last season, but Mourinho's side have enjoyed success down the flanks, not a trait synonymous with Van Gaal's tenure.
They've hit 179 crosses so far this season (second in the Premier League) compared with just 123 at the same stage in 2015/16 (17th), and five of their 13 goals have come from deliveries from wide areas.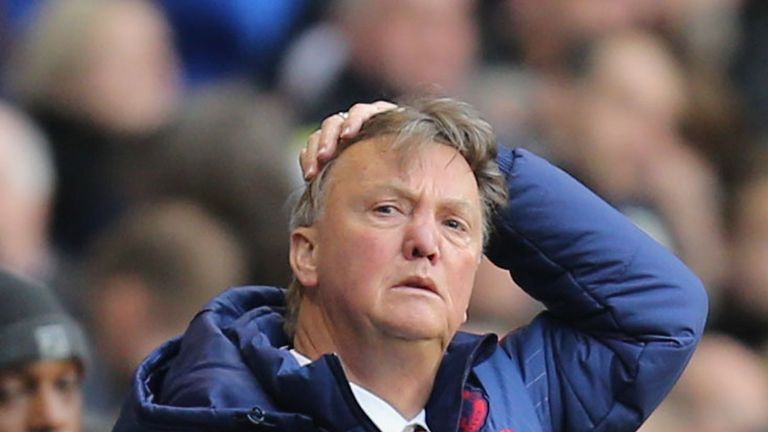 But crossing isn't necessarily a Mourinho trademark. In his title-winning campaign with Chelsea, he made just 18 on average per game, the second-lowest in the Premier League.
With the added height of Ibrahimovic and Paul Pogba, it is more a case of playing to the team's physical strengths than reinventing the wheel. 
Distance
Mourinho's United are bottom of the Premier League pile when it comes to distance run so far this season, travelling just 735.6km compared with 802.2km under Van Gaal at the same stage, which was ranked third in the division.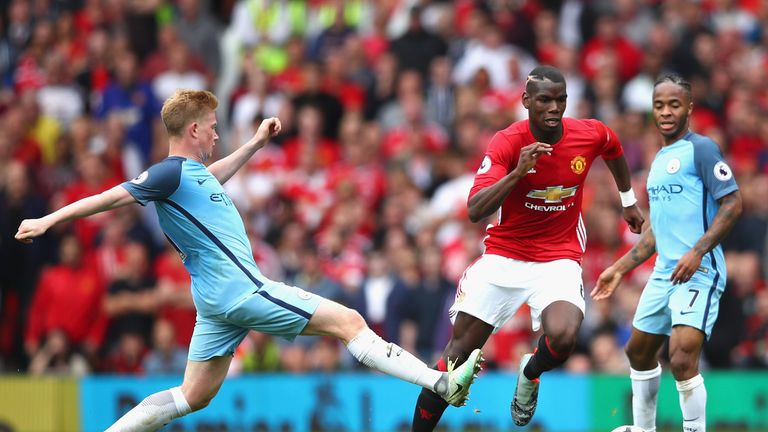 Only once have United out-ran their opponents - in the 4-1 win over Leicester - while Pep Guardiola's Manchester City have been out-ran themselves just once this season, in the 2-0 defeat by Tottenham on Sunday.
Pogba is now United's main engine man, the only player in the team to run over 10km in every appearance, but for the rest, Mourinho seems to be focusing on energy retention.
That leaves some verve for the counter attack, and Mourinho's side have made almost 200 more sprints than Van Gaal's United at this stage.
Conclusion
Mourinho's United pass less and run less, but their first thought is forward, not sideways or behind with the sole purpose of keeping possession.
He has let his star players breathe, and while there are big question marks over the roles of Wayne Rooney and Henrikh Mkhitaryan, the style of play is pleasing the fans at Old Trafford.
The problem? Other sides around United have improved too. Mourinho is on the right track, but the competition could be as fierce as ever.
You can watch England's tour of Bangladesh, plus Premier League football and the Japan Grand Prix on Sky Sports. Upgrade now and enjoy three months at half price!