Michael Carrick back for Manchester United: Why he can be the catalyst
Last Updated: 16/11/16 2:09pm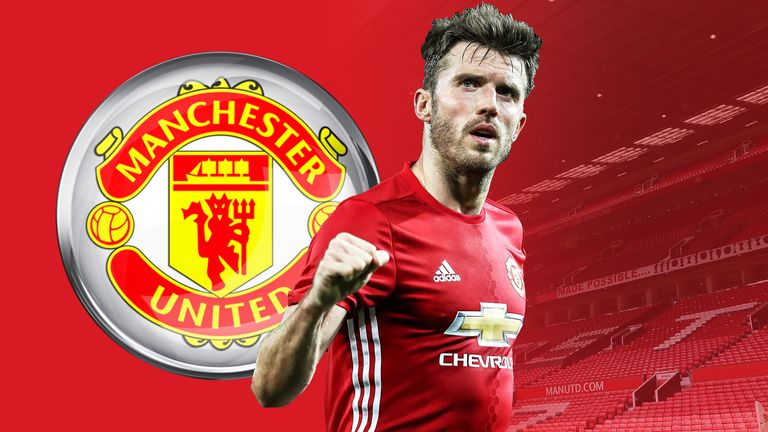 Michael Carrick's return to the Manchester United team for the win over Swansea has been hailed as the catalyst behind their improved performance. But what is it about the midfielder that makes him so important? Adam Bate examines the evidence...
"It's one thing to be 25-years-old, another thing to be 35-years-old. That's the logic of things. But the only thing I can say is he's phenomenal. No doubts about it … I would love to play him every game but that's not possible … He started at Swansea and played very, very well."
Jose Mourinho's explanation for Michael Carrick's belated inclusion in his Premier League starting line-up for the 3-1 win at Swansea last time out was a little disingenuous. There had been multiple opportunities for the Manchester United manager to turn to Carrick earlier.
Although United have won all six matches in which he has featured this season, the veteran midfielder struggled to make the squad in the early weeks of the season and was an unused substitute for the back-to-back defeats against Feyenoord and Watford in September.
This was not because of careful game management. It was Mourinho searching for a longer-term solution to his midfield conundrum. But it seems there are still qualities that Carrick possesses that are absent elsewhere in the United squad. Qualities that help the team.
Rio Ferdinand calls him "the best passer at the club" while Gary Neville, another old team-mate, once compared Carrick to a piano. "He's peaceful, he's calm, he brings composure to everyone else around him," said Neville. "That's important for young players."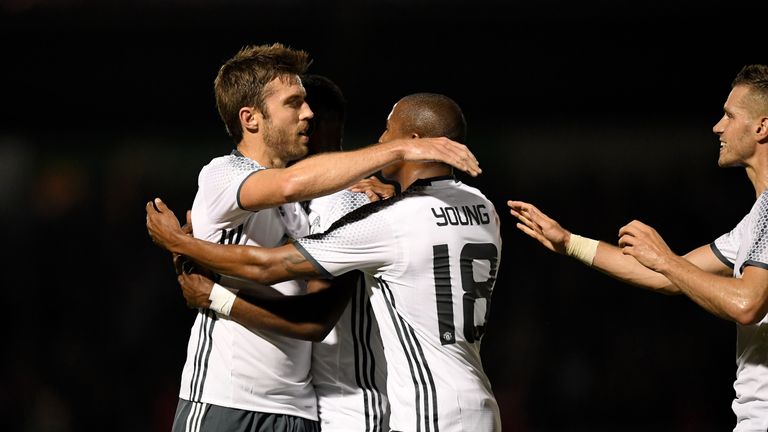 Only last year Wayne Rooney was enthusing about how Carrick turned around England's friendly against Italy after coming on as a substitute by "dictating the game" and bringing "control" to the team's work. Mourinho has spoken of the "balance" that he provides.
These are difficult qualities to measure and that makes them easy to dismiss. Carrick didn't score or assist a goal at Swansea, after all. He didn't make a tackle either. But even from such a small sample size this season, Carrick's statistics do hint at what he brings to a team.
He has made 112 passes in only 102 minutes of Premier League football this season with a completion rate of more than 96 per cent. In short, when Carrick's on the pitch he passes the ball to a team-mate more regularly and with greater accuracy than anyone else.
Man Utd midfielders 2016/17
| Player | Passes / 90 | Player | Passing accuracy |
| --- | --- | --- | --- |
| Michael Carrick | 98.8 | Michael Carrick | 96.55% |
| Ander Herrera | 69.9 | Juan Mata | 90.84% |
| Paul Pogba | 62.7 | Marouane Fellaini | 89.35% |
| Juan Mata | 56.3 | Ander Herrera | 87.45% |
| Marouane Fellaini | 55.7 | Paul Pogba | 86.11% |
But it's about more than keeping calm and keeping hold of the ball. It's not just that he's circulating possession but the direction in which he's circulating it. That's what's helping those around him. In particular, it could be crucial for record signing Paul Pogba.
Mourinho knew he needed Pogba's dynamism - "the second midfield player" is how he describes that role of the runner rather than the passer in the middle of the park. But on the evidence of the early part of the season, getting him on the ball in the right areas is an issue.
Carrick could be the man to change that. Mourinho has highlighted his "big understanding of the game" so perhaps it's not merely a coincidence that he found Pogba eight times in his first Premier League appearance of the campaign as a late substitute against Leicester.
Carrick and Pogba
Michael Carrick has passed to Paul Pogba 25 times in only 102 minutes of Premier League action.
By way of comparison, that meant that Carrick passed the ball to Pogba more times in a quarter of an hour than either Juan Mata or Ander Herrera did in the entire game. The Swansea game saw a continuation of this fledgling relationship.
Carrick passed to Pogba 17 times at the Liberty Stadium, more than anyone else. As a result, he's averaging a pass to the Frenchman every four minutes so far this season - more than three times as often as Rooney, for example, has succeeded in getting the ball to him.
Much has been made of how Pogba found his feet at Juventus alongside Andrea Pirlo and Claudio Marchisio. Their intelligent use of the ball helped him flourish. That's been missing. Alarmingly, in the defeat to Manchester City, the man who supplied Pogba most often was David de Gea.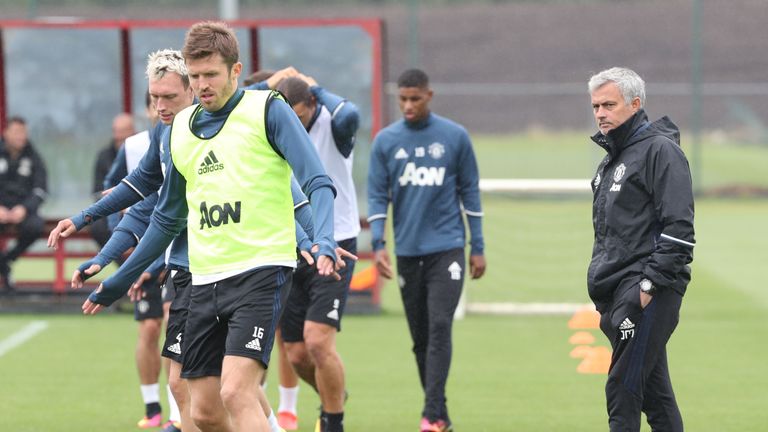 With Carrick in the team, that's unlikely to happen again. As Mourinho puts it, he's a player who adds "stability in our game" and provides "mental freedom for the other guys to be more offensive" in their work as well. For United fans, this isn't a new realisation.
It even worked briefly for Louis van Gaal. Carrick won the first seven matches he started last season, extending his total winning run to 11 when the wins over Tottenham, Liverpool, Aston Villa and City were included from the previous 2014/15 campaign.
That sequence of results in the spring of 2015 marked United's best period under the Dutchman, one that only came to an end once Carrick picked up an injury just prior to the 1-0 defeat at Chelsea in the April. Winning without him is not a problem unique to Mourinho.
The closest Van Gaal ever got to fluidity at Old Trafford was with that triumvirate of Carrick, Herrera and Marouane Fellaini. Perhaps that could yet be the template for the new manager with the not insignificant upgrade of subbing in Pogba for the burly Belgian.
Mourinho knows it is not the answer he envisaged but nor can he afford to look too far ahead. Arsenal are the visitors on Saturday and picking the best team to win the match should surely be the only thing in his thoughts. That will mean Carrick.
"It's a pity you sometimes cannot stop the clock," said Mourinho earlier this month. "Michael is such an important player and very difficult to replace." But the issue of finding a replacement is now a task for January at the earliest and, more likely, well beyond that.
By then, the hope will be that Pogba is fully settled and this United side are playing with some confidence again. Carrick can help with that. "He knows exactly what I can do, my strengths," he told Sky Sports earlier this season. "I am not going to change my game now."
There's no need for that. The events of this season have only added to the suspicion that Carrick doing what Carrick does might be exactly what United had been missing.